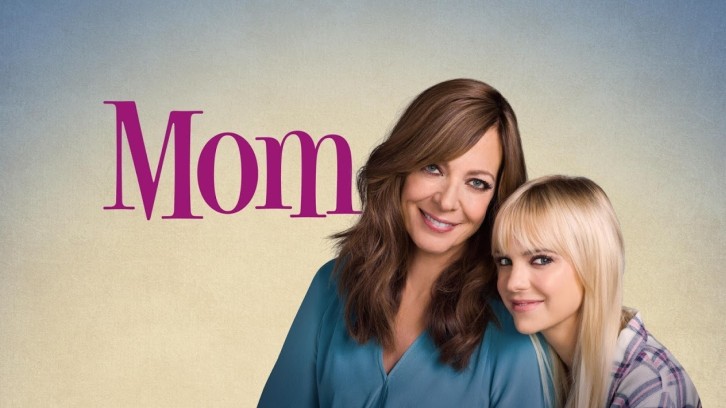 Season Five of Mom picks up with our inseparable "Gilmore Girls" each facing big life changes - for Bonnie, the prospect of marriage and for Christy, the upcoming LSATS.

Adams returns home early, and confides in Christy that he's ready to pop the question. Christy "loans him" her dream proposal by helping him plan a fancy restaurant dinner.

At the diner, Christy lets Wendy, Majorie, and Jill in on the upcoming proposal as her, Majorie, and Wendy try to come up with an intervention tactic for Jill. With Emily getting close to going back to Natasha, Jill's been coping with her new circumstances through some serious overeating. Understandably, the girls aren't sure the best way to broach this topic.

Speaking of Natasha, she's out of rehab and ready to get her daughter back. First, she's just got to get a job, which she recruits Kristy to help her with. Natasha's understandably going to be a tough sell, as her only prior experience is stripping and dealing coke.

At the proposal dinner, the souffle with the ring in in arrives just as Bonnie gets up to go to the bathroom, leading to a minor fire as the waiter tries to put out the sparkler on the souffle. Despite the mishap, Adam proposes.

And Bonnie accepts! For a minute...Bonnie accepts for a minute. But then she starts thinking about committent and responsibility and being together forever and how one night Adam's "going to come to home for meatloaf because Tuesday's meatloaf night," and instead find her "face-down in the linoleum with a needle in her arm."
After talking with Christy, Bonnie asks Adam to propose again...and she says no again! Majorie suggests that because Bonnie's been a horrible person for so long, she doesn't think she deserves Adam. So Bonnie goes back one more time and proposes to Adam herself, which he accepts.
Back at home, Bonnie tells Christy that she still thinks she's made a horrible mistake. She loves Adam, but she's terrified of commitment. Christy points out that men are never in a rush to get married, so Bonnie can basically put off the wedding indefinitely. She eventually settles on "June 19th. Year to be determined."
At the diner, where Christy's gotten Natasha a job, Bonnie is showing off her ring to the girls when Christy arrives. Christy passed the LSAT with an average score, and can now "get into the best of the low level law schools!" Bonnie congratulates her, stating she "always knew you could barely do it!"
As everyone celebrates, Jill continues to wallow in self-pity. Finally, a suddenly bold Wendy tells Jill to stop whining and suck it up.
Random Thoughts:
-Bonnie finding Adam at the door while she was in the middle bleaching her mustache and then running off was hilarious.
-Best line of the night goes to Bonnie about Christy. "So tiny, and so mean, like a Chihuahua."
-"A shack. You are going to propose to her at a shack?" Oh Adam, what were you thinking?
-"Hey, you were an honorary firemen for a weekend. Not all kids get that." Bonnie - mother of the year!
-Christy attempting to coach Natasha through that interview was such a train-wreck but I loved it.
Are Adam and Bonnie ever going to tie the knot? Will Natasha get Emily back? Let me know what you think below!