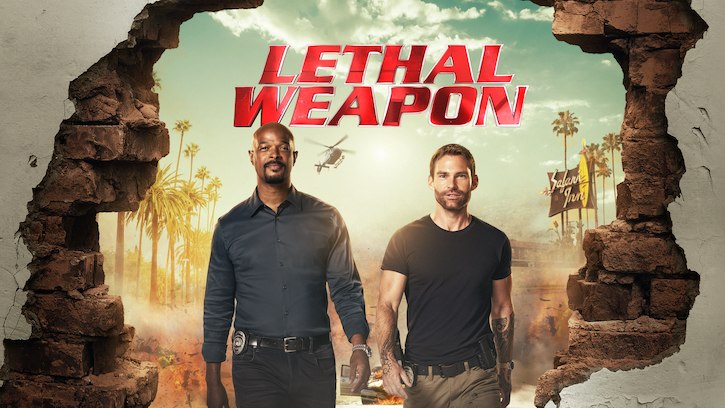 Welcome back (again)! With a World Series that stretched on longer than expected bumping episode five from Halloween, Lethal Weapon has come off the back of a three-week break, just like it did last year. The break may not have been built into the narrative, but the show's return nonetheless feels like a cool drink of water, reflecting a show that's refreshed, revitalised and at the top of its game creatively.

At the centre of the highly entertaining Let It Ride is the continuation of the nascent new Riggs story, which exemplifies Lethal Weapon's improved, more emotionally intelligent character work this season. There's no direct continuation of the intriguing thread left last week regarding the death of Riggs' father, but Riggs Sr.'s impact is written all over Martin's behaviour this episode in ways that the script often leaves intriguingly below the surface.


Lethal Weapon has traditionally been afraid to get truly dark as a show, and Let It Ride doesn't stray from that approach wholly. Yet there are parts of Riggs' back-story and linkage to his present day behaviour that are genuinely disturbing - the flashbacks indicating a childhood of legitimate emotional abuse on a level TV doesn't often portray, compounded by an evident habit of denial and repression of that trauma in the present.

That darkness works in the show's favour. The moments where Riggs goes off the rails could sometimes seem a little rote, or would be overshadowed by the comedy elsewhere, but in the context of his past, his destructive behaviour has an air of atavism to it, as he's unconsciously replicating the behaviour of the only patriarchal figure he ever knew. Let It Ride isn't always subtle about that - Riggs repeats his father's quip about a home run verbatim in pretty much the next scene, but it's a layer to the character that really helps to understand him further as a realistic character instead of the cartoon he can sometimes be.

Learning about Riggs' past also heightens the value of the factors that distinguish him from his lone-wolf dad. Suddenly, the support network provided by Trish and Murtaugh seems vital to his sanity, as shown through the blunt but effective visual of him crashing the trailer into their fence in a classic Riggs moment of explosive avoidance, and the scenes where he's welcomed into the fold again feel just that little bit more heartwarming now we know what they're saving him from.


It also helps to justify one of my main grumbles about this season, which has been the transformation of the Murtaugh family into a place free of long-term conflict and mainly defined by comic hijinks. At times, it's felt like a sitcom show-within-a-show with all the drama compartmentalised on Riggs' side. Yet Let It Ride managed to alleviate that problem. Firstly, it makes it very clear that there's no dividing line between Riggs and the Murtaugh family - they're part of the same web, and their decisions will always cascade and affect the other (this has always been a point Lethal Weapon is keen to make, but it hasn't always been evident within a structure that's hived off Riggs' conflict from the family).

And secondly, it makes it clear that the Murtaugh family's lack of drama is the point. They're a beacon of stability - a nuclear family that actually works, and therefore a perfect ideal to support Riggs and provide him something to aspire to. Within this reframed Lethal Weapon, and its new concerns with what it means to be broken and whether being fixed is possible, a family that seems unbreakable is absolutely necessary. Maybe it's worth trusting this show a little more.

A quick side note before delving into the other part of the episode - I loved how this episode placed just as much value on Riggs' friendship with Trish as it did with Murtaugh, and defined it in separate terms instead of an extension of that workplace friendship.


Trish seems to empathise with Riggs more than Murtaugh, perhaps because she has ten times the emotional maturity, and represents a solid professionalism (with a killer work/life balance) that makes her an ideal foil to him. This is something that's clicked specifically in season two, where Trish has seemed, finally, like a character with a defined place on the show beyond concerned wife. It's great! Sidenote over.

Let It Ride's case of the week was somewhat prosaic, especially in the light of the engrossingly labyrinthine story with Adrian Pasdar from last episode, and the mystery never really takes off before the lame-duck reveal that it's all a bank robbery plot. The victim gets a lot of focus, but characterisation after the fact feels like scrawling on a blank slate, and there's not a lot of emotional resonance in the exploration of his life. Meanwhile, the villains are barely worth talking about. Did they have names? I'd genuinely appreciate someone helping me out in the comments, because it beats me.

Nonetheless, it does have one secret weapon: Leo Getz. He's exactly the sort of fun supporting character any long-running show should have in its roster, able to spice up a conventional plotline by changing the normal character dynamics. Leo's naked admiration of Murtaugh (he even invited him to a midnight show of Wonder Woman!) is delightful, and his buffoonery allows both Riggs and Murtaugh to act as the straight men looking on with incredulity at once.


Thomas Lennon's performance is very broad, but he manages to temper the (enjoyable) goofing with glimmers of Getz's sharpness and vulnerability that ground him in something human in spite of his outsize personality. Getz is a really fun character, and his return was welcome. Here's hoping he's back later this season.
Let It Ride
feels like the archetypal season two episode - sharp as a tack in terms of character work and unafraid to open up emotionally nuanced and painful storylines, and excellent at conjuring a sense of fun camaraderie (the 'B Team' is just a running gag here, but they're a vital part of the new formula and a fun reflection of the A Team) amongst its characters, even if it's limited by a mechanical case of the week. This show's return didn't miss a beat.
Episode Grade: A-
+ Excellent Riggs storyline
+ The Murtaugh family in context
+ Leo Getz
- Lame case of the week