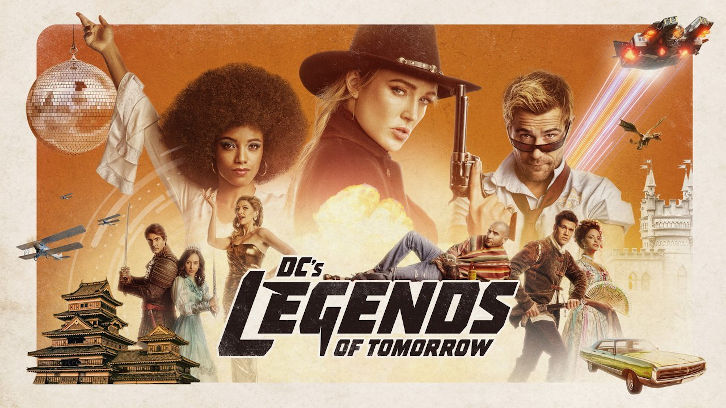 For me, the last two episodes of Legends have been a bit of a mixed bag. I've always thought that Legends struggles when it comes to trying to world-build or spending time laser focused on the main villain arc directly (Minus Season 2's fantastic Legion centered episode). I've always found the show more appealing when it sprinkles the mystery over the season throughout zany adventures than addressing things head on. For me, while these past two episodes have had fun parts, there were parts I found a bit dull, and I can even attest that I zoned out for a good twenty minutes during one and had to rewatch it. The best thing I can say is that, they aren't all bad... even if there are some unwelcome faces in the bunch, I can still find things to love about these episodes.


Return of the Mack
Damien Darhk is back. Malus' first big reveal is here and Mick has always wanted to kill vampires. This was kinda a mess of an episode. What started off as strange yet usual Legends episode, got really murky really fast, pulled off a brilliant fight scene set to an awesome score but still left me wanting more. (I mean the "Return of the Mack" fight scene is top 5 Arrowverse fights material) I'm not saying Return was a bad episode legends, but I am saying that I lost twenty minutes somewhere in the middle and still can't tell you what I was doing that was more interesting, but it was something that held my attention longer than Legends could at one point. I loved seeing Rip at the beginning of the episode and was relishing in the idea of seeing the team whole once again. Shame on me for believing in a world of fairies and rainbows as my heart broke seeing Sara turn Rip in at the end of the episode. I do think that this should be a great way to write Rip once the season concludes. Two teams that he started, two teams that shared his mission, have known grown beyond the point where they don't need him, because his incessant need to complete his mission by any means necessary has isolated him from them both. I am excited to see Rip reconcile this and I think once he does, the best bet for the character is to go, memory wiped, and love a semi-normal life. (Until a season 5 plot requires the team to bring him back into the fold and convince him of his former life) The episode started off harmless enough and I was laughing my butt off at the fact that Mick has had a life-long dream of killing vamps. The fact he just had a stake readily available was the most amazing thing that could ever happen.
I appreciate the fact that the show tries to give Victor Garber things to do so he won't get bored and gets a chance to flex his chops, but after a while seeing him play his evil ancestor grew tiring. I almost wish the show would move a bit faster at trying to solve the riddle that is solo Firestorm. Its entertaining watching Ray and Jax attempts to get it done, but I wish at this point they would stop prolonging what we already know. Maybe if we didn't know Garber was leaving, I wouldn't be as bothered that it was being dragged out, but right now, it just feels like I'm waiting for the other shoe to drop and I can't focus on the actual lead up to the exit. The cult of Mallus was an interesting twist, as was meeting Darhk's daughter Eleanor, but I wasn't over the moon about Darhk's return. Look, nothing against the actor, but I didn't care for his season-stint on Arrow, and found the character only worked last year because of his chemistry with Malcolm. I just think it's funny that Darhk can come back to life mroe than once and zoom in and out timelines, but Earth-1 Laurel or Rip's Family can't come back because....timelines. I'm interested to see where the whole Mallus thing goes, but so far I'm not as intrigued as I was with the Legion in season 2. I'd love to know what your thoughts are on the big bad as well. Do you think the Legion just looked so good because they followed Savage,or were they simply just a better threat?
Final Thoughts:
I'm still trying to work through my muddled up memory of this episode. I do know I let out a huge "Him Again!" groan when Damien was resurrected and I found it weird the show never really dressed Eleanor and Damien's kinship. "Return of the Mack" playing through the fight scene was a bold yet amazing move, and my heart did hurt for Rip at the end. Sure, Sara did what she had to do, but Rip was her "family" once. I'm glad we got a peak at Malus, but I'm yawning through Firestorm bits. I'm still wondering what the point was of adding Zari to the cast this season, I'm all for representation, but I'm not sold the character is needed. As always, Mick is gold.
C.
Helen Hunt
Helen of Troy goes Hollywood, Malus' Minions show up and and exist and Legends gives a shoutout to Wonder Woman, while Firestorm has a freaky Friday moment. A lot seemed to happen in this episode, but at the same time, I think my attention span was more of the same as it was with the previous episode. Helen of Troy and the warring studios was great and honestly was a great anachronism of the week. We did learn that Malus wants these anachronisms to happen and he needs his minions to stop the Legends from fixing them, but I really questioned if they really need Damien to do that. Sure, it's nice to have the Sara/Damien feud, but if I were Sara, I'd just be like, "Well, this guy gets to keep coming back, maybe I should just resurrect my sister" but no, she'd rather put energy into the feud. The title of this episode alone, is probably the best line of the episode. I do love me some Kuasa though and I enjoying the beautiful Amaya having something to do outside of Nate, but what I am unsure of is where the totem plot is heading. Obviously it's a big deal because Amaya had a spirit journey about hers, Kuasa owns one and Zari has one that Malus wanted. Let me know your theories on #totemgate2017.
I liked the Firestorm body swap because I like that show is really giving Garber his final season to shine, I just can't help but feel disconnected from the plot surrounding him. I know he's leaving and I'm really worried about the how, but I can't wait to get to the when. I liked that Stein got his moment in the sun as Firestorm, and I get what Ray and Jax are fighting to find a Firestorm solution. (I died at Jax's just say you're black line) They'll need Firestorm to stop Malus. (Firestorm fans, are there any other potential halves from different earths that maybe the team could just pluck out and use?) What really made this episode for me was just the female empowerment of it all. It's hard to not log online these days and see the stories getting told about these powerful men in Hollywood. Eerily enough, this episode couldn't have come at a better time, and I think Helen was little bit of all of us as she grew inspired by strong women like Amaya and Sara and realized that men won't have the upper hand forever. I think the show is wise to focus on the strong women in this crew, as they are highlights. (If only I could have Kendra back to redeem herself after s1) Also, they freakin dropped Helen off in Themyscira, which while I'm sure is an anachronism of epic proportions, is still pretty cool. Also, has Sara's libido just disappeared, the Sara Lance we know, would've hit on Helen in a heartbeat and she did nothing. For a a universe that seems to say that Sara's sexuality isn't one of plot convenience, it feels hard to argue otherwise.
Final Thoughts:
Pretty solid for a anachronism of the week episode. Loved the Women-in-Charge vibes and the Firestorm switcharoo was cute. Biggest complaint was that I still feel that Damien and Zari aren't the most necessary additions for the season. I think we're building to the climax of the season, and I can't wait to see what Malus' big plan is. I'm still waiting for the Firestorm plot to come to a head, and honestly I need more Mick in my life. All-in-All solid episode.
B
The next episode of Legends of Tomorrow, Welcome to the Jungle, airs 11/21 on the CW.

What did you think of these episodes? Sound off Below!