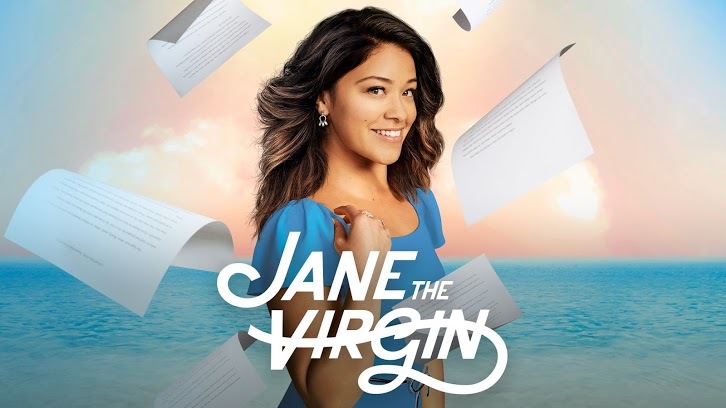 Jane the Virgin
"Chapter Seventy" was written by the team of Carolina Rivera and Micah Schraft and was directed by Melanie Mayron. I have to say with Mayron directing, I was surprised – and disappointed – that Professor Donaldson didn't show up at Jane's (Gina Rodriguez) book launch. Of course, the book launch is the centerpiece of the episode and
Jane the Virgin
becomes
Jane the Published Freaking Author!!!
It signals a number of changes, and the episode also has a lot of lovely echoes of Michael (Brett Dier).
The flashback shows Jane in her favorite bookstore discovering the Latin American tradition of magical realism – and I love how the show really showcases not only Latin American actors but also authors and culture in general. Isabel Allende is Jane's favorite author and even makes a guest appearance.
When Jane's book arrives in the mail, she remembers Michael giving her hardcovers as special presents. FYI, you can buy Jane's book but only in paperback! It's hilarious and completely in character, complete with Rogelio's (Jaime Camil) endorsement! Jane helps Rafael (Justin Baldoni) with his resume and remembers doing the same with Michael. She's reminded of Michael in the elevator at the Mirabella. The dedication to the book is to Michael, and Jane has a few tears for him as she remembers him as she goes into the book launch. And not only doesn't she have Michael there, both Rafael and Adam (Tyler Posey) also cancelled.
Petra (Yael Grobglas) calls Rafael about the hotel because Magda (Priscilla Barnes) and Anezka are offering cash discounts and pocketing the money. They are ruining the hotel, and Petra wants Rafael's help. He refuses. At Jane's urging – the hotel caused him to lie and go to prison in the past! – he's stepping away for his own well-being. Jane praises him for protecting his future, but also suggests he get a job.
Rafael naturally thinks he can simply step into a management position at another hotel, but he has only ever worked at the Mirabella – for his father – and then there's his criminal record. Petra finds out that Rafael is looking for work when he joins LinkedIn – which is another really funny moment! Rafael wants to see the twins, so Petra tells him she'll get him a job as General Manager at the Mirabella. Petra gets him an interview with Magda who's happy to belittle him by offering him a job as a bartender. I loved him calling her the Prague Pirate! Hilarious! He's not going to take it until Jane tells him to get over himself – he needs a job.
Naturally things for the book launch don't go smoothly. Jane decides to have it at her favorite bookstore, but when she goes to the store to drop off her signed copies, she finds that it's been closed because the new landlord raised the rent – and nobody buys books at a physical store anymore! Jane is going go to go with Plan B – hold the party at the publishers – but Rogelio won't hear of it!
Xo (Andrea Navedo) puts her foot down before Rogelio can completely bankrupt them by recreating the bookstore on a soundstage. However, Rogelio goes behind her back and co-signs the lease on the actual bookstore! He's sure that he can get tons of publicity for the opening by having Ariana write an article for the Latin People. Press + Celeb Photo = $$!
Fabian (Francisco San Martin) shows back up and wants Rogelio to have him written into the script for a dignified final scene – he's up for a movie and needs a good dramatic scene to help get it. Rogelio tells him categorically no after what Fabian did to him and Jane. Unbeknownst to Rogelio, Fabian is currently sleeping with Ariana and gets her to cancel the article on the book launch! Rogelio finally gives in about the scene to save the book launch, and Fabian insists – to add insult to injury – that Jane must be the one to write the scene!
I did love that Jane knocks herself out to write a brilliant scene – with no clichés – and then Fabian hates it! He almost makes her late for the book launch because she has to re-write it so many times – to add in every dying cliché ever! The whole plan falls apart when Fabian stupidly tweets a picture of himself with his new lover and Ariana refuses to do the article - #sabotagged! However, Fabian manages to get the store packed by tweeting a naked picture of himself – holding Jane's book strategically…
It's that tweet that brings Isabel Allende to the book launch. Jane finds her in the stacks. I loved Rodriguez in this scene as we see Jane shocked, tongue-tied, and genuine. She tells Allende that it was her book about the death of her daughter Paula that got Jane through her grief over Michael.
Meanwhile, Jane is struggling with her feelings for Adam. She almost tells him that she loves him and it freaks her out. Jane tells Xo that she's not sure that Adam loves her. She tells Allende that she's been feeling guilty about being happy or in love, and Allende tells her to live passionately and love passionately. It's what the strong women she writes about do.
Jane goes to Adam to tell him that she loves him, but he confesses that it wasn't a deadline that kept him from the book launch – he's moving to LA for the VFX job. Seeing her have all her dreams come true has made him want to pursue his own.
Xo, Alba (Ivonne Coll), and Jane end up on the bench as Jane cries about Adam. But then Jane finds happiness in her sadness. After Michael, she didn't think she'd ever have her heart broken again – maybe this is a sign, her light at the end of the tunnel.
There may be another sign of light at the end of the tunnel too. Alba tells Jane before the book launch that Rafael had been a lot more disappointed about missing the book launch than he let on to Jane because he didn't want to ruin the moment for her. Jane goes to the bar, and Rafael is surprised to see her – because she should already be at the book launch! She tells him that she was more bummed than she let on that he wasn't coming too – so as not to make him feel bad. Then she shows him the acknowledgment. It's a huge moment for Rafael – and another terrific scene for Baldoni. I like that they are finally unleashing his formidable acting talents!
While Petra is convincing Magda to interview Rafael, she finds an inhaler, and she immediately starts to wonder if Carl is real after all. Magda and Anezka have already told her that they now want $10 million for their shares of the Mirabella and that Luisa was going to use the money from the sale to get Rose out of jail. Petra enlists Krishna's (Shelly Bhalla) help to go through hotel video footage for proof.
Naturally, the do find proof. Petra immediately realizes that Luisa shouldn't be locked up. She's going to tell Rafael, but first, she's going to use Carl to get rid of Magda and Anezka! She enlists Krishna's help. The two make sure that Anezka overhears them talking about Magda using Anezka as a pawn. Petra then goes to Magda and accuses her of doing it. Grobglas is terrific in the episode. Petra tells them she knows Carl is real.
Petra's plan backfires, however. Anezka is devastated – and has a little shrine to Scott, proving that she's never gotten over her own grief. In despair, she hangs herself!
Finally, Xo and Rogelio have been having some financial difficulties. Xo confides to Jane that she was going to ask Rogelio to help with the dance studio which is struggling. When it looks like the book launch is a bust – before Fabian actually makes it right – Jane accuses Rogelio of always wanting to be the hero. She wants to know why he always goes too far. He tells her that he's always trying to make up for not being there for her. She tells him that he didn't know, and he admits that maybe a part of him did know and just didn't want to know for sure. He asks if she hates him, and she forgives him, telling him he was 16. She gets it and just wants to move on.
Rogelio thinks that he's in the clear with Xo when he tells her that the launch was a huge success and the rent is taken care of. Xo echoes Jane in insisting that he stop making the big gestures. He tells her that he and Jane came to an understanding, so it shouldn't happen again. He then – foolishly! – tells Xo what he told Jane. Xo, however, is furious for him making her feel guilty since he found out about Jane and she storms out!
How will Rogelio make it up to Xo? Is Adam out of the picture for good? Is Jane ready for Rafael to be back in the picture? Will Petra tell Rafael the truth about Carl now? How guilty will Petra feel about Anezka – and I'll really miss Grobglas doing double duty! Did Anezka really kill herself? The Narrator (Anthony Mendez) says no! What did you think of the episode? Let me know your thoughts in the comments below!