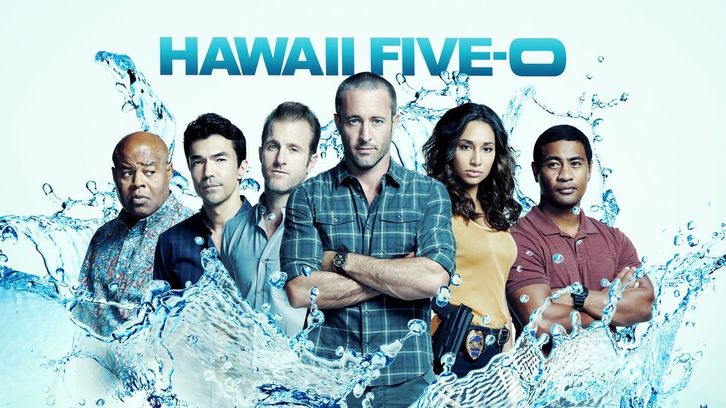 It might be a couple of days too late for a Halloween episode, but Hawaii Five-0 manages to serve up the scares on this November's Eve instead.


The caption immediately tells us that it's October 31, and Danny is ready to scare Steve with a new mask. Instead, he chances upon Steve's two new roommates, Junior and Eddie, who are both taking time to adjust to this new living arrangement.
Junior tells a disappointed Danny that Steve isn't home and drops a name we haven't heard in a while. He's busy helping Dr. Alicia Brown during her trial for the murder of Madison Gray.
It was never clear what happened to Alicia after she fired the gun, and it's nice to get some closure. Alicia was arrested for the crime, but hasn't told Steve the whole story. She admits that she can't lie anymore and confesses the truth. Alicia didn't kill Madison after Madison lunged for her, and believes that she could have held the psychotic serial killer off until HPD arrived. Steve tells Alicia that he's going to pretend he didn't hear this, and urges her to keep that story to herself. Alicia can't go through with perjury and asks Steve to watch after her daughter if a jury convicts her.
Although Danny has been sidetracked by a bad fall off a ladder, he catches a creepy case that puts the team on the trail of a killer influenced by traditional Hawaiian folklore.
The first kill immediately gives Tani the willies, and she explains an old legend to Danny. The goddess Pele fell in love with a half-man, half-pig. The relationship went south and the two split the island down the middle. Now, if you happen to be transporting pigs or pork down the Pale Road, it's considered an affront to the goddess, who doesn't want any of her ex-lover's stuff on her half of the island. Your car will break down and an old woman with a white dog will appear. You better feed the pork to the dog If you want to get out of the encounter alive.
Danny lightly mocks the story, until Russo (after mangling some Hawaiian trying to impress Tani) confirms that a dog was around the murder site.
Jerry, who is taking up Max's tradition of dressing like Keanu Reeves characters for Halloween, is excited about the case. He had his own encounter on the Pale that ended with him tossing Spam into the fog. Danny is sure that there's a rational explanation, but Jerry warns it won't be the last murder of the night. Studies show that violent crimes spike during Halloween. He's preaching to the choir. All he would have to do is ask Kono and Adam about their little visit to a death cult the year before.
Jerry's right. The second victim was suffocated in cement. Noelani immediately makes the connection to the case on the Pale highway and tells Danny the story of the Menehune. The Menehune were trolls and craftsmen who would turn anyone who saw them into a stone pillar.
After two deaths, Danny and Tani think it wise to call in Steve from Alicia's court hearing. Shoe prints at both sites confirm that they're linked, and the team begins to worry about a serial killer on the island. Steve makes a decision that gets him closer to the killer and allows Alicia more time to think about her court testimony. Serial killers were kind of Alicia's thing, and she may be the best way to catch this spooky murderer.
Alicia immediately notices that both victims were white males, which may say something about resentment against non-native Hawaiians. When Russo finds traces of moss and seaweed along with the killer's DNA, everyone born on the island goes on high alert. Russo and Danny are both New Jersey transplants, but Steve, Tani, and Jerry know the next legend all too well. "There's about to be a kidnapping," Steve announces. The legend of the Green Lady of Wahiawa tells of a grieving ghost covered in moss and seaweed who haunts Wahiawa Academy and steals small children.
Alicia's victimology crumbles when the next victim is a seven-year-old girl, Lacey. Fortunately, the missing girl has a cell phone with tracking software. Unfortunately, the abductor has ditched Lacey's backpack and is leading the poor girl deeper into the woods.
Jerry's next discovery gets the team out of Hawaiian folklore and into some recent Hawaiian history. The DNA comes back to Marissa Walker, a young girl who was abducted twenty years earlier. After being assaulted and left for dead, Marissa was disfigured by a random wild boar attack. Everyone called her the Half-Face Girl, which spurred her to retreat into a world of myth and fantasy. She disappeared one day, but has reappeared in time to kidnap Lacey, her own niece. Marissa holds her sister, who ditched her to go hang out with some friends that fateful day, responsible for the attack.
Junior and Eddie join in on the search for Lacey and finally address an issue that's been brewing in the background for a while. While Tani was allowed to join the 5-0 after getting kicked out of the police academy, Junior is required to graduate. Junior takes a moment to process this, but doesn't say anything yet to Steve about this strange requirement.
In the middle of the search party, Steve pleads with Alicia to reconsider taking the stand. He says that he would be happy to tell the judge that Alicia was acting under 5-0's jurisdiction when she killed Madison, but Alicia is adamant that she doesn't want Steve lying for her.
Further discussion is halted when Danny finds Marissa's cabin, which is even creepier than expected. They try to race after her, but Marissa knows the woods too well. Thankfully, Eddie, along with Junior and Tani, finds Lacey in time to save her from Marissa's fate.
All's well that ends well for most of the team. Junior takes Tani up on her invitation for pancakes, and Alicia gets a short probation for Madison's death. It comes with an order to keep herself available for 5-0, and it certainly seems like we haven't seen the last of Dr. Brown.
Marissa may have gotten away but she hasn't gone far. A final scene shows her still yearning for a family and plotting her revenge.
Lou, meanwhile, doesn't need Danny's mask to scare him. He's busy visiting someone who, he claims, is the "Real Deal." Sebastian Wake is a gunman for hire about to be executed for his crimes. He specifically requests that Lou, a man he has never met before, come and visit him. He tells Lou that he will be "glad to watch him die," and Lou is suitably creeped out.
Sebastian ends up more boring than creepy as he insists that Lou watch him eat his last meal of fried chicken. Lou is about to leave when Sebastian drops the second significant name of the night – Clay Maxwell. Lou testified against his ex-partner at his hearing the year before, and Sebastian admits that Clay hired him to kill him in return for Lou's many efforts to get Clay to pay for his crimes. All Lou has to do to finally prove that Clay killed his wife (something Lou has been working on since he was introduced on the show) is extend Sebastian's stay of execution. However, the warden refuses to do so.
Lou is deeply, deeply disturbed by Sebastian's execution, especially because it doesn't take the first time. Although Lou couldn't give him what he wanted, Sebastian still leaves Lou with the clue needed to take down Clay once and for all. Lou breaks down when he finally finds what he's been looking for: proof.
What did you think of this week's episode? Let me know in the comments!