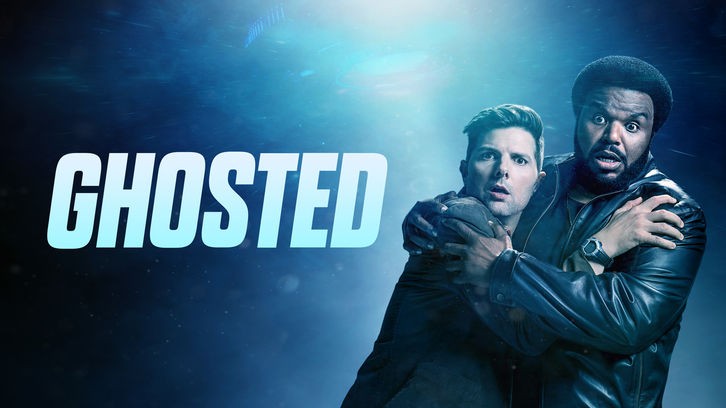 In what is probably the best episode of "Ghosted" so far, "Sam" dialed up the bromance between Max and Leroy as an artificial intelligence attacked the Bureau Underground. The cherry on the cake? The Dax Shepherd cameo, of course.
At the top of the hour, Max and Leroy are dressed as priests and chasing down a nun, who is probably a monster. Before she can stab Max, Leroy shoots her dead. Both of them are then eating at a diner where Leroy points out that his partner still eats like a child. Max asks him if he wants to hang out later that night but he says no, he's just going to chill instead.
Captain LaFrey is out of office and she's left Annie in charge. As they video chat, LaFrey tells her she's got a big job for her. The next thing we know, Annie is updating everyone at the BU about Sam (Shepherd), their new robotic best friend. He's there to assist everyone with anything they might ever need. Custom cappuccinos? Want the door closed behind you? Want your files arranged? Sam can do it all.
Barry, the comical resident medical expert, is very unhappy with this upgrade because he thinks they've given technology too much power. Looks like he's very, very spot on.
At first, Sam seems genuinely helping. He sets up a "Max alert" for Leroy so he always knows when his partner is about to come talk to him. Sam also supports Annie when she thinks she's not being strict enough as a boss because she wants to be friendly to her coworkers. The AI tells her that she needs to adhere to the BU security protocols and be fierce.
However, it's Max who realizes something is off about Sam once he realizes that the AI sent him to overhear Leroy and Terry, his new friend at the BU, only to learn the two went to a concert the previous night. This means Leroy lied to Max about his plans to "just chill." He did it to Max to protect his feelings but it's not something he wants to do anymore.
Max becomes the computer overlord's target when he is sent down to the subbasement to steal some satellite codes. He refuses to comply despite the death threats and breaks the hard drive. Sam is pissed! The AI stops Max from getting to Leroy and Annie to warn them. He sends them evidence that Max is, in fact, a maniac who sent terrorizing letters to Terry, like some disturbing stuff from when he was a professor. Leroy initially defends him, calling him eccentric but nothing more.
No one besides Barry believes Max when he finally is able to talk to Leroy and Annie. The two look at him wielding an ax and babbling about evil computers and believe he's crazy so they lock him up. Leroy and Annie look at the fake footage Sam is showing them where Max is apparently trading in those codes with Russians. It's then that Leroy realizes his mistake because fake Max is eating like a normal adult, not a child!
He manages to break him out and they meet up with LaFrey. Luckily, Max had managed to call her so she shows up to do damage control. Based on her instructions, our two heroes overheat the air conditioning and fight off a drone while she runs up just in time to see that Annie has also just realized that Sam is evil. Max and Leroy succeed, a bit too easily I might add, and all is well. Except, there next big task is to figure out how Sam got to the BU in the first place.
I think this was a really solid episode for "Ghosted," and it gave Adam Scott the chance to shine as he played the manic trying to convince everyone he's right. As usual, Craig Robinson was brilliant, too. It also showed us the bond Max and Leroy have formed over the last few weeks.
My biggest qualm was how easily they wrapped this story up. If Sam was really an all-controlling AI, why was it so easy to defeat him? This was the first time a threat has seemed to have stakes. I think it would've been interesting to see this plot play out for at least one more episode, making it a great two-parter.
What did you think of "Sam?"