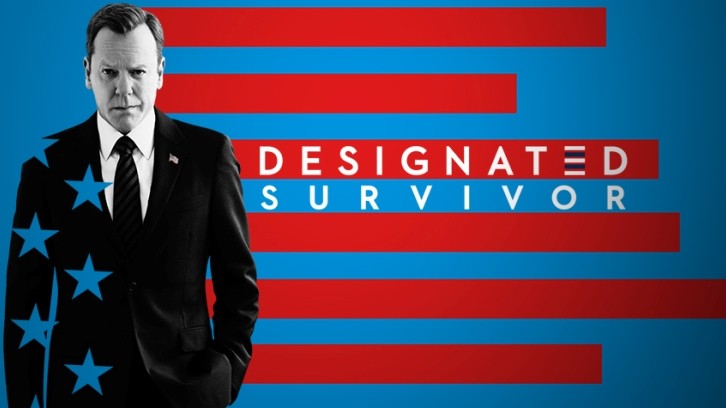 Designated Survivor
"Suckers" was written by Bill Chais and was directed by Fred Gerber, whose other credits include
Reign
,
The Lying Game
,
House
,
Judging Amy
, and
Family Law
. Chais joins the writers' room with an extensive list of credits including
Chicago Justice
,
The Mysteries of Laura
,
Franklin & Bash
,
Shark
, and
Family Law
– something he has in common with Gerber. This episode really gave us a flavor of how public opinion can influence policy and the political maneuvering that politicians engage in. I found myself, once again, enjoying this main plot more than the other two storylines.
As the episode unfolds, Tom (Kiefer Sutherland) finds himself under fire from a number of different fronts. The episode begins with the murder of Charlotte Thorne (Larissa Gomes) as she is out jogging in Washington. She's a Member of British Parliament and is in town for the G20 summit. Most importantly, she was about to make a speech naming names about illegal arms dealing. This is a nice excuse to bring Damian (Ben Lawson) back into the plot.
We first see Tom playing hockey – and of course Kiefer can skate and play! He's Canadian! He's having a game with Senator Rouse (Christopher Cousins) and takes the opportunity to get Rouse to agree to support Tom's Pension Bailout Bill. It opens up a nice discussion of the Republican position of less government interference – Rouse makes a case for the Bill being government "charity." Tom, however, gets him to say yes, only to have Rouse turn around and in an interview relate Tom's comment that the American people are "suckers" taken out of context to make Tom look as bad as possible.
Suddenly, Tom's entire agenda is in danger. Alice Rowland (Megan Gallagher) is an advocate for the Pension Fund and has already been losing faith that Tom can get the bill passed. Lyor (Paulo Costanzo) and Emily (Italia Ricci) meet with Senator Krantz (Amanda Martinez) about the 14 vacancies on the judiciary only to have her pull back completely from supporting Tom's moderate candidates to introduce an entirely new slate.
There are a couple of the now expected walk and talks in the episode. In the first, Emily, Seth (Kal Penn), Lyor, and Kendra (Zoe McLellan) discuss Rouse's betrayal. This particular scene was rather poorly lit, and I have to admit to being distracted by what they had McLellan wearing in this scene. Lyor and Seth find themselves on the same page – at least as far as they are both worried about the damage being done to Tom's "honest Tom" persona.
Seth is frustrated once again to find himself in a Press Conference and all the press want to talk about is sucker-gate. He tries to tell them he can't comment on private conversations, but the press keep hammering him – except for Tiffany (Bo Martyn), who wants to know who in the White House was served a subpoena – and it seems that Seth has no idea about the one for Eva (Bonnie Bedelia).
Meanwhile, Alex (Natascha McElhone) is dithering over what lawyer to use for her mother's case. Tom urges her to use Kendra and she finally interviews her and hires her. I have to wonder how good a lawyer Alex is when she almost completely loses her mother's case. She shows up at the courtroom and insists that she get to take second chair. Instead of simply keeping her mouth closed and talking to Kendra in an aside, Alex insists on breaking in to the motions – and judges just love that…
In the end, Kendra is able to ask for a recess and read Alex the riot act. Kendra tells Alex that she has to keep her emotions out of it – as every good lawyer should know! Kendra finally convinces Alex to let her do what she does. She can't follow her own carefully laid plan, but she's still able to quash the entire case based on the fact that Hannah (Maggie Q) obtained the document illegally – fruit of the poison tree. Forstell (Reed Diamond) is going to have another bone to pick with Hannah!
Tom is sure that he can reason with Rouse, who he considers a friend. He asks him to the Oval office. Tom tries to explain that he's not asking Rouse to lie or even come to his defense. He's only asking Rouse to provide the full context to what he said; he's asking him to be honest. When Rouse still refuses, Lyor offers Tom a file with dirt on Rouse to get him to tell the truth. Tom refuses.
Things go from bad to worse. Tom drops in on the Clean Air Initiative meeting that Seth is having with a group of corporate heads, including Dax Minter (Chris Butler). They all give him the cold shoulder. Tom tells Dax that he was hoping for a bit more support from him, but Dax tells him that the situation is about just the word "suckers" it's about leadership.
Once again, we get a nice walk and talk between Mike (LaMonica Garrett) and Tom. Mike tells him that he needs to respond to the mudslingers – all those people taking cheap shots – he can't just ignore them. Tom tells Mike that he won't sling mud back, and Mike tells him that he shouldn't. What he needs to throw back is hope.
Meanwhile, Hannah and Damian are tracking the prime suspect in Thorne's murder – arms dealer Darius Cray (Paul Amos), who Thorne was targeting. The two ambush Cray and his wife Catherine (Michelle Nolden) while they are having lunch. Cray insists he's a legitimate arms dealer and threatens to sue them for harassment if they ambush him again.
The two manage to follow him to a $5 Million cache of illegal weapons and arrest him. Lyor is thrilled and wants to use the win of finding Thorne's killer immediately, but Seth insists that they wait for the ballistics report – which is a good thing because it turns out it wasn't Cray who committed the murder. It does look like Catherine was working against her husband, however.
Damian comes to say goodbye to Hannah at her apartment and the two end up kissing – and was I the only one who knew we were going there all along? The good news is that it looks like maybe Damian isn't a bad guy after all. The two are interrupted by Aaron (Adan Canto) calling them back in because the ballistics didn't solve the case.
Tom insists that they do an OTR – he wants to take the argument to the people. Lyor is skeptical but agrees. Lyor is impressed by Tom's ability to talk to anyone and everyone and make a good impression. He tells Emily that he's never seen anyone so good at "crowd work," and Emily explains that's because it isn't "work" to Tom. Unfortunately, Tom is ambushed by Alice outside the diner – can no one have a nice lunch on this show!!?? She wants him to promise he'll get the Pension Bill through, but honest Tom won't make a promise he isn't sure that he can keep – and Alice throws that word out there again: "we are suckers for backing you…"
When Lyor and Emily explain that Tom's entire agenda is at risk if the news cycle stays on sucker-gate for more than a day, Tom is finally desperate enough to agree to an interview with Carson Kramer (John Ralston). Tom even takes Lyor's file on Rouse. However, I was pretty positive that he'd never use it… and he doesn't.
I didn't find much in the interview to be surprised at. I knew that Tom wouldn't sling mud at Rouse and I knew he'd tell the truth – that Rouse wasn't lying. I did love the way Tom explained it – that the American people are suckers for believing in the American Dream, but Tom made it sound like the best thing ever.
Rouse comes back to the Oval office to tell Tom that he's going to support the Bill after all. Rouse also comes clean about having had an affair while his wife was battle ovarian cancer. What a nice guy! Rouse tells Tom he lied because he was desperate for a victory. Tom thanks him for coming to him and telling him the truth. Tom then shows him the file folder. Rouse realizes that Tom could easily have ruined him and didn't. Tom also warns Rouse that if he was able to get a copy, Rouse should get ahead of it before someone else comes forward.
In the final scene, Tom invites Alice to the Oval office. He wanted to tell her that he respects her and admires her work. He was surprised to learn that she comes to being an advocate for victims from the other side. Her husband was one of the perpetrators. He realizes that she comes to help out of a sense of obligation. Out of survivor's guilt. And then Tom tells her that he feels that way every time he walks into the Oval Office. He feels that obligation simply because he survived, and he survived because he was lucky.
Tom goes on to say that he believes that they are supposed to pay that luck forward – and he promises to do just that. I really do hope that they can keep Tom as "honest" Tom and have him avoid the most egregious of moral dilemmas in politics. I also hope that Alex will now simmer on a back burner until her character is written off. I do wish that they hadn't thought they needed to make her character quite so irritating, however. I'm also still finding the investigation storyline a lot more interesting with Damian in it. What did you think of the episode? Let me know your thoughts in the comments below!