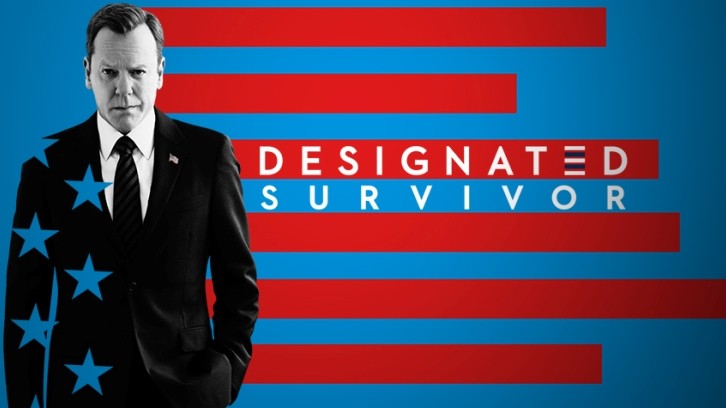 Designated Survivor
"Family Ties" was written by Pierluigi Cothran and was directed by Milan Cheylov, whose many credits include
Scorpion
,
Agents of S.H.I.E.L.D.
– and most significantly –
24
. Cothran has been working as a story editor on the show and has previously written for Blood & Oil and Dallas. Fittingly, we get a bit more Jack Bauer in this episode as Tom (Kiefer Sutherland) loses it when his family are targeted – and hence the title.
The major political kerfuffle at the center of the episode has to do with a protest over President Turan (Troy Caylak). Things escalate when Turan goes "off book" during a co-Press Conference with Tom and demands that the US extradite Nuresh Sahin (TJ Ramini). Turan declares the US are harboring a terrorist, but Tom insists he's just a visiting professor. Unfortunately, Sahin is thought to be behind an attempted coup in Turkey because he supported it. Turan threatens to take key airbases from the US and give them to Russia.
Meanwhile, we get to see Leo (Tanner Buchanan) for the first time in a long while, and he's showing his new girlfriend Sibyl (Nikki Roumel) around the White House – with Tom's help! I loved the scene in which Mike (LaMonica Garrett) and Tom agree that Leo should have shown her Lincoln's bedroom rather than the Oval office!
Leo and Sibyl end up running into a protest, and when one of them gets in Sibyl's face, Leo pushes him and he falls down – conveniently on camera. Tom is mad that Leo ends up on the news, but Leo explains that he was just protecting Sibyl. Alex (Natascha McElhone) is worried about a civil suit, and of course, they get a call that the protestor is suing for $8 million! Lyor (Paulo Costanzo) insists the guy just wants money, and Tom tells him to make it go away, but once they hear the amount, Emily (Italia Ricci) points out that he clearly wants the publicity not the money.
It turns out that she's absolutely correct. Mike looks into Peter Jan (Hamza Haq) and it turns out that he worked for a group that funnels money to Turan – so clearly he shouldn't be protesting over him. Leo is devastated when it turns out Sibyl wasn't interested in him, she was just part of the plan. Meanwhile, Turan has already walked out of a committee meeting, declaring he's going to walk away from NATO.
Even though Tom is pressured to extradite Sahin, he refuses and calls Sahin to the Oval Office to assure him that he's safe in the US. Lyor tells Tom to throw Sahin to the wolves, but Tom insists on a Press Conference with Sahin to expose Turan's tactics. Aaron (Adan Canto) also urges that it's not US policy to give a platform to the opposition leader.
Turan shows up at the Oval Office furious about the Press Conference. And Tom toes Jack Bauer on him. He tells him he's giving him a one time offer: Turkey gives the US the bases, stays in NATO, and drops the case against his son. He tells Turan that if he goes after Tom's family again, Tom will come to him – not as President – but as a man protecting his family.
Tom tries to talk to Leo in the residence, but Leo realizes he'll never have a normal life. Tom apologizes, but Leo shuts him out. I have to really wonder where they are going with the whole family storyline. Buchanan in no longer a regular and McElhone is leaving. Will she just take the kids away again?
Meanwhile, Seth (Kal Penn) has been fielding questions about Leo from the Press corp – and of course, that's all they want to talk about. Tiffany (Bo Martyn), however, has discovered that Eva (Bonnie Bedelia) is meeting with Forstell (Reed Diamond) and wants a sit down with the President or she's going public. She wants 30 minutes and she wants it right away. It just happens to be at exactly the same time that Forstell is meeting with Eva and Kendra (Zoe McLellan), so they can't coordinate what they say. I really liked how these two scene were cut together. Seth thinks Forstell is leaking information to Tiffany, but Tom insists he's too honorable for that. He's sure that someone is leaking information to both of them.
Kendra agrees to surrender Eva's bank accounts to the FBI, and Forstell asks a curious last question about Eva and Alex taking a trip to St Lucia. Meanwhile, Tom urges Tiffany to stop dancing around what she really wants to ask, so she asks him if he's pay for play with Astrotech. Tom tells her no in no uncertain terms and affirms that he took a pledge to serve the American people – not himself.
The episode ends with Alex reassuring Tom, that he just needs to be there for Leo, for all of them. Then we discover that Alex has been subpoenaed – they've discovered a bank account in her name in St Lucia. And apparently Little set the bank account up 6 months ago. Clearly, the entire family is being set up in one way or another!
Finally, Hannah (Maggie Q) and Damian (Ben Lawson) – with Chuck's (Jake Epstein) help, continue to investigate Secretary of State Moss (Geoff Pierson). Thorne's former assistant, Payton Lane (Cariba Heine), helps point the finger at Moss. It turns out he was having an affair with Thorne and had broken it off the night before the murder. He then checked himself into Ravenwood, but refuses to tell anyone why.
Emily breaks protocol and summons Moss to her office. He tells her everything about the affair but refuses to say why he was at Ravenwood. Tom has him suspended until he cooperates fully, and Moss is ok with it.
Moss is cleared of the murder, however, and Hannah and Damian decide that a missing friendship ring will lead them to the killer. I did like the scene when Hannah finally notices the little rivalry between Damian and Chuck. They discover a picture of Lane with the ring on and confront her. She confesses that she was also in love with Thorne and thought the break up with Moss was their chance to be together. She killed Thorne when she turned her down – really the whole thing seemed too easy.
At the end of the episode, Moss comes to Tom in the Oval office and apologizes for obstructing the murder investigation. After all, he knew he didn't do it and wanted to get justice for Thorne. He confesses to Tom that he'd checked into Ravenwood because he'd been so upset about the break up that he'd fallen off the wagon. He tries to give Tom his resignation, but Tom tells him to take the time he needs to get himself back together and then return to the job.
Damian turns up at Hannah's and they finally go to bed together. Afterwards, Hannah wants to know when he's leaving town. I was sure that she was going to freak out when he told her that he'd been permanently assigned to the British Embassy. However, the show surprised me – maybe she is ready for a relationship after all? She certainly seemed happy enough that he was staying!
I thought this was an interesting episode with a particularly good performance from Sutherland. However, the Thorne murder plot was particularly disappointing. Even the political intrigue seemed a bit strained. What did you think of the episode? Let me know your thoughts in the comments below!