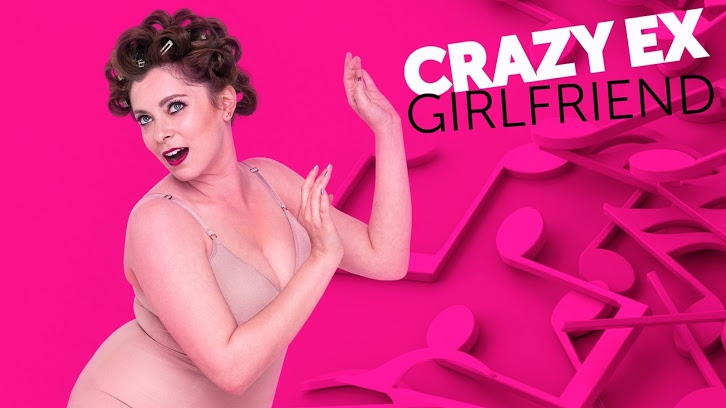 I wasn't the kindest person to the first two episodes of Crazy Ex-Girlfriend because I felt like the show was trying to do something drastic, but wasn't quite succeeding. After watching Josh is a Liar and Josh's Ex-Girlfriend is Crazy, I'm still not over the moon about the direction of things, but I'm enjoying the show a bit more and am settling into a comfortable mix of laughter and mild interest that I'm sure will continue to improve for the better.


Josh is a Liar
This episode really found Rebecca and her inner child self realizing and formulating what would happen next in the aftermath of her confession to Josh, and Josh trying to convince his friends that Rebecca was crazy. Oh, and that Nathaniel is developing feelings for Rebecca and really has a thing for the zoo. What's really great about this episode is that it rally started to double-down on the "Crazy" in Crazy ex, by showing that Rebecca and her inner younger self are willing to do some pretty drastic and not-so-nice things in order to protect themselves. Rebecca knows that her confession to Josh basically ruins her suit against him, so she manages to confess Paula to shut down the case by convincing Paula how awful the case is and basically ruining Paula's confidence in the process. After everything these two have been through when it comes to Rebecca's selfishness, you'd think she'd just be honest with her, but in typical Rebecca fashion, she never truly changes. Josh announce that he's coming home from
preschool
priest school and Rebecca then turns around and asks Paula to revive the suit while also attempting to destroy Josh's reputation so no one will believe him. (Forgetting the fact there were witnesses to her confession) What's frustrating about this whole thing is that, as much as I DESPISE Josh Chan, Josh has a very valid reason to want to out Rebecca as she has been a completely horrible person.
It's easy to want to brush off why Rebecca did some of these things because we root for her, but if you look at it from Josh's perspective she really is awful. At the same time when you do look at it from his friend's perspective, it does seem awfully unbelievable that one person could be entirely capable of doing all these things. Taking off any rose colored glasses that may be on, watching Rebecca not just manipulate Paula, but disregard Heather, work to turn Josh's friends against him and completely disregard Nate it is hard to not see how selfishly awful Rebecca is. I actually found myself rooting for Josh to expose the contents of the envelope to everyone and I honestly can't say that I'm not happy with the outcome of Paula learning the truth about Robert and realizing how much she doesn't know Rebecca. Rebecca eventually pays attention to Nathaniel when she needs him to make an escape. The hard truth is, despite Rebecca being able to say "She has friends" deep down she knows that she it too awful to have friends and with the truth about Robert out she knows that she has very little chance of winning her friends back. This episode really took the time to highlight how bad Rebecca is, and rip away the frosty glow that made her actions bearable.
Elsewhere in the episode, Nathaniel spent time realizing that he has feeling for Rebecca by working with George to seduce her. I actually found the completely random fact that his happy place is the zoo to be enjoyable and find it hard to decide if Heather's "The Moment is Me" or "I go to the Zoo" is better. Seeing Rebecca disregard both of these people who truly have been there for her and care about her is hard. What I do love about this show, is how it consistently delivers stories for the supporting cast that shed light on them and make them more three dimensional. I love all things Heather and she has been a student for like ever, so I liked the fact the show took time to explore some of her insecurities and delivered such an accurate presentation of my life with "The Moment is Me". All in all, I thought this episode was a really strong episode that started to show us the cracks in Rebecca and enjoyed this way more than I did the first two episodes of the season.
A-
Grading the Songs:
"The Moment is Me" -
A.
Love it, love Heather. On Repeat.
"I Go to The Zoo"
A.
I don't hate this. I quite enjoy it.
Josh's Ex-Girlfriend is Crazy
So what does Rebecca do? She turns to the only man that has ever made her feel in Josh's absence. Greg. It's really clear that Greg really is better off without her. Since he's in Atlanta and she can't have him, she heads to his favorite bar and I was of two minds of whether I wanted Greg to actually show up or if I didn't. I love Greg, and I loved Greg and Rebecca, but where I am now, she doesn't deserve Greg and he does deserve better. Greg's butt dial was painfully cruel, but when Rebecca does eventually find a surrogate Greg at the bar in Greg's dad, Marco I almost threw up. Marco drops the knowledge that Greg is with someone else and he is madly in love, and Rebecca tries to sleep with him. I threw things in disgust. I can't even handle these lows. With "The End of the Movie" featuring Josh Groban, the show really highlights the harsh reality of her situation and touches on the delicate balance the show has on how Rebecca views her life in terms of a pop culture phenom movie. So, now are we seeing Rebecca finally moving past the crazy idea that her life is some sort of quirky movie where everything she does, no matter how bad, is done so zany that it would ultimately be good? She is headed home to her mother and we all know she will come back to West Covina, but it will be interesting to see who she will be. Can she find a way to be both the successful Rebecca from New York and the happy Rebecca form West Covina without leaning towards one or other to the extreme?
Elsewhere we see that, no matter how bad her truth hurt, Rebecca's notes to her friends have once again helped them push forward. Rebecca's entry into their world has really catapulted these individuals to live different lives and she changed so many things for them with her actions. Now, we see that armed with Rebecca's truths that Paula takes time to come clean about her indiscretions on Rebecca's behalf and tries to renew her commitment to her family while Heather is aware that she needs to get her life together and hook up with Hector while Darryl finally learns the truth that White Josh doesn't want a baby and I'm in agony because this could mean the end of White Josh. This episode really grappled with emotions for our characters and I loved every minute of it. This is what I wanted form this show! This is what I've needed for seasons. Rebecca truly coming to an understanding of her life and what she has done is what she really needs to start healing. The writers on this show really know how to turn tropes on their heads while writing compelling characters and catchy tunes. This season started rough for me, but this episode won me over.
A
Grading the Songs:
"Scary, Sexy Lady" -
A
. I loved this. I bought it. Amazing.
"I give Good Parent" -
C
. Was nice to hear this again.
"The End of the Movie" -
A
. Why can't I buy this song????????
So what were your thoughts on these episodes? Where do you think Rebecca is heading next? Sound off below!

The next episode of Crazy Ex-Girlfriend, I Never Want to See Josh Again, airs 11/10 on The CW.