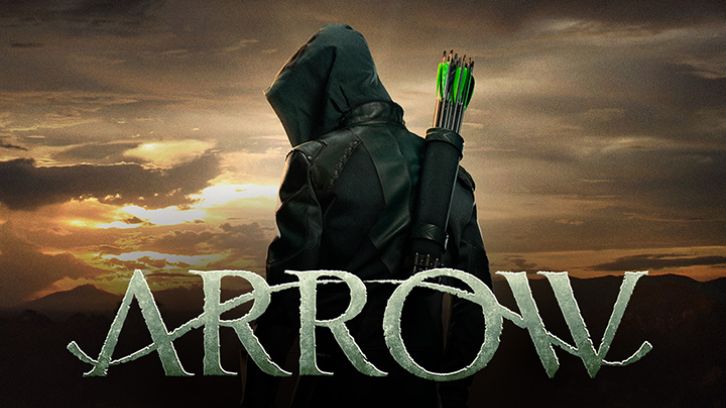 Arrow
"Thanksgiving" was written by the team of Wendy Mericle and Speed Weed and was directed by Gordon Verheul. There was little to give thanks for in this episode, however, other than Thea (Willa Holland) finally waking up – not due to some supernatural miracle but some kind of medical miracle drug. Will the Dragon (Kirk Acevedo) have something to do with this too? Otherwise, the episode, like this season, had little to give thanks for, except that brief reappearance of Oliver (Stephen Amell) as the Green Arrow. I'm afraid I have to rate this a turkey.
The episode begins and ends with a nod to the holiday – with a brief mention of Big Belly Burger Thanksgiving in the middle – but otherwise this is not going down as classic Thanksgiving fare – it's really the Big Belly Burger version. Ok. I'll admit that I did appreciate Felicity's pun about turkeys and stuffing as Overwatch directed the team. At a Thanksgiving food drive/opening ceremony of the new SCPD Headquarters, Agent Watson (Sydelle Noel) shows up and ruins the whole thing by arresting Oliver.
Apparently, the new SCPD has beautiful interrogation rooms – although the table isn't actually visible from the two-way mirror… Oliver demands to see William (Jack Moore) and reassures him that he isn't the Green Arrow anymore. FYI? William is not Oliver's lawyer so anything they say in that interrogation room can be recorded and used as evidence. He should have no expectation of privacy…
Dinah (Juliana Harkavy) visits Oliver in prison and offers to break him out. He refuses to become a fugitive and be separated from William. At his arraignment, he does get bail, but the DA (Pej Vahdat) is able to hand wave that he has evidence, so the trial is going forward. Blissfully, Watson is going back to Washington, so we don't have to deal with her – not blaming the actor here but her character has been poorly written. Felicity (Emily Bett Rickards) insists that Oliver take the $1 million from her angel investor seed money for her and Curtis's (Echo Kellum) start up to pay the bail.
Cayden James (Michael Emerson) sends Black Siren (Katie Cassidy) after a nano-thermite device. I am enjoying Cassidy's evil joy – and strutting around in that black leather, but so far Emerson is so terribly written his character is disappointing. It's pretty clear from his performance that he's really been given no backstory to build a performance on.
Diggle (David Ramsey) worries that Star City criminals will think it is open season and become a war zone if they think that the Green Arrow is in prison. Diggle has Curtis inject him with a prototype based on the one they use for Felicity's spine. We do get a lovely shot of Diggle doing handstand push ups… However, when the team try to stop Black Siren at Amertek where she's going after the component to make a thermobaric weapon, Diggle is suddenly incapacitated in the middle of the attack. The rest of the team can't stop her although we get another classic Arrow fight.
It's always nice to see Venus Terzo show up as Dr Schwartz. She tells Diggle that he's in withdrawal from the steroid. It turns out that the chip and the steroid have made the nerve damage worse and it's now affecting his back too. It would be nice if the show paid any kind of lip service to either actual medicine or the actual law… but I'll let that go…
Once the team fill Felicity in on what's going on with Diggle, she tells Oliver and he goes to see him in the hospital. Oliver is furious with Diggle – as he should be – this is about the stupidest plotline ever. Diggle tries to tell Oliver he didn't want Oliver to worry. Oliver doesn't believe him. Diggle knows that Oliver never would have let him go out in the field compromised – and endanger both himself and the team – which IS what happened.
Oliver tells Diggle it's the first time he's ever been disappointed in him. Yep. Me too, Oliver! Diggle insists he only did it for the team – and that the team is his primary concern. And the implicit accusation here – which is also true – is that Oliver hung the team out to dry by walking away. Diggle tells Oliver that his mistake was putting Oliver and Oliver's family's needs above his own. Oliver tells him that his big mistake was trusting Diggle to be the Green Arrow.
Of course, the two completely make up later in the episode. Diggle confesses that the alternate universe – and this is a nice set up for the crossover this week – showed him that his one true desire was to be the Green Arrow. I actually wish they'd spend considerably less time worrying about writing to the crossover episodes. As someone who tried (and failed) to like
Supergirl
and
Legends of Tomorrow
and who gave up on
Flash
after the second season, I intensely dislike being forced to watch 3 hours of television I would not otherwise watch. Kudos to all of you who do like those shows - this is just my opinion.
Oliver admits that he's grateful for Diggle taking on Green Arrow and allowing him to have a family. He promises Diggle that once Diggle is cured, he can have the hood back.
Meanwhile, Felicity and Curtis are also at each other's throats. Curtis is angry (and for once, I'm on his side about this) about Felicity deciding the name and what they'll be working on without him. Felicity is angry that Curtis used their proprietary invention without consulting her. Curtis reminds her that he's the one who invented it in the first place. Did anyone think that these two working together was a good idea? Of course, they mostly make it up by the end of the episode anyway – until Felicity tells Curtis about the funding paying Oliver's bail anyway.
Dinah and Quentin (Paul Blackthorne) bond over evil relatives. She actually confessed to him everything that happened with Vigilante in order to make him feel better about evil Laurel. Dinah insists that it only proves that they are good people because they see good in people. Personally, I am beyond tired of them forcing this father/daughter bond on us between these two.
Finally, James's plan was a lot cleverer and more insidious than blowing up a Billy Joel concert – and how did they get permission to use that footage!? I did like the fight sequences her – and having Rene (Rick Gonzalez) throw a knife to set off the fire alarm was great. Best of all was seeing Oliver back in the field.
When it becomes clear that the "police" are fake, Felicity eggs the team on to show them no mercy. Naturally, this footage ends up all over the place just as the voting is happening on the referendum and the vote goes to enforcing the strictest possible penalties on vigilantes. Is it just me or couldn't this be solved by appointing the team to the police department as a special unit? After all, they do try not to kill criminals now, right? And turn them over to the police… Watson isn't all wrong when she tells Oliver that you can't be a hero if you hide your face.
James never intended to set off a bomb – except to blow up the team's ability to function. He also wanted to talk to Oliver. And really? Yet another revenge plot about a son? Oliver swears that he's never met James, but James insists that his whole mission is revenge because Oliver cost him his son.
William visits Diggle in the hospital and asks if he's ok. William wants to know who was Green Arrow at the Stadium if Diggle was in the hospital. Oliver lies and says that the Green Arrow wasn't there – just the team. And when did lying ever turn out well? Oliver tells Diggle that he's just subbing – so does that mean we will continue to see him wearing the hood and lying about it to William? While the dinner and family gathering looked good in that final scene, did anyone else notice that there were no implements with which to eat it? Nobody can be surprised that the stick figures on the show don't eat, but they could at least pretend, right?
Arrow
could use with a good shake up right now. I realize that many of these tropes are standard superhero tropes, and that the father/son theme has run throughout the series, but that doesn't mean we couldn't explore something more novel. What did you think of the episode? Will you be tuning in to the entire crossover? Don't forget – or be aware! That
Arrow is on on Monday night this week – right after Supergirl. SpoilerTv will be doing a special round-table review on Crisis Earth X.
Let me know your thoughts in the comments below!