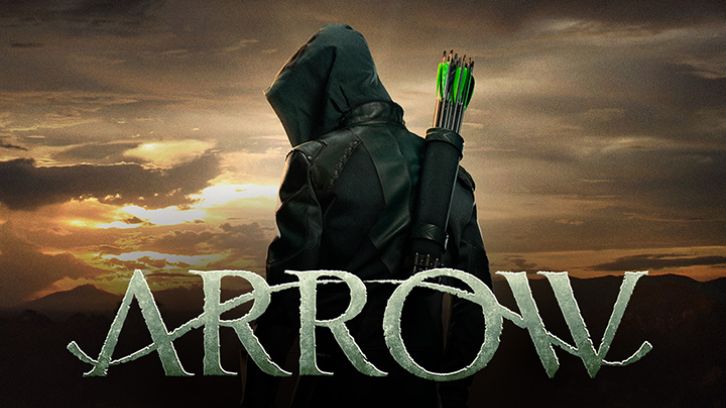 Arrow
"Crisis on Earth-X, Part 2" was directed by James Bamford with the teleplay by the team of Wendy Mericle and Ben Sokolowski based on the story by Marc Guggenheim and Andrew Kreisberg. There is actually going to be a Roundtable Discussion on the four part crossover, so this will just be a very short piece on the crossover generally, and specifically on what you need to know going forward for
Arrow
in particular.
First of all, this was the most successful crossover of the DC shows in that it felt more like a four part story that completely (to a point) involved all four shows. The basic gist of the story is that on Earth-X, the Nazis won WWII and are now lead by an evil Oliver (Black Arrow) (Stephen Amell) who is married to an evil Supergirl (Overgirl)/Kara (Melissa Benoist). Evil Supergirl is dying, so they come to Earth after Supergirl, who is attending Barry (Grant Gustin) and Iris's (Candice Patton) wedding, to cut out her heart to save evil Supergirl.
There were lots of fun appearances of characters like Tommy Merlyn (Colin Donnell) – who is evil and shares one nice scene with Oliver before killing himself. Wentworth Miller is back as Leo Snart. Both Donnell and Miller are terrific. We only see Quentin (Paul Blackthorne) as Dark Arrow's evil second in command on Earth-X. The rest of the Arrow team – Rene (Rick Gonzalez), Curtis (Echo Kellum), and Dinah (Juliana Harkavy) show up to get thrown in the Star labs prison and join in for the final fight.
Frankly, the plotting and pacing of the episodes was terrible. Each episode started with a fight. Then we had several dramatic conversations between people. Then there was a crisis. Then a big fight to end the episode. So many gigantic fight scenes in such a small amount of time could only be so good. So in one fight between the good guys and the Nazis, one of the Nazi soldiers seems to fall over for no reason at all. Mistake of choreography? Missing post VFX? Who knows. The final fight between Arrow and Dark Arrow is too much of a set piece – they are on top of a car, swinging their bows at each other and from the angle it was shot, rarely connecting with each other.
The only real through storyline of note for
Arrow
fans was the discussion between Oliver and Felicity (Emily Bett Rickards) about marriage. Oliver is so moved by Iris and Barry getting married that in the
Supergirl
episode, he asks Felicity to marry him – it's a great scene – and she turns him down. Felicity confides in Iris that the last time they got engaged, she was shot and paralyzed and that was the beginning of the end for her and Oliver – she's scared to tempt fate. In the
Legends
episode, Oliver finally accepts Felicity's point of view and tells her that all that's important is that they're together. Now. If you didn't watch the crossover – or missed Legends – be prepared to be pissed off.
The crossover ends with Barry and Iris deciding that they just want to be married quietly be a justice of the peace. Barry asks Oliver – as Mayor – to do it, but Oliver can't because they aren't in Star City – but he knows someone who is ordained. Barry speeds to Star City and returns with Diggle (David Ramsey). This is Diggle's entire crossover appearance. He marries Iris and Barry but before they can say I do, Felicity jumps in and wants to marry Oliver. So. Felicity and Oliver are also married. That's a thing.
Look for a much more detailed review with the roundtable discussion – which should be up in a day or two. For now, that's all I have to say about the crossover. Better than the last one, but still the last one that I intend to watch. I'm lucky that I've seen at least a few episodes of the other shows or I would have had no idea at all who most of these people were. Did you watch? Did you love it or hate it? Do you object to being held hostage to watch them all? Let me know your initial thoughts – but stay tuned to jump into a more intensive discussion with the roundtable!