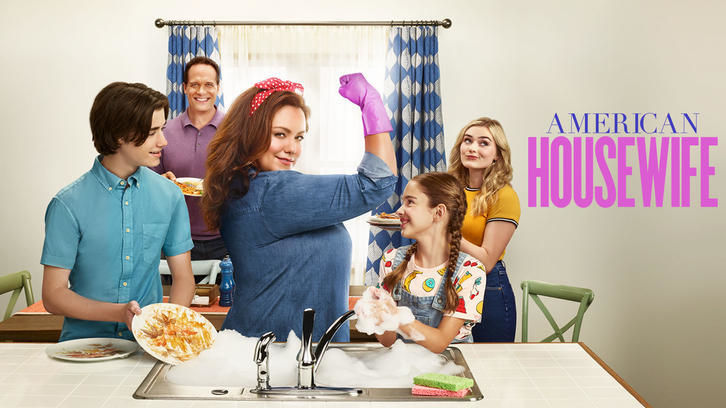 "It's every mother's dream to have a farm animal consuming trash in her kitchen." Well, maybe not every mother - certainly not Katie.

In "The Pig Whisperer," Katie and Greg square off about the family's most recent addition - Hans Gruber. Katie wants him gone. Greg, on the other hand, has bonded with their new pet pig. So, Greg and Anna-Kat resort to some good old-fashioned dog training. Training, however, goes just about as well as you'd expect dog training a pig to go. So, Greg enlists the help of a pig whisperer.


While Greg, Katie, and Anna-Kat are busy fighting over
the pig, Oliver and a newly divorced Viv are duking it out over Spencer Blitz. As the pre-nup only left Viv with the house and no cash, she needs a new rich old guy to live off of, and fast. Katie, desperate to get rid of a now even more dependent Viv, sees an opportunity to kill two birds with one stone. She can stop Oliver from hanging out with an ex-con and get rid of Viv by having her go after Spencer. After all, "Spencer checks off all the boxes. He's rich." (This, according to Viv, is really the only box.) Of course, this ruins Oliver's plan to become Spencer's best friend and sole heir. So, the two go to war, Oliver enticing Spencer by teaching him about the new technology he's missed during his 20 years in prison and Viv just trying to plane out seduce him.

What Katie didn't see was that by sending Viv into a loveless relationship, she'd be setting the example for Taylor (who's been considering dumping Eyo for a more popular senior) that's it's okay to go after men just for their status. With some consultation from Angela and Doris, Katie realizes she's not going to be able to accomplish all her plans. Either get Viv together with Spencer, get Oliver away from him and get rid of Viv, but let Taylor think it's okay to have a relationship just for status or teach Taylor a lesson, leaving Oliver to stay friends with Spencer and leaving Katie stuck with Viv.

Katie chooses to do the best thing for Taylor, because at least when Oliver's rich, he'll put her and Greg in "one of those nice retirement communities." Katie finally has a talk with all of her girls (including Viv) about how real love is what truly matters, not money or status, by recounting how she felt when she got together with Greg.

This inspires Katie to be little more lenient with the pig situation, especially after hearing a heartbreaking (albeit false) story about how Greg's dad gave away his childhood dog. The two agree that Hans Gruber stays.


Random Thoughts:
-I totally guessed Greg was faking it with that story.
-I'm so glad Viv is back! I've missed her relationship with the Ottos.
-I was laughing out loud at the scene where Katie and Greg go "toes to nose!"
-Best lines to go Katie and Taylor. "Mom, you've dated two guys at the same time before, right?" "Yeah, of course!...Wait...No!"
-I love how Katie has to parent Viv just as much as the actual kids.
-"Excuse me while I storm off with my pig." I bet that's a line you never thought you hear.
Are you glad Hans Gruber gets to stay? Do you anything will become of Viv and the pig whisperer? Let me know below!