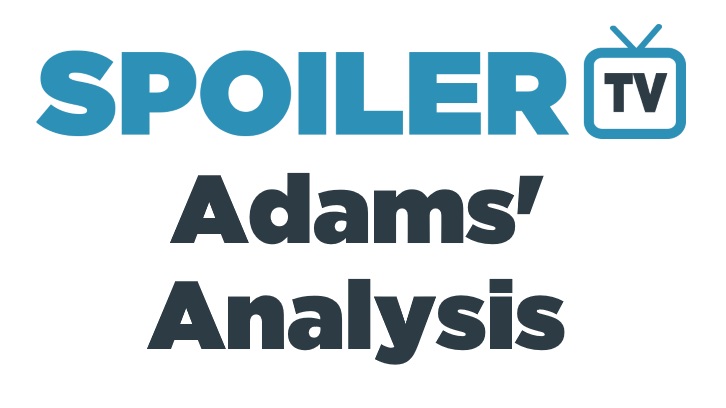 Back in February, while reviewing "The Lego Batman Movie", film critic Mark Kermode made these two related points:

"You had that sense, all the time, that there was so much going on, there was so much stuff happening in it, that at any point you could freeze-frame it and go, 'Oh, I'm missing that gag'."

"I wanted to reach out and grab the screen and just go, 'Just stop! Stop a minute. Just hold that a minute so I can get all the jokes that are in that frame. Okay. Now, off you go'."

I've thought about that a lot in the months since, having decided to - for the first time in a quite a while - watch each new episode of The Simpsons as Fox churned them out this year.

Classic Simpsons - an era fans will never cease to argue about the length of, but for sake of discussion let's assume it's the first ten seasons - was just like this. To say it was a joke-a-minute would be borderline insulting to the show for how many there actually were; you could conceivably watch an episode a dozen times over, or more, and still manage to spot a fresh gag on a subsequent viewing. Were all of those jokes perfect? No, of course not. But there were so many, and so many were so funny that it didn't matter about ones that didn't quite hit (*).

(*) Perhaps, too, there's a case to be made that the slightly less successful jokes are the ones you miss on the first viewing (or ten), but find side-splittingly hilarious at a later date.


It's interesting that the opening sequence in this past Sunday's episode, "Singin' in the Lane", revitalised this idea. Just seconds in, it was blatantly apparent that this was to be far denser in its background jokes than the openings that have come before it in recent times. Of course, the obvious variety - the usual tour of Springfield taking place underwater, with every character now a fish - helped, but it felt almost unusual for there to be such ingenuity, such finesse not just in the sequence's premise but in how all out the show went. As Homer leaves the power plant equivalent, for example, the sign which usually shows how many days since the last accident instead counts down to global warming, while an additional sign says "Gone Fission".

Simple, but effective.

Though the remainder of the episode itself didn't pack quite the rabbit-punch as the opening, it was able to get by more than competently by the impressive surface comedy. There was rarely a scene that didn't contain at least a couple of hearty laughs; a far cry from classic Simpsons, but for a show airing its 625th episode, that isn't bad.

What is concerning is that this was one of a very select few - there is maybe only one other - to have hit this mark in 2017. As opposed to an episode weak in the comedy department being a blip, it is now the norm for half-an-hour to pass by and for little to be done in the way of tickling the viewer.

Perhaps more concerning is how, in achieving this, The Simpsons managed to also tap into a bad element. There were times in this episode where things got dark - and not in a good way. "Homer's Enemy", one of the series' most revered outings, is also one of its most divisive because the events of it don't conform to the silly, light-hearted style the show typically adopts. Frank Grimes manages to electrocute himself, for crying out loud. But even amid that, it felt like The Simpsons.

"Singin' in the Lane", largely, does too. Yet there are moments - Moe having an anti-suicide keychain, namely - that feel awfully out of place, both in tone and suitability. Despite the story itself having impressive depth, particularly for a character like Moe, there were times where it was difficult not to wonder whether the show, in search of new stories, had gone to the wrong place.

The half-hour, of course, was a sequel to season seven's "Team Homer", in which Homer led bowling team 'The Pin Pals'. This isn't the first follow-up this year - last season's "Kamp Krustier" provided a visit back to the time of season four's "Kamp Krusty". That sequel was far less successful than this, falling into a similar trap that this occasionally threatened to. (That was in addition to making Bart largely unlikeable for his feigning mental illness to avoid school.)


In reviving the spirit of a classic, The Simpsons proved here that it still has some juice left in the tank. But that can be called very much into question after an episode like last week's, "The Old Blue Mayor She Ain't What She Used to Be", a spectacularly poor outing that is one of the weakest in memory. Its jokes lacked, the story dragged and the message it tried to convey was less a message than a preachy gloat. The intent of subtext was there, and with Marge's rise to power it was mostly successful. But, boy, getting there was a struggle, and it speaks to how the series has, in its old age, lost considerable amounts of its once admirable nuance.

So many others this year have been problematic for many different reasons. It's understandable. After 29 years, stories can dry up and the scope for comedy with these characters we know and love in such detail can too. Innovation is a writer's best friend, comedy or other, hence we've seen in 2017 episodes like the two aforementioned sequels, a 30 for 30 parody, an hour long special, a medieval-set episode. All tried something different and should be recognised for that, even where they weren't successful.

However, we're almost certainly at the stage now where it's worth wondering how much longer this can go on. This is not necessarily to advocate The Simpsons ending - with episodes like this, it is clear that the writers are still immensely capable - but it would be difficult to suggest that all is rosy and the show could continue for another 30 years and probably outlive a nuclear apocalypse in the meantime. Even if that doesn't sound unrealistic.

The 18th episode of this season will take The Simpsons past Gunsmoke as the longest-running scripted series in primetime television, a remarkable feat that it is impossible to see ever being beaten, such is the way that TV now works. At this point, there isn't a whole lot of new ground left to break.

Maybe, just maybe, at the end of its 30th season - taking the episode count to 662 - that would be the moment to bring it all to an end.