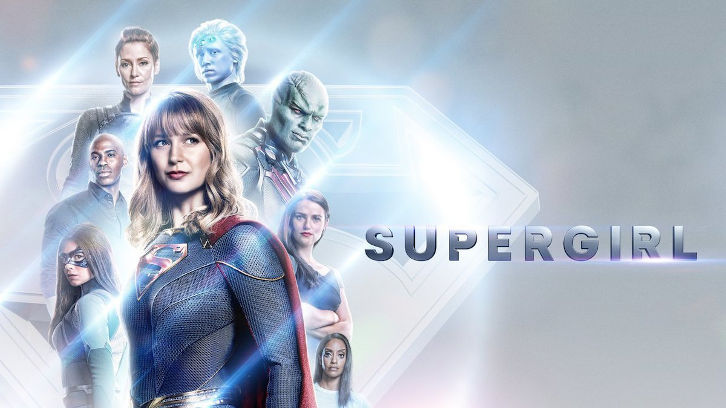 Supergirl 303

Written by Jessica Queller and Derek Simon

Directed by Dermott Downs


This episode is aptly titled Far from the Tree I am sure it is in relation to the old saying the apple doesn't fall far from the tree, usually a reference to parents and their children.
It is all about the father's in this week's episode and what an episode it was. We certainly didn't need a mystical staff to give it more power.
Maggie is dealing with her father, J'onn discovers his father is, in fact, alive and Kara lives up to adoptive daughter role supporting J'onn in his time of need. So, let's take a road to trip to Mars

A noticeable change at the start is the narrative and music. Is this setting the tone for more darker episodes to come?

J'onn's spaceship is a pleasant surprise, a classic Chevy, as he states they can shapeshift so why not their technology. He even tells Supergirl off for bouncing into the car.
Eliza has arrived but dinner with Maggie and Alex gets a tad uncomfortable when she asks why Maggie has no pictures on the bridal board. Maggie explains her father found out she liked a girl at 14 and packed her bag, telling her she had shamed him he drove her to her aunts. She hasn't spoken to her parents since. Such a tragic tale and Eliza is right when she says his behavior was shameful.
Supergirl and J'onn arrive on Mars we see a shot of the Mars rover as they land. After a lovely reunion between J'onn and M'gann, she explains her reason for summoning J'onn. During a raid, they found J'onn's father.
It seems hard to grasp he alone was kept alive for two centuries in which all the Green Martians were slaughtered. We learn it's because he is a high priest and may know the location of the Staff of Kalar, A mystical staff which has psychic abilities and can be used against your enemies. M'gann and her revolutionary White Martian allies do not want the other whites to get the staff as they will use it to wipe them out. J'onn's father has closed off his mind and they need J'onn to convince him to reveal the staff's location.
Back on Earth Alex knows Maggie is upset and asks why doesn't she reach out to her family. Maggie flatly refuses but later we see her call and ask her dad to the Wedding Shower.
Maggie is dealing with her own father issues on Earth as her father arrives for the wedding shower. It seems he didn't let her know he was coming took the bus from the airport and she is waiting. We can guess he must have called from the bus. He seems at a loss for words and turns down lunch opting to go straight to the hotel. He tells Maggie he has followed her career as they make small talk and she tells him she remembers everything he taught her about police work.
Things still aren't looking good on Mars but J'onn agrees to continue to try to reach his father with Supergirls encouragement. He approaches him in human form and J'onns dad morphs into a human form as well. It was brilliant to cast Carl Lumbly in the role and the scenes between the two actors are incredible. We learn the history of Mars in their own version of a Cain and Abel story. The staff was a weapon and was buried. The other resistance members become aggressive despite M'gann's plea's and Supergirl holds them off punching their way out of the rebel base and taking J'onns father M'yrnn J'onzz home this ultimately breaks him, and he lashes out at J'onn.
The confrontation outside is heartbreaking and I am sure for anyone who has been in a similar situation you feel Maggie's pain she can't understand why her father came and why won't he accept her for who she is.
He tells her she spits on him with what she did, he fought against discrimination when he came from Mexico and didn't want her to face the same. He even mentions building a wall. Yes, this does cause confusion for some as on Supergirls Earth their President is accepting of all races. In his speech, he does say they and we all know what it refer's to in our own troubled times.
He opens his mind a little to allow J'onn to show his favourite memory, it is J'onn's birthday, we see his daughter's and his father coming home early from the temple to surprise him. Such a moving scene they both have lost so much but have finally found each other. The resistance arrives and M'yrnn reveals the whites are taking the staff to the temple.
What better way to crash a ritual but with a classic car playing Brittany Spears, Supergirl states she took the wrong turn at Albuquerque (nice Bugs Bunny reference). Of course, it's a distraction as the rest of the resistance arrive and the battle commences. Supergirl finally finishing off the last of the aggressive White Martians with the staff and a certain move she uses with it reminded me of a certain wonder woman scene from the movie. Coincidence? I think not.
Of course, the resistance agrees the staff is too powerful to be on Mars and they give it to J'onn for safekeeping after saying goodbye to M'gann they head home.
Maggie still feels she has more to say to her father so before he leaves she confronts him at the bus stop. (I am going to go with her timely placements at bus stops to the fact she is a cop.)
Maggie gives him back the picture saying for a long time she was that scared little girl looking for her father's approval, but she now realizes she doesn't need it. She is who she is, and she has people around her who love and accept her.
She is right you don't need anyone's approval to be who you truly are. Sadly, our parents are the ones whose approval we via for the most and unfortunately some end up disappointing us but that's their problem, not ours. Such a great speech from Maggie but when she gets back to Alex saying she is all she needs I see a hesitancy after Maggie reveals her parental issues weren't behind her reasoning for not having kids.
Supergirl and J'onn arrive back on Earth with J'onns father M'yrnn, I love how he goes to pick up a blade of grass. Kara fly's away and M'yrnn watches in awe asking can everyone on this planet do that to which J'onn reply's she is special. I can't wait for J'onns father to learn he can fly too.
This episode was an emotional one hitting a lot of points in relation to parents and their children.
J'onn thought his father would be disappointed in him only for him to be overjoyed he had survived and was alive. Maggie hoped for the best but sadly received the worst in a father who hid behind his own prejudice and bigotry something he had been a victim of in his life. J'onn and Kara had a role reversal where the daughter stands beside and supports her father like figure. On a lighter note, the scene with the car in the tunnels is one of the funniest scenes in the series and much needed light relief in such an emotionally charged episode. Supergirl also took a backseat a bit this week but this was important for the storyline that we witnessed. We saw more of J'onn and Maggie's backgrounds which gave both David Harewood and Floriana Lima a chance to shine in their roles.
So thats all for this week folks
What are your thoughts on this week's episode?
What was your favorite moment?
Please post in the comments below