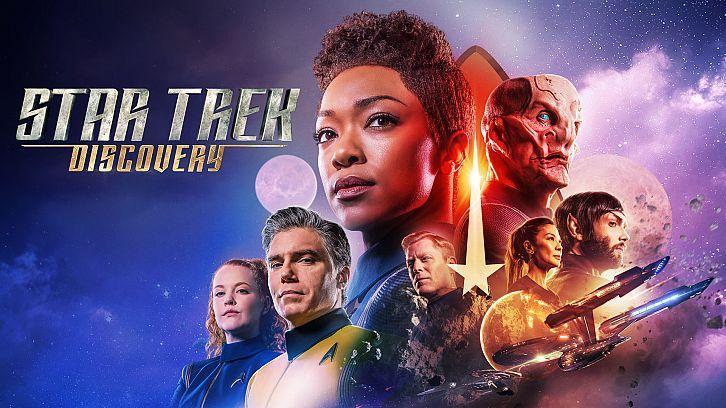 Star Trek: Discovery 1.06 "Lethe" Review:
Directed by Douglas Aarniokoski & Written by Joe Menosky & Ted Sullivan


Doug Aarniokoski is a director responsible for several
Arrow
episodes, having worked on
Seeing Red
and
Broken Arrow
, as well as plenty of episodes of
Bull
and
Limitless
, and
The Flash's Rogue Air
, so he has a track record of working in genre shows and he brings to the table a well-directed episode that benefits from Joe Menosky (A veteran Trek writer) and Ted Sullivan's script. Yes the storyline is fairly predictable this week as we all know by now that Lorca is a dodgy Starfleet Captain who isn't afraid to break the rules to get what he wants, but that didn't stop it from being an entertaining hour that kept me invested in both his and Sarek's plight. It helps of course that Jason Isaacs is really adding depth to Lorca in his personality, and really helping bring that extra charisma to his role that makes him so memorable.
Discovery
further to its original. Of course we know that Spock ended up following Michael's path and joining Starfleet anyway, making Sarek an early contender for Vulkan's worst dad of the year award. It's once again a shame that Spock himself isn't able to address Michael in anyway so we don't see the other character's reactions to Michael's story as presumably he will be limited to namedrops only, but that's understandable, especially if the show wants to continue escaping from the shadow of the original series.
Spock also wasn't the only original series character that was mentioned this week too, with Michael namedropping The Enterprise for the first time on the show. The Enterprise even before Kirk it's important to remember is held up as the shining example as to the ship that Starfleet Cadets want to one day serve upon, as Michael uses this to motivate Tilly into adapting her diet and working out more to better train physically for the role of a Captain. We're much more likely to see Pike show up than Spock, especially as Pike himself has already been namedropped once on the series. This is different from having someone like Spock show up as obviously, Pike isn't quite as well known as Spock and there's a lot more past to explore with his character that hasn't quite been revealed as say, someone like Spock's was.
It seems like the war will continue at least for now, and the Klingons now have a much bigger prize than Sarek in the form of a Starfleet Admiral and Lorca's direct superior. What was interesting to note that Saru may already be suspecting something is amiss with Lorca's handling of the situation, as Lorca's attitude to rescuing Cornwell is one to sit back and wait and only rescue her if Starfleet orders him to. Time will tell whether that backfires, but it will no doubt have great consequences for Lorca if Cornwell is successfully rescued.
Agents of SHIELD
handled the whole revelation with Grant Ward, which added an extra bit of depth to his character, making him far more fascinating than he had been before. But at the same time, Ash could just as easily be a standard member of Starfleet.
This episode hit all the beats of a classic episode of
Star Trek
and remained fairly true to its original series in spirit. It's hard not to imagine Enterprise encountering the Discovery at some point and the connections continue to help establish it as part of the same universe. The inclusion of the holodeck was a pretty cool addition, and the fleshing out of both Michael and Lorca's characters helped them shine, in a solid, if predictable episode that continued the fine form of the series thus so far.
What did you think of Star Trek: Discovery's latest episode, "Lethe"? Let me know in the comments section below and check out the next episode tonight through CBS All Access, or the following day on Netflix outside of the US and Canada.
This review was updated at 16:44pm BST to reflect a few minor changes in the article that have been outlined in the comments below as well as hopefully making a few things clearer.