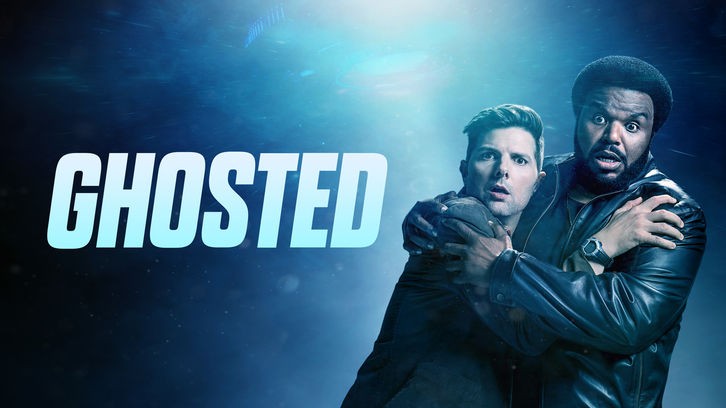 "Ghosted," one of the new fall shows I was most excited about, has the makings of being a seriously good TV comedy. Adam Scott and Craig Robinson fighting off all kinds of monsters in an "X-Files" parody of sorts? I was sold by this idea. Unfortunately, the execution of this idea has let me down. Even in week 4, "Ghosted" continues to be at best, mediocre.
"Lockdown" is a definite improvement over the last three episodes because it added some different dimensions to our two leads, Max and Leroy. The episode also seemed more cohesive than the rest. This is a good sign.
At the top of the hour, the whole gang is at the BU headquarters, praising Bob. He's a medical examiner whom we've never met before but everyone seems to love him. Too bad, because he's the first one that dies at the hands of the "monster of the week," a lizard-like aquatic creature who he was about to examine because he was supposed to be dead.
This lizard-monster is loose in the building so LaFrey's boss puts it on lockdown. If they can't capture and kill it within 30 minutes, all of them will be incinerated. Yikes. In order to move things along faster, the gang pairs up. Leroy and Annie go searching for the monster while Max and Barry stay in the lab, trying to study the creature to learn more about it.
These pairings are pretty smart, to be honest, for a change of pace because Barry has been quite funny and that works well with Max's personality. Meanwhile, it's good to see Annie in the field because it proves she has more expertise than just being the "tech and weapons" person.
Leroy suspects that Annie, despite having a boyfriend, is crushing on Max. She vehemently denies it because not only is she taken but also, he's married! His wife may be a missing fugitive/alien ally but they're still together. Sort of. This pairing was hinted at ever so slightly in episode 2.
I do think they'd make a cute couple IF they're written and developed well. Their awkward but sweet goodbyes at the end of the episode hint that Max might also be crushing on her.
Meanwhile, while working with Barry and in general, it seems Max has grown a little irksome because everyone thinks Leroy is the stronger one in their partnership. He barely has a reaction when asked what it's like working with someone like him. This is a little out of character because the past few episodes have been all about Max himself fanboying a little over his partner. But hey, I guess it's warranted.
To prove his own strength, Max sets out to destroy the creature on his own with an unhappy Barry in tow when they realize the only way to kill it might be to trap it around water.
How fortuitous for them because during the lockdown, the water supply guy is locked in with them and Captain LaFrey has spent this time trying to woo him because of her own crush on him. In the end, Max and Leroy find a way to defeat the creature together with the team's help. Their contradicting personalities make a good duo. That's why it was a fun change to see Leroy being the lighter one this episode while Max is slightly grumpier.
My final thoughts as the show goes on a two week break are that I hope it continues to build whatever it started with this episode i.e. the overall friendships, Max and Annie. However, the humor and writing and pace does need to improve even though Scott and Robinson are gifted actors. At the risk of sounding repetitive, there's potential here. They just need to tap it right!
"Ghosted" returns with new episodes on Nov. 5.