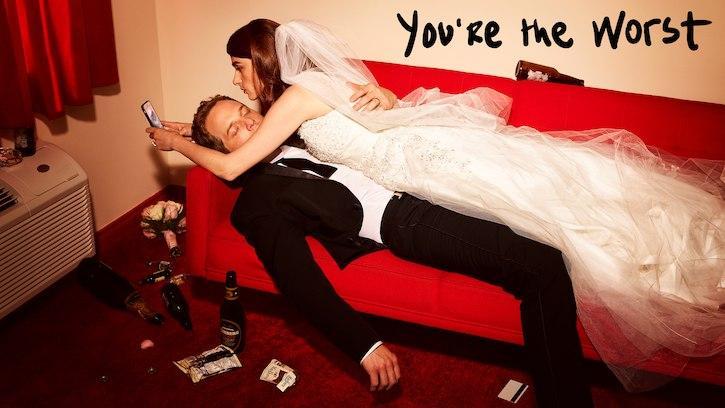 It's remarkable how long a piece of music can stay with you. The first time I listened to Ed Sheeran's last record, X, one song in particular struck me – "Afire Love". It's an emotional ballad written about illness and loss, specifically about Sheeran's grandfather who battled Alzheimer's disease. The melody, in particular, is quite haunting.

I couldn't shake the feeling that I had heard it somewhere before.

In fact, the song samples a piece of score created by Christophe Beck for an episode of Buffy The Vampire Slayer. The piece, "Remembering Jenny", was used in a pivotal episode in the second season of the series way back in 1998. It struck me then, hearing the melody repurposed over a decade later, how integral music really is to our consumption and enjoyment of the series we watch.

Case-in-point: You're The Worst. FXX's ballsy, brash, breakout hit takes traditional romantic comedy tropes and flips them on their head to tell a story that expertly balances outrageous humor and relatable character studies. Adam Blau is the award-winning composer and songwriter responsible for the show's signature musical palette.

"Actually, when we started out on the pilot, [creator] Stephen Falk and I had discussions about what the tone would be, and it was nothing like where we ended up," Adam told me. "The original concept was for the music to be more like that of a traditional romantic comedy — strings, piano, bells — something that would run counter to the more racy/edgy dialogue and subject matter."

A typical episode of You're The Worst is all over the map, which makes Adam's job more challenging – and definitely more fun. "We can go from slapstick comedy to gut-wrenching drama in a matter of seconds, or maybe we have a genuinely touching moment between characters in the middle of a genre theme episode [such as the annual Sunday Funday installments]."


"We actually let some of the licensed songs guide the overall sound," Blau said of eventually finding the series' musical niche. "Our phenomenal music supervisor Tiffany Anders had collected a variety of awesome songs in a bunch of different styles — from hip hop to more indie stuff — and as they were being cut in, I started to use the instrumentation and vibe of those as a touchstone. I think by the time we get to the middle of the first season, things really started settling in, tone wise."
Working closely with Falk to understand every twist and turn makes things easier. "The show is so tonally diverse throughout each season, and so it's important for me to know and understand where we are within each character's arc."
"The second season also allowed me to play a bit with more dramatic themes, particularly as we start to address Gretchen's (Aya Cash) depression, and then again with Edgar (Desmin Borges) and Jimmy (Chris Geere) on their arcs. It was a fun challenge trying to keep the dramatic music in the same ballpark as the more comedic material, so it didn't seem entirely out of left field."
Prior to
You're The Worst
, Blau had racked up an impressive resume writing songs across television, film, and theater – but music was a prominent part of his life long before it became a professional endeavor. "My mom is a piano teacher and a professional musician, and so I started learning to play from a very early age, both formally and informally," he told me, noting that as a kid he was used to 'big family sing-alongs' ("Yes, we were one of those families.")
Despite a brief period after college where he considered leaving music behind, Blau is glad he decided to return to his roots. "A friend in LA had a composer drop out of an indie film he was making, and he asked me to write a few cues for it. I enjoyed the experience so much that I up and moved to LA to pursue it."
The rest, as they say, is history. "I found my way into assistantships with a couple different composers — including John Swihart and Christophe Beck, both of whom I worked with for several years. There's nothing like working in a busy composer's studio to learn the ropes quickly." Clearly it paid off.
In the early 2000s, Blau received rave reviews for his work on the cult hit
Monica! The Musical
, an absurdist musical comedy that satirically retold the Monica Lewinsky scandal. He has since worked on several majors projects, both in film and television, lead by comedians such as Robin Williams, Billy Eichner, John Mulaney, and Hank Azaria.
On
You're The Worst
, Blau has a hand in creating some of the series' most essential and memorable moments, such as the second season's ridiculously catchy
"New Phone, Who Dis?"
. And fear not - you aren't the only one who has been humming the track endlessly. "If it helps, it gets stuck in my head, too!", he told me.
Adam is currently hard at work producing
Rarefied Air
, a podcast that highlights old, vintage, and often interesting or unique-sounding cues from the 1960s, 70s, and 80s. The first several episodes are
available now on iTunes
.
You're The Worst returns for a fourth season on FXX later this year. You can follow Adam on Twitter here. To read more of my own SpoilerTV work, follow me here.