This week, a pandemic brings the hospital to its knees and we say goodbye to a dear someone from Angels Memorial.

A call to a scene of a medical emergency turns into something much worse. When Dr. Ethan Willis (Rob Lowe), Dr. Angus Leighton (Harry Ford) and Dr. Elliot Dixon (Noah Gray-Cabey) arrive on scene, they find a group of people performing an "exorcism" on a convulsing woman. Once transferred to Angels Memorial, the patient is so erratic that she ends up taking a bite out of Dr. Heather Pinkney's hand. But when Dr. Ethan Willis notices abnormal bruising, the worse is confirmed by Dr. Leanne Rorish (Marcia Gay Harden): hemorrhagic fever. The symptoms of the fever explained by Dr. Reid, a epidemiologist from the Centre for Disease Control and Prevention, sounds a tad bit like what the undead would exhibit: coughing, spitting and (uhhh) biting. What's worse is that Ethan saw an epidemic like this during his time in Guinea. Unfortunately, there were no survivors.

When something of this magnitude happens in this large of a hospital, it is literally like a page out of a horror movie. Mass hysteria, people in quarantine, members of the National Guard everywhere… It's absolutely, heart-poundingly terrifying.


Everything goes from bad to worse when Dr. Malaya Pineda (
Melanie Chandra
), Dr. Mario Savetti (
Benjamin Hollingsworth
) and Dr. Elliot Dixon are confirmed to have also been infected. Angus is then left with some survivor's guilt, as he was spared even though he was so close to Patient Zero. Dr. Noa Kean (
Emily Tyra
) regrets not expressing her feelings towards Mario earlier. Guess the saying is true, you don't really know what you have until you loose it.
On top of the whole fiasco, a father is brought into the ER with a failing heart. He was out bonding with his future son-in-law when he collapsed. He is diagnosed with heart failure and is immediately put on the donor waitlist. The father is adamant that he will pull through, at least until his daughter's wedding. Since the bride-to-be's mother already passed, he was damn well sure that he would be at the wedding to give his daughter away. But as the episode progresses, the future becomes more uncertain. So, daughter and daddy decide share a beautiful and heartfelt dance in the hospital hallway to a heartbreakingly beautiful rendition of one of my favourite songs.
Watching Dr. Heather Pinkney's deterioration towards the inevitable was honestly really hard.
Jillian Murray
's character entered the show as a hard-headed surgical resident. She showed so much strength and that she didn't need anyone to help her. Ok, I admit, I had my hesitations about Pinkney. As hard-headed as she was, she was a tad bit reckless (remember that thing with Dr. Campbell at the end of the first season?). But her work ethic, combined with her persistence, made me fall head over heels in love with her. As Leanne once said, "I like her". I couldn't agree more, Leanne. So when Heather died, surrounded by those who cared about and loved her, I couldn't help the fountain of tears that poured down my face. Stand by me, indeed.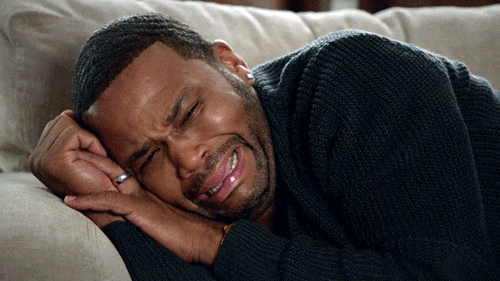 I've said it before, and I'll say it again: THE. WHOLE. CAST. AND. CREW. DESERVE. AN. EMMY. AWARD. I haven't been so moved by a series in a long time, and this show makes my feelings (and tears) run wild. The writing is absolutely stellar and the acting is on point.
Michael Sietzman,
creator and executive producer of Code Black, is an absolute genius. I honestly have to send him a huge "thank you" for creating such an emotional and captivating series.
My previous statements about the series having wonderful soundtrack definitely still stands. This week, they aired a beautiful single "Stand By Me", sung by
Caitlin Canty
. As I mentioned above, Canty's take on one of my favourite songs was heartbreakingly beautiful. The song, combined with the gloomy shots of Los Angeles, help give off a sad (yet mysterious) vibe.
Not only do I have to praise the cast, but I also have to give a huge round of applause to leading lady
Marcia Gay Harden
. The way she portrays Rorish is just perfect. Leanne has showed her emotional and caring side to not just patients, but also Angels Memorial staff. This episode was no exception. Her face when she led Malaya, Mario and Elliot into the quarantine zone made my first round of tears flow like Niagara Falls. The heartbreak and anguish on her face and in her voice when a terrified Ariel was pried from her arms really made me want to move Heaven and Earth so that they could both me comforted. And honestly, it's not often that someone can make me feel this way. But from the moment we met Harden's character, she had this instant likability that drew me back, episode after episode. I honestly couldn't think imagine someone more perfect for the role as Dr. Leanne Rorish.
"Tread with care, in matters of life and dead. This awesome responsibility must be faced with great humbleness and awareness of my own frailty. May I always preserve the finest traditions of my calling. And may I long experience the joy of healing those who seek my help." -Dr. Heather Pinkney
On a side note, though: anyone know where I can get one of those Angels Memorial jackets? They look absolutely adorable and I want to know where I can get my paws on one!
The next episode, titled "Fallen Angels", is part two of the two-part season finale. The promo for it gave me a mini heart attack, so make sure you catch the episode (and my review)!
What did you think of the episode? Will the doctors at Angels Memorial (and the CDC) be able to contain this pandemic? Will there be any more casualties? Will Noa be able to finally express her feelings toward Mario?

'Code Black' airs every Wednesday on CBS at 10pm E.T.