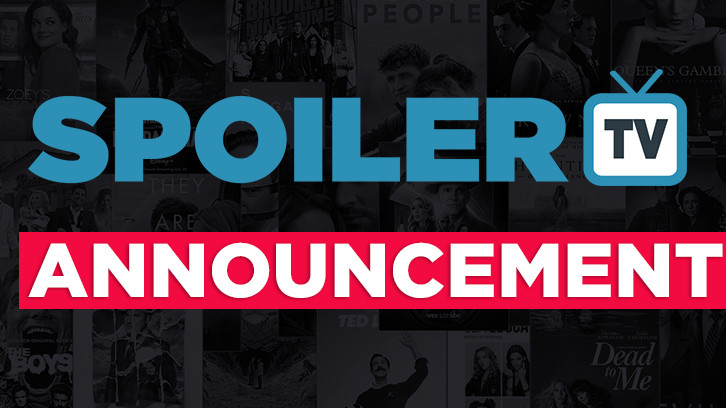 Update: 12th January 2023 The following shows have been added: All Stars
American Primeval
Billy The Kid
Chapelwaite
Dungeons and Dragons
Firebug
Forever (Netflix)
God Of War
Godfather of Harlem
Hotel Cocaine
Just Cause
Mere Mortals
Neon
Obituary
Shardlake
Silk: Spider Society
The Artful Dodger
The Hurt Unit
The Irrational
The Killing Kind Update: 8th November 2022 The following shows have been added: The Decameron
The Company You Keep
The Spiderwick Chronicles
Rivals
A Thousand Blows
Clean Slate
Blade Runner 2099
Under the Bridge
Queen Charlotte: A Bridgerton Story
Time Bandits
How To Be A Bookie
The Venery of Samantha Bird
Interior Chinatown
The Abandons
Never Let Me Go
Cross
Crystal Lake
The Walking Dead: Daryl Dixon

We're pleased to announce that we've just released a major update to our
Chrome Extension
that allows you to receive updates about Show(s) you want without having to have the SpoilerTV website actually open. This is a great way to receive updates on just the Show(s) you want rather than updates on all shows.
The new extension has been totally re-written by the clever folks at
currentlyhq.com
to fix a number of issues that existing users have had with the existing version. Feel free to email them if you're interested in an extension for your own site or follow them here on their Twitter account
https://twitter.com/currentlyhq
Especially like to thank Joe @ currentlyhq for getting this up and running so quickly and being very responsive to bugs and feedback as we tested the new extension.
New Users
If you have never used the extension before you can get it here.
Install the Spoiler Chrome Extension
Existing Users
If you are an existing user, your extension should be automatically updated shortly when the extension is pushed out to the various Google servers around the world.
NOTE: If you are an existing user the new extension will select All Shows by Default. You will need to go into the settings to turn off the show(s) that you don't want to be notified about. (See the help below for details on bulk selecting/deselecting of shows
What's New
1) Speed
The old extension suffered from loading issues, especially if you were tracking a lot of shows over time. This new extension will load much faster and will not slow down over time and consumes very little CPU/Memory compared to the old version.
2) New Settings Screen
New Settings screen to configure the extension and to select which shows/feeds/articles you want to be alerted on.
3) Alerts an and Notifications
Alerts can be delivered either via the Extension button showing a red circle or via a Chrome Notification box
Icon Notification
When a new article has been posted on a show that you have selected in the Settings Screen, the Extension icon will change from the Standard Icon.
to one with a Red "dot" to indicate something new is available. You can configure in the settings to change the red dot to the actual number of articles unread.
Chrome Notification
The extension also offers a new, more visual notification in the form of a "Flyout". When a new article is posted you will see a visual flyout appear on your computer. You can click on it to open the article.
Again both of these notifications can be turned on/off as your see fit. These can be found in the Settings Menu.
4) Read it Later and Favourites
You can now quickly mark articles to "Read Later" or "Favourite" them to keep a permanent record of the articles that you want to catch up later with. This is very useful if you don't have time to read them immediately.
Currently there is no real difference between the Read it Later and Favourite functions. However, in the future new features will be added to these which will distinguish their functionality.
To mark an Article as a Favourite or Read it Later, simply click on the icon under the article.
All articles that you mark this way will now be available in the appropriate tab. You can access these at any time by clicking that tab at the bottom of the extension screen.
5) Improved Article Sharing
Article sharing has also been improved and more features will be coming in future releases. To Share an article with your friends, click the share icon under the article, then select the service where you want to share it.
6) Article Snippets
The new extension provides the ability to see a snippet of text from the article.
These can be turned on/off by you in the settings screen.
7) Show Selecting
We have also improved the way you can select which show(s) you want to be notified on.
In the Settings Menu you will see a list of all the show(s) available.
You can select them manually by ticking/un-ticking the boxes next to each show.
Your changes are immediately saved.
If you wish to quickly Select All or De-select All shows, click on the little "..." icon.
This will then give you the option to Select/Deselect all.
8) Other "Special" Feeds
We also have a number of "Special Feeds" that are not related to actual shows. eg Scene of the Week, Movies, User Submitted Polls etc
Again, you have the ability to turn these on and off at your discretion.
9) Articles Opening
You can now configure how articles are opened when you click on them. You have 2 choices.
If you select "Open Links in the Background", when you click an article from the list of articles, then the article will open in a newly created tab in the background and keep the extension list open. This allows you to quickly open multiple articles without having to load the extension window each time.
If you turn off "Open Links in the Background" then the article will open immediately and you will be taken to it with the extension window closing.
Feedback
We hope you enjoy this new extension and we have some other new features planned for it in the future.
If you have any problems/questions/suggestions or any feedback at all please don't hesitate in leaving a comment below.
Download the
Chrome Extension here
.