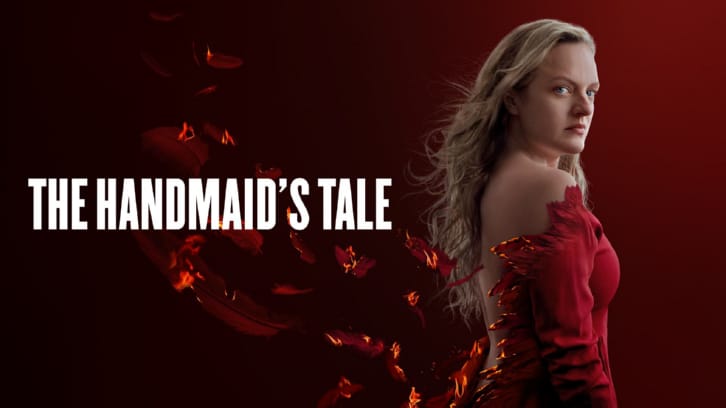 In an effort to play a bit of catch up, I'm going to do less than my usual in-depth, loving review of the first three episodes of The Handmaid's Tale. "Morning" was written by Bruce Miller and was directed by Elizabeth Moss, who also directed "Ballet" written by the team of Nina Fiore and John Herrera. "Border" was written by Aly Monroe and was directed by Dana Gonzales, whose other credits include Fargo, Legion, and Pretty Little Liars. My favorite episode was "Ballet." I found "Morning" a bit tedious. "The Border" really starts to move the story along. As always, the show manages to have unexpected synergies with events in the real world.
In "Morning," it is the morning after killing Commander Waterford (Joseph Fiennes), and June (Elisabeth Moss) is clearly not in a good place. She looks feral and unhinged. She meets with the other women, and we discover from Sylvia (Clea DuVall) that Emily (Alexis Bledel) has gone back into Gilead. Of course, it's been no secret that Bledel was not returning… The thing I found most striking about this episode was the parallel to the recent real world incident in Iowa where Pieper Lewis, 17, who was a victim of sex trafficking, was sentence to five years of probation and $150,000 fine for stabbing her rapist to death. June by contrast finds that no one is interested in her confession to having killed Fred. It took place in No Man's Land – or possibly the US – so no one in Canada has any interest in prosecuting a crime that took place on foreign soil. Tuello (Sam Jaeger) even tells June she did the right thing…
My favorite episode of the first three is definitely "Ballet." Serena (Yvonne Stahovski) attempts to choreograph her future. June has sent Fred's wedding ring – on his finger – to her. It's clearly a threat, and Serena is already missing the protection she depended on from Fred. She returns to Gilead, hoping to regain some power. Nick (Max Minghella) and Lawrence (Bradley Whitford) meet her at the airport. She's clearly expecting a larger welcoming party as Fred's coffin is removed from the plane. She is even less impressed by the tiny church they've chosen for Fred's funeral. Tuello accompanies her – and is a very clear third wheel the entire time.
Commander (Stephen Kunken) and Naomi Putnam (Ever Carradine) host a wake for Fred. Like every social event in Gilead, the women and the men separate. I loved that they wouldn't let Tuello leave the entrance hall and a Martha brought him a plate of food! Serena manages to get in front of all the men and make a case for making Fred's funeral a huge international event to showcase the might of Gilead. They aren't impressed until Lawrence makes the same case – at which point they agree…
We finally catch up with Janine (Madeline Brewer), Esther (Mckenna Grace), and Aunt Lydia (Ann Dowd). The Putnams are in the market for a new Handmaid, and Janine convinces Aunt Lydia to let her accompany Esther to keep her in line – but of course, she also has to have the ulterior motive of seeing her daughter. Janine's maternal instinct is strong though, and I think she legitimately wanted to help Esther. There is a brilliant scene in which Naomi finally shows evidence of being human and brings Angela to see Janine and even thanks Janine for "giving" her to her.
Meanwhile, Esther seems to be the only one that Aunt Lydia really had in mind for Putnam. He continues to be as creepy as always. I loved Dowd's face when Putnam asks to be alone with Esther – completely alone. She's clearly torn by knowing he's going to be a creep-fest and knowing that she can't safely refuse. Putnam doesn't disappoint as he creepily feeds Esther chocolate. Mckenna Grace is just fantastic in this scene – and throughout the episode. Esther is clearly disappointed by Janine who really has no fight left in her. Rather than take up June's mantle of rebellion, Janine tells her to just get pregnant as quickly as possible by making the Commander like her!
Janine continues to gush about possibly being allowed to be Esther's walking partner as Esther feeds her chocolate that she's taken from the Putnam's – did he give it to her? Suddenly, the conversation takes a turn as Esther reminds Janine that she didn't like her when they first met – and then tells her that nothing's changed – she hates her! Janine is stunned… and so are we when both start spewing blood from the chocolate that Esther has poisoned. Of course, where she got the poison is a good question… Aunt Lydia is frantic…
June meanwhile has been struggling, but she makes the effort to try to find some normalcy and move on with Luke (O-T Fagbenle). The two go on a "date" to the ballet. I'm still not 100% sure if this was just a showcase performance or a full blown ballet, but not knowing a lot about ballet, I immediately thought it must be something like
Swan Lake
– which has some fabulous echoes in how this sequence plays out. June is dressed all in white – with black boots – looking like a swan. In a nutshell, the story of
Swan Lake
is that a princess is turned into a swan by the evil sorcerer Rothbert. His daughter always wears black – so June, Fred, and Serena. Usually, the white swan and the black swan are played by the same person. The symbolism here is equally clear – June and Serena are very much alike – both vulnerable but willing to do whatever it takes to "win."
The pomp and ceremony of Fred's massive public – and International funeral – must have seemed pretty grand at the time this was shot. However, since it was shot, Queen Elizabeth II has died and the world has seen a tremendously orchestrated funeral. So many of the shots – from the flag over the coffin, to Serena following it, really resonated for me. In place of the many regiments of officers, there is also an army of Wives and Handmaidens. Of course, Serena's real coup comes at the very end.
Luke and June have paused in the middle of the Yonge-Dundas Square in downtown Toronto. They turn to each other and kiss with the camera romantically whirling about them… and then June sees coverage of the funeral. The man she'd tried to bring to justice was being heralded as some kind of hero. But then a group of plum-coloured clad young women emerge – one of them approaches Serena and hands her a bouquet of white flowers. Serena kisses her and then holds her hand to stand with her – June and Luke see Hannah's (Jordana Blake) face on every giant screen!!! In an absolutely brilliant shot, it looks like June is looking directly into Serena's eyes and she is looking back. Serena slowly smiles… The spectre of
Swan Lake
is also present as Serena seems to be sprouting the wings of the statue - an image that we saw with June in an earlier season...
In "Border," both Serena and June try to make plans for the future. Serena goes to Lawrence's for a dinner party with him, Nick, Rose (Carey Cox) – Nick's wife, and Commander (Jason Butler Harner) and Mrs. Mackenzie (Amy Landecker) – Agnes/Hannah's kidnapping parents. They all decide that June is the enemy who needs to be eliminate! Or at least the Mackenzies and Serena do – and Nick, Lawrence, and Rose just go along with it.
It's clear that Rose has some connection to the Mackenzies, and Commander M, tells Nick that he'd better look after her – but it does seem like there is genuine affection there. He tells Tuello that even the lure of getting to see Nicole isn't enough to put Rose and himself in danger – and tells June essentially the same thing later in the episode.
There's a great scene after the others have left when it seems that Serena is trying to position Lawrence to marry her. She gets him to feel the baby kick – and Whitford is really great here – Lawrence even says "praise be!" Interestingly, when she later tells Tuello that she's not coming back to Toronto, it seems like she wants to do more than give him a peck on the cheek – there's still a LOT of sexual tension between these two.
Serena is called in front of the Council the next morning. Before she goes in, Lawrence stops to have a word. He asks her if she has some expectation of him – and makes it clear that he can't do anything for her. Her meeting with the Council confirms her worst fears. They won't let her stay. She doesn't fit into the "norms" of their society – she is too strong. Once again, she is as much an outsider as June is! The want her to be a spokesperson for Gilead – based in Toronto. They agree to her demand for a staff and a budget and protection.
Meanwhile, June and Moira go to a group of rebels on the border to try to get word about what's happening with Hannah. They've noticed that she's dressed in plum – not pink because she's not a little girl any more. Daughters of high-ranking Commanders go to school to learn how to become wives – and that's what's happening to her. I've been wondering if they would bring in Atwood's new novel,
The Testaments
, and this is right out of that novel…
Moira and June meet with Lily (Christine Ko) who is the leader of the rebel cell. I loved that she said to June – "I thought you'd be taller." Some of you may think that this is a reference to
Halo
but in reality it comes from
Escape From New York
– everyone who meets the legendary Snake Plisken comments that they thought he'd be taller – it's the effect of myth, building someone up – their physical appearance may not be what you had imagined, but they always end up bigger than life in their actions.
June learns that MayDay is real – they didn't just make it up. It's hard to imagine that June won't want to help more. They are able to get her in touch with Nick – Moss and Minghella are both great in this scene – and phone scenes are hard to do. It's clear that they both still care for each other – but also that they wish the best for each other. Nick had asked Tuello to let him tell June about Rose, and she's supportive.
When Serena lands at a private airport – they had Tuello hold the plane for her in Gilead – she is met by "fans" – truly fanatics, holding candles surrounding her car. It's clear that Serena is starting to see a new way forward. And then the car is blocked in a tunnel and suddenly June pops up at the window like a demented serial killer! She pounds on the window and tells Serena to stay away from her daughter – and Serena is clearly genuinely terrified…
Meanwhile, Aunt Lydia visits Esther – who she slaps VERY hard across the face – and Janine in the hospital. Both are unconscious and not likely to survive. We get a VERY emotional scene from Aunt Lydia – and here again, I think they may be finding a way to bring in
The Testaments
and Aunt Lydia's very prominent role in the novel… Aunt Lydia essentially forces Naomi Putnam to come to the hospital with Angela, hoping the child will have the same effect on Janine that Janine had on the child when she almost died as a baby. It seems to work because by the end of the episode, Janine is awake.
So we are off to a ripping start – the show is maintaining its high level of quality acting, directing, and writing. I can't wait to see where we go from here! What did you think? Let me know your thoughts in the comments below!