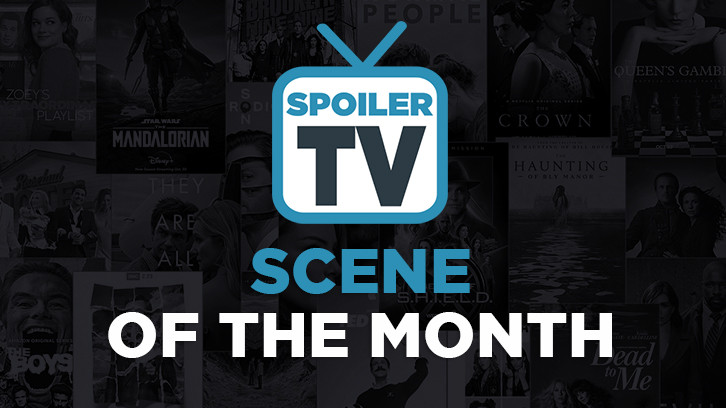 A monthly feature in which we're trying to find the most compelling, best acted, written, directed and just generally great, memorable scenes that we've seen in the past month on TV.
ABBOTT ELEMENTARY, "Work Family", February 15, 2022, Actors: Quinta Brunson, Chris Perfetti, The Scene: Jacob tells Janine it's ok to outgrow people
Folie-lex:
From the first moment that we met Janine's boyfriend it's been clear that they are not a good fit. However she seems intent on ignoring that fact out of fear. Familiarity, safety and habit are keeping her in a relationship she's clearly outgrown. And while Jacob seems to have recognized that we learn that he tries to keep his mouth shut. However when Janine pushes the crew to get to know each other better and it backfires on her, when people make her feel bad about her relationship with Tariq, Jacob finds the courage to step up and point out the obvious. He is kind and understanding, reassuring her that he's on her side regardless of what she decides to do, but he does lay down the reality in front of her in such a way that maybe she can't ignore anymore: people grow up, and sometimes the people we love don't grow up at the same pace with us. And that's when it's time to let go. It's nobody's fault and that's okay. It's a hard lesson for Miss Teagues to learn but she finally seems willing to do so.
BATWOMAN, "We're All Mad Here", February 23, 2022, Actors: Rachel Skarsten, Nicole Kang
The Scene: Alice asks Mary for help
Marko:
The connection the writers wrote between these mortal enemies blossomed into a beautiful sisterhood. Seeing them go against each other as Alice was desperate for help was heartbreaking. Marvelous work from both Rachel and Nicole.
GREY'S ANATOMY, "No Time to Die", February 24, 2022, Actors: Jake Borelli, Camilla Luddington and more, The Scene: Schmitt has a breakdown after losing his patient
Marko:
Jo & co. help Schmitt stop washing his hands. Jake Borelli brought his A game in this episode and he was mostly just washing his hands. The desperation Schmitt felt and the metaphor of him trying to wash the guilt away was just so painful. Jo, Helm & Jordan forcefully stopping Schmitt from washing his hands was painful to watch.
HOME ECONOMICS, "Salsa Competition Entry Fee, $45", February 23, 2022, Actors: Karla Souza, Jimmy Tatro and more, The Scene: The Salsa lesson
Folie-lex:
Karla Souza usually excels on the show when they give her OTT comedic moments to work with. And as Marina takes up coaching Lupe and Connor for their salsa competition way too seriously (with Gretchen as her little assistant coach) she proves as much yet again. Still it's the bonding between Lupe and Connor throughout this mess that really brings this little fun montage home.
HOW I MET YOUR FATHER, "Stacey", February 15, 2022, Actors: Hilary Duff, Suraj Sharma
The Scene: Sophie and Sid talk
Marko:
It was such a great moment between the characters. Finding each other and creating a connection. The words the writers wrote were profoundly embodied by Duff and Sharma, making shipper hearts all around the world beat faster.
LEGACIES, "The Story of My Life", February 24, 2022, Actors: Jenny Boyd, Piper Curda
The Scene: Lizzie superspeeds into a door
Marko:
The writers tapping into all the weirdness of transition was just hilarious. All the moments where she discovered her immortality were fun but her walking into a door in full super speed was a pure winner. Jenny Boyd delivered every single moment.
PIVOTING, "Bounce, Baby", February 17, 2022, Actors: Ginnifer Goodwin, Maggie Q, The Scene: Sarah and Jodie talk about cheating
Folie-lex:
Sarah tells Jodie that she would rather have Diana leave her than cheat on her. Full disclosure: Overall I consider Pivoting to be an incredibly inconsistent show. However its one true saving grace is the characters, their dynamics and the cast chemistry. Nothing proved that better than that final scene between Sarah and Jodie. Maggie Q and Ginnifer Goodwin portray the layers and background of this friendship and the things left unsaid in their conversation to absolute perfection. An apologetic Jodie asks her friend not to hate her for cheating on her husband, as it's a sore subject for Sarah, what with having found herself on the other side of cheating in her own marriage. Sarah is forgiving of course, because that's what true long time friends do. You don't ruin decades long friendships over things like this. But exactly because they've been friends for that long, she is also absolutely and brutally straightforward with Jodie. If she is unhappy in her marriage there are other ways she could have dealt with it. She knows from experience. And considering how much the group doesn't like Dan (and vice versa) that's saying a lot.
SUPERMAN AND LOIS, "Girl... You'll Be A Woman, Soon", February 22, 2022, Actors: Inde Navarrette, Emmanuelle Chriqui and more, The Scene: Lana's speech
Justyna:
As much as I'm enjoying the Bizarro storyline and all, the scene that impressed me the most in the February episodes of the show was actually Lana's speech at Sarah's quinceañera. Despite everything she was feeling at the moment, she put her daughter first and used all of her strength and love to make the evening as special as it could be, even with the heartbreaking discovery made during the celebration. The display of physical strength is often the one we notice the most, so I especially wanted to highlight the moment of undeniable emotional strength and to mention just how important it truly is. Lana puts her heart into this speech, she's vulnerable, honest and shares her love for her daughter with everyone gathered. She also highlights just how proud she is of Sarah, the way she inspires her and keeps her fighting and it really means everything for this young girl struggling with her father's betrayal. I loved the way Sarah responds with "I love you, mom" as it never felt more true than in this moment. Wonderful performances by Inde Navarrette and Emmanuelle Chriqui. Kudos!
THE BOOK OF BOBA FETT, "Chapter 6: From the Desert Comes a Stranger" & "Chapter 7: In the Name of Honor", February 2 & 9, 2022, Actors: Pedro Pascal, Mark Hamill, Graham Hamilton and more, The Scenes: Din Djarin and Grogu reunite & Luke raises the frogs out of the water
Justyna:
To be honest I wasn't planning to watch TBOBF, not just yet anyway. And then I heard about my favorite Star Wars character showing up there and couldn't stay away. Really enjoyed Din's adventures during his time on the show but couldn't possibly highlight any scene other than his reunion with Grogu. These two are the heart of the story for me and I'm so glad to see them reunited. Of course the timing is absolutely terrible and everyone is in danger for quite a while, but despite all that everything feels so much calmer and better for a minute when Mando realizes Grogu is there. The fact that Grogu uses the Force to jump into his arms is just so heartwarming to see. Also knowing how hard it was for Din to leave his gift for the kid with Ahsoka but not being able to see him in the previous episode makes this scene hit even more. The way the Mandalorian says "You got the shirt" speaks volumes. Again, so good to see them together once more. I was worried it would take much longer to get to this reunion so it ended up being a wonderful surprise. Kudos!
Laura B:
Luke raises the frogs out of the water. Ok, while this episode might seem extremely out of line with The Book of Boba Fett in terms of tone, for me it was a super-delightful treat to get just ahead of the finale! It was also an episode that was full of great technological advancement, as Disney hired the infamous deep-faker, Shamook to really get young adult Luke Skywalker's appearance just right. It was the perfect bridge tying together the tale of two Lukes that come to exist in Return of the Jedi and the reflection of those Lukes, Luke laments on in The Last Jedi. It also was an episode that, also like the Last Jedi, dances around The Empire Strikes Back with Yoda teaching Luke, as Luke attempts to train Grogu, only to discover that perhaps Grogu doesn't need his guidance after all. I chose the frog-lifting scene because of the playful way it breaks away from the mysterious presumptuous "Master Luke" and brings the down to earth farm-boy Luke back into focus. Plus, who can resist Grogu's expressions at all of the floating frogs!?!?!
THE CLEANING LADY, "Mother's Mission", February 14, 2022, Actors: Élodie Yung, Adan Canto, The Scene: Arman comforts Thony after her breakdown and they kiss
Folie-lex:
Thony's struggle to keep Luca alive has been a hard road. This woman can never seem to catch a break, and even when things might seem to be working out, usually another wrench gets thrown in her way. Devastated, frustrated and exhausted after yet another hurdle she was unable to overcome she breaks down. Arman is there to comfort her, as he lets her vent and cry in his arms. He offers her reassuring words and any support she needs. And as she notices her plight has moved him to tears they share a kiss. It's easy to credit this scene's merits only to its shippy elements. After all Elodie Yung and Adan Canto's chemistry is off the charts, that the longing and tension of these two characters to reach out and touch each other has been palpable from day one. And of course the romantic nature of the scene is indeed phenomenal, nobody is dismissing that. However what truly elevates the scene is Thony's breakdown as it encapsulates all the stops of her character's journey that have led her to that moment, and of course Elodie's amazing performance: a mother trying so hard to save her son and her helplessness of not being able to do so. A helplessness that has forced her into making so many questionable decisions. Her need to unload this burden that's weighing her down and she clearly can no longer carry on her own. And the surprised realisation she has found some support in the most unlikely of places.