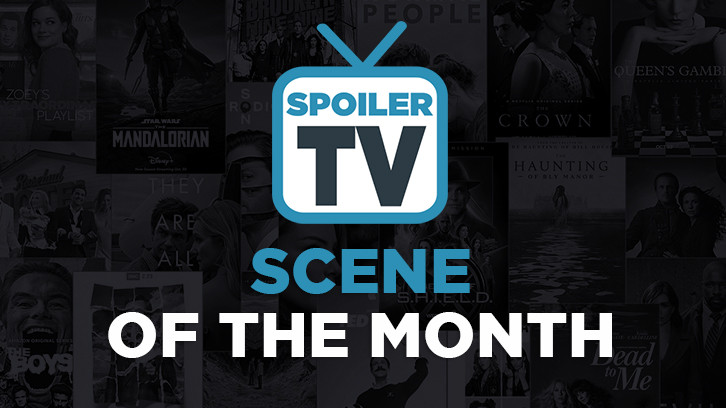 A monthly feature in which we're trying to find the most compelling, best acted, written, directed and just generally great, memorable scenes that we've seen in the past month on TV.
ABBOTT ELEMENTARY, "Wishlist", January 11, 2022, Actors: Quinta Brunson, Tyler James Williams, The Scene: Gregory hangs up the kids drawings
Folie-lex:
Gregory goes through the motions of coming to terms with his place at the school, as Janine urges him to start decorating his classroom. While he sees being a sub means his tenure at the school is only temporary, he doesn't understand the value in really investing the time to personalize his space. Still because Janine suggested it he makes an effort, without much success in the beginning. It's only when he realises that the drawings his kids have been giving him all week are indications he's making a bigger impact than he thought, that he decides the kiddie artwork might be the right decor for him at this time.
BATWOMAN, "Toxic", January 26, 2022, Actors: Javicia Leslie, Nicole Kang and more
The Scene: The team confronts Mary
Marko:
What a powerful display of friendship and emotions with the perfect momentum. The writers took all their gloves off and let the cast go at each other propelling the story and character moments.
CHICAGO PD, "Lies", January 12, 2022, Actors: LaRoyce Hawkins, Amanda Payton
The Scene: Atwater's confession
Jessica C:
Secrets on PD this season have been category five stressful. Which is why I'm so glad that Kevin made the decision to tell Celeste he was a cop. Despite being understandably hurt that she didn't know the truth, this didn't feel at all like goodbye. Celeste needs her own time to process and she deserves that. But they both seem to really support and care a lot about each other so I'm certain we'll be seeing them again soon.
DEXTER: NEW BLOOD, "The Family Business" & "Sins of the Father", January 2 & 9, 2022, Actors: Michael C. Hall, Jack Alcott, The Scenes: Harrison and Dexter find Kurt's secret room & The final death
Laura B:
Harrison and Dexter find Kurt's secret room - Despite whatever I think of the season finale, I won't deny that I think everything that came before it was brilliant. I chose this scene because it is its own double entendre for what Dexter has ever been in terms of showcasing these runaway/people who get in the way by having to see what someone else has done to preserve themselves through others. From the Ice Truck Killer to The Doomsday Killer, does this through line with Tableaus really stick out and solidify New Blood to its past incarnation, but it is also a turning point for Dexter, as Harrison learns the truth about his father and what is means to take justice into your own hands, when you are also a serial killer.
Luana:
I don't think there was any other way for Dexter's character to finish his journey, and though I did have a few issues with how the season was handled, I loved the end result, I loved the whole relationship with Harrison, and I would love to see more of his journey if we got the chance, and if Michael C. Hall could appear to his son as Harry did for him, all the better.
EUPHORIA, "Ruminations: Big and Little Bullys", January 23, 2022, Actor: Zendaya
The Scene: Rue's slide show
Luana:
I love it when shows go meta, in the right moments of course, and I loved this slide show and Rue's lesson, even if it was horrible what she was saying, that made it even more poignant. I haven't enjoyed much of this season so far, but that moment was pretty cool.
HOME ECONOMICS, "Men's Water-Resistant Watch, $289" & "Round Trip Ticket SAN-OAK, $234", January 5 & 19, 2022, Actors: Topher Grace, Karla Souza and more, The Scenes: Tom and Marina explain the baby sock pile method & Marina's small meltdown
Folie-lex:
Tom and Marina explain to Camila the baby sock pile method. Tom and Marina struggle with deciding on how to handle the fact that Sofia's whole book is gonna be a scam. The convenient thing to do is maintain the lie as the upsides of doing so outnumber the fact that it's just "lying", which they find the need to physically determine by coming up with a silly "sock pile" game. However it's a disapproving Camila, who through her innocent childhood prism points out to them without any runaround that it's still lying that they begin to properly feel the weight of what this decision means. Home Economics puts Tom and Marina in a difficult position of being faced with the parenting dilemma of giving your kids the right example to live by and do the right thing instead of doing the easy thing, in the most comedic and astute fashion, and manages to drive the point home in the process.
Marko:
Marina has a small meltdown after seeing her father being the best granpa. Karla Souza really shines each time she gets a juicy story on Home Economics. Seeing her unravel as the story progressed was simply hilarious. Her interaction with Cheech Marin was just amazing and gave her the support to do her best work and let Marina's crazy out.
HOW I MET YOUR FATHER, "Pilot", January 18, 2022, Actors: Hilary Duff, Christopher Lowell and more, The Scene: The apartment reveal
Marko:
It was the perfect throwback with the crew entering the Original apartment from the mothership. I have no issues with the two shows being two separate entities but give us this little sweet throwback to HIMYM that hits right into the feels.
NANCY DREW, "The Ransom of the Forsaken Soul", January 28, 2022, Actors: Kennedy McMann, Scott Wolf, The Scene: Nancy opens up to her dad
Luana:
Of course, Nancy couldn't simply be happy for too long and what she got to see was heartbreaking, and it was great she opened up to her dad at least, but it was even more painful to see her accept she couldn't be happy, or trying to hope she'd be able to but having a hard trust believing it.
OZARK, "The Beginning of the End" & "Sangre Sobre Todo", January 21, 2022, Actors: Jason Bateman, Laura Linney and more, The Scenes: Marty fixes Jonah's software problem & Marty and Wendy meet with Omar
Laura B:
Wow, what I can say! The show turned over and spun-around so many plots in season 4A, that I'm not really sure where to begin or if I'm seeing straight, but this scene is what is at the heart of Ozark and its final season, --it's what makes Marty so redeemable and Wendy so abhorrent. I feel like the lines have been drawn. Marty still cares about other people and has learned that pressing others is not the way for smoother sailing and to see him bail out his son, even when his son is rebelling against him, shows that Marty has some moral integrity and human understanding left, but at the same time it makes whatever it is that we don't yet see coming the more tragic, because at this point, I'm not sure if Wendy deserves to live, let alone call herself anyone's mother or wife.
Giulia:
The end of season three was pretty dark and it set a new tone for what season four might look like. Now, Wendy and Marty are the primary sources of income for Omar and his cartel and they have to prove themselves to be the right (and only) people for the job. Omar easily had Helen killed and he could do the same thing to the Byrdes, but they are determined to get the job done. Marty seems more conscious about a solution, whereas Wendy does not; as she says a few times during the first part of the season, she doesn't want to lose. I loved this scene because it seems so understated, yet it is so powerful in the power play of both parts.
SUPERMAN AND LOIS, "What Lies Beneath", January 11, 2022, Actors: Tyler Hoechlin, Elizabeth Tulloch, The Scene: Lois opens up to Clark
Justyna:
Elizabeth Tulloch has been doing such an excellent job on the show. Throughout the season premiere Lois isn't quite herself when interacting with her family. She's mostly angry, upset or running out of patience and taking it out on her loved ones. That is until she finally chooses to open up to Clark and admits just how much Natalie's presence has hit her. We learn that Lois and her sister Lucy were abandoned by their mother when they were kids and Lois has spent years wondering how a mother could do such a thing to her children. Seeing Natalie showing up at the farm and calling Lois her mom was especially hard for Lane because she realized she didn't feel anything towards this girl. She felt sorry for her, but didn't feel any kind of connection between them and the guilt started to flood her. Because despite not being Natalie's actual mom, she understood just how terrible she must have felt at this moment, rejected by someone who looks just like her lost mom. The sudden hope and then almost immediately the crushing heartbreak. Clark comforts Lois and assures her that she is not her mother, far from it. The love and support between Lois and Clark is easily one of my favorite parts of the show, so I truly appreciated this moment and Lois' return to normal that followed. Kudos!
THE BOOK OF BOBA FETT, "Chapter 5: Return of the Mandalorian", January 26, 2022, Actors: Pedro Pascal, Emily Swallow and more, The Scene: Din is contested by members of The Death Watch
Laura B:
Din Djarin struggles to find his place, as he is once again contested by members of The Death Watch - It was pretty cool to discover that both The Armorer and Paz Vizsla survived, but the show continues to use the Darksaber as a set of philosophical constructs for what Mandalorians are or aren't, let alone if Mandalorians can co-exist with Jedi, who have often held opposite beliefs. I much enjoyed the ironic turnovers between these characters as they go from friends/mentors, to something in between neutral or enemy over a beliefs series held by both The Armorer & Paz Vizsla, as one wants to challenge Din for The Darksaber, while the other takes his other weapon and forges it into something for Grogu, only to turn around and oust him from being a Mandalorian, despite winning the duel over admitting he took off his helmet. It's hard to say how this will play out with either Din or Bo-Katan, but so appreciate the in-universe argument that out of universe fans have been asking for so long.
THE CLEANING LADY, "Legacy", January 24, 2022, Actors: Élodie Yung, Adan Canto, The Scene: Thony and Arman fight in the office
Folie-lex:
Arman and Thony get into quite a big fight as the accumulation of a few rough and unpleasant moments they share throughout the episode. Her disappointment is obvious as she cowers and flinches away from him, and lets him know he is not the man she thought he was. While Arman in a fit of anger and hurt points out her hypocrisy in judging his lifestyle but having no problem using him when she is desperate for help. The truth bombs each of them drop on the other hit home hard, and bring front and center both the personal issues these layered characters carry as well as the complications of the relationship they have been developing from the moment they met. The scene primarily works as a direct juxtaposition with one that played out earlier in the episode, where a thoroughly smitten Thony gives a clearly humbled and moved Arman one of Luca's drawings where he is depicted as a hero.
THE EXPANSE, "Babylon's Ashes", January 14, 2022, Actors: Steven Strait, Dominique Tipper and more, The Scene: The entities consume the Pella
Justyna:
This is one of my favorite TV shows of all time. It's hard to believe it's over, but I'm very glad to say that the ending was perfectly done. There are so many incredible moments in the last two episodes of the series that choosing just one for the article felt impossible. That entire sequence with the Rocinante crew entering the Ring Station that ends with the destruction of the railguns was wonderfully done. But ultimately I decided to highlight the moment that happens after, when our crew awakens the entities to consume Marco's ship, with Naomi pulling the trigger. It's hard to put into words just how important this scene is for everyone. It's the end of the war with the Free Navy. It's a huge risk to purposely trigger the entities, not knowing whether they'll go back to their dormant state. It's using the knowledge of the protomolecule and the entities that they've been gathering since season one, a culmination of a journey. Finally, it's the end of Marco and seemingly Filip. And I love the way the entire scene plays out. With the beautiful music building up as we watch all the main characters preparing to fight for their lives and the sudden switch to Naomi's memory, her brief time of happiness with her baby, the same child she is essentially killing in this moment. But she pulls the trigger anyway, choosing to protect her family on the Rocinante and anyone else that Marco is a danger to. As the viewers we get to witness Marco's final moment. His realization and a desperate attempt to change his fate, knowing it's already too late. And with his final look he appears to be turning towards Filip's place on the ship, most likely realizing that his son has left him. A satisfying end to his story. Once the Pella is gone, we come back to the Rocinante and watch everyone's reactions (mostly relief) to Marco's end until the camera ends on Naomi and her scream cuts through the music. Her complete devastation, when she realizes that her son is gone, is the most heartbreaking and most memorable part of the finale for me. That and Jim holding her in his arms as she breaks down, trying to comfort her in any way he can. What an emotional, significant scene overall. And such a fantastic show. Time to rewatch it soon. Thank you to the entire cast & crew for their incredible work on the series. It will not be forgotten.
THE ROOKIE, "End Game" & "The Knock", January 9 & 23, 2022, Actors: Melissa O'Neil, Eric Winter and more, The Scenes: The double date & Lucy talks to Tamara
Folie-lex:
Lucy and Tim get roped into going on a double date with their current official love interests, and as the dinner plays out on screen every second of their interaction proves what the audience has known for years: these two are meant to be. From their inside jokes, to them stealing food of each other's plates, to monopolizing the conversation between them, to their body language as they sit side by side and still end up facing each other throughout the night and practically ignoring their respective dates for the evening.
Luana:
I just love this relationship and I love Lucy, she's one of the best characters I've seen in a while, and I loved how she was able to be there for Tamara without pushing her, but also not letting her fall through the cracks.
THIS IS US, "Don't Let Me Keep You", January 25, 2022, Actor: Milo Ventimiglia, The Scene: The eulogy
Luana:
This scene was heartbreaking because Jack managed to put into words all the pain he was feeling, not only the pain of losing his mom but also the pain of realizing what his dad had taken from both of them, including their relationship with each other.
Marko:
A raw and honest performance from Milo as Jack was saying goodbye to his mother. Jack had a rough life and didn't always make the right decisions. The speech was honest and powerful giving Milo all the space to shine.
YELLOWJACKETS, "Sic Transit Gloria Mundi", January 16, 2022, Actors: Ella Purnell, Sophie Nélisse, The Scene: Jackie and Shauna's fight
Cecile:
After months of bubbling resentment between them, Jackie and Shauna finally get into it as their friendship crumbles around them. It's a scene that is momentous because they both have valid reasons for the resentment, but also because it's the kind of fight that would have happened even if they hadn't been stranded in the wild, desperately struggling to survive. Both Sophie Nélisse and Ella Purnell are fantastic in this scene. As their pride prevents them from making the first step towards reconciliation, the moment results in a devastatingly banal death for Jackie, who freezes to death in the cold after being asked to leave the cabin by the rest of the girls. Shauna's scream as she realizes what happened is truly heartbreaking since Jackie's death was entirely preventable, and it's a moment that will affect the rest of her life, and her choices.