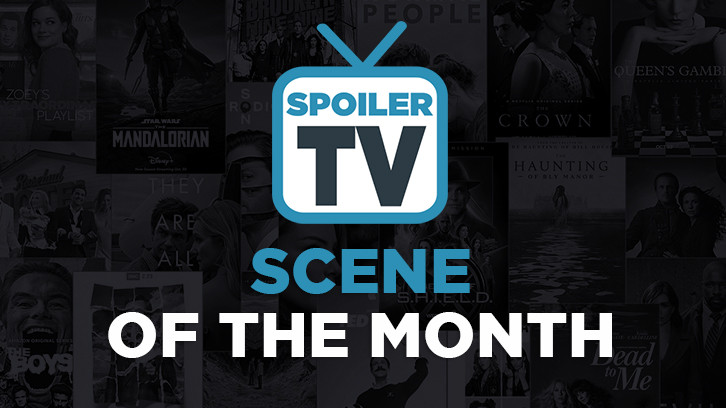 ---
NOTE: The Issue with the poll is now resolved... we hope. Sorry for any inconvenience.
---
A monthly feature in which we're trying to find the most compelling, best acted, written, directed and just generally great, memorable scenes that we've seen in the past month on TV.
BROOKLYN NINE-NINE, "The Good Ones", August 12, 2021, Actors: Andy Samberg, Stephanie Beatriz, Andre Braugher, Melissa Fumero, The Scenes: Rosa tells Jake her quitting isn't about him & Holt confesses his issues to Amy
Marko:
Once again Andre Braugher captures the screen with his stellar performance. As he gave life to the script he also was giving deeper context to his character and bringing me to tears as he unravels all the pain he was going through since the start of the pandemic.
Folie-lex:
For all his great qualities Jake is often a selfish manchild. And taking Rosa quitting as a personal slight instead of bothering to look into the deeper implications of what it was about especially amidst the BLM movement, was unfortunately very on brand. Thankfully Rosa doesn't let him off the hook and schools him appropriately with a well deserved dress down.
EVIL, "S Is for Silence", August 29, 2021, Actors: Katja Herbers, Mike Colter and more, The Scene: The Monks, David and Ben find Kristen and Fenna
Laura:
The Monks, David and Ben find Kristen and Fenna a little drunk on the barley wheel. Ok, this is undoubtedly one of the best episodes of the show yet. It's building its mythology without yet explaining it, it was disturbing and hilarious without a lot of words, and it played on undefined romances with Kristen both towards David and Fenna. I would say Kristen's relationship with Fenna was one the most unexpected pleasures of the episode and these kinds of scenes where Ben and David (and sexist monks) are kind of catching her in schoolgirl antics just brought so much more bemusement to an episode that was mostly silent. Please tell us we will see Fenna and Kristen reunite at some point!!
FANTASY ISLAND, "His and Hers / The Heartbreak Hotel", August 17, 2021, Actors: Roselyn Sánchez, François Chau, The Scene: Mr. Lee and Elena talk about Olivia
Folie-lex:
In the second outing of the reboot/sequel show, the always lovely François Chau plays a guest that Roselyn Sanchez's Elena has trouble connecting with. In this scene we also learn more about Elena's backstory, sure, but it's Mr. Lee who is still very much in love and mourning his fiance that keeps us interested. Roselyn Sanchez seems to know this as she gives François Chau the appropriate room to deliver a great perfomance as she encapsulates all the audience should be feeling in the moment.
GOOD TROUBLE, "Anticipation", August 25, 2021, Actors: Emma Hunton, Erik Stocklin
The Scene: Davia opens up to Matt
Luana:
I'm loving Matt and I loved how he was able to be there for her without making it a hero moment. Hunton is just amazing to watch and this moment was heartbreaking but also inspiring.
GROWN-ISH, "A BOY IS A GUN", August 5, 2021, Actors: Diggy Simmons, Daniella Perkins
The Scene: Doug opens up to Kiela
Luana:
I can't say I care much about this pair but their conversation was perfectly heartbreaking.
HEELS, "Dusty Finish", August 22, 2021, Actors: Stephen Amell, Alexander Ludwig and more, The Scene: The karaoke bar fight
Chlöe:
The whole episode was leading to a charged explosive moment, especially with Ace spiralling as a result of the fight at the end of previous episode. The bar fight felt like a much needed catharsis, bringing the brothers together for a brief moment of unity. There is a great emphasis on family in the show and Jack and Ace having each others' backs for a moment and fighting together is a little bit of relief from all that pain and tension between them. I look forward to the show continuing to peel back the layers with the brothers. Alexander Ludwig and Stephen Amell have great chemistry and I can't wait to see their relationship develop!
KEVIN CAN F**K HIMSELF, "Fixed", August 1, 2021, Actors: Annie Murphy, Mary Hollis Inboden, Alex Bonifer, The Scene: Allison and Patty threaten Neil
Jessica C:
This was a really thrilling and nuanced cliffhanger to close out the first season! When the sitcom lens was ripped away in this scene, we witnessed the dark side of Neil's antics. The side of him that the comedy lens hides in all of the same ways that it hides Allison's turmoil. If Patty hadn't interfered, Neil could have easily killed Allison. Which makes me question all of Kevin's and Pete's actions and how sinister they would be in the drama lens. Neil is arguably the tamest of the three, I'm terrified to think what Kevin would be capable of. And also, Patty smashing a bottle over Neil's head and telling him he won't be saying a word to Kevin was incredibly satisfying.
MODERN LOVE, "On a Serpentine Road, With the Top Down", August 13, 2021, Actors: Minnie Driver, Don Wycherley, The Scene: Stephanie tells Niall how she misses her late husband
Justyna:
I've stumbled upon this show by chance. Haven't heard much about it and didn't plan to watch. And yet I ended up watching most of it in a couple of days. Each story was different, not all of them worked as well as the others, but I wanted to give a shout-out to one of my favorites - the story of love and grief from the second season's premiere. Stephanie Curran loses her beloved husband Michael, the father of her grown-up daughter and years later remarries another man named Niall, but still continues to hold onto the memory of her lost love through the car he left behind. She struggles with the idea of selling the car (per her new husband's request) throughout the episode and we watch a beautiful and heartbreaking montage of a love story between Stephanie and Michael, a lifetime they spent together around and in the car. Only after she sells it, she admits to Niall how much she misses her late husband and just how important this vintage car truly was to her. She used it to keep a connection to her past alive, choosing to remember what she had and lost, to keep a part of Michael alive. It was such an honest and powerful admission, a true portrayal of grief I rarely see on the screen. No stages of grief or moving on talk. What made the scene even more memorable is Niall's response. He understands her grief, shares his own way of keeping lost loved one close and even admits that the fact she has such a huge heart, with room for two great loves is one of the reasons he loves her. "It's love and grief, baby." Beautifully written and acted scene. And of course he goes to buy back the car for her in the very next one. Kudos to cast & crew for all their work on bringing this story to life in the show.
MOTHERLAND: FORT SALEM, "Delusional" & "Mother of All, Mother of None" & "Revolution, Part 1", August 10, 17 & 24, 2021, Actors: Taylor Hickson, Amalia Holm, Demetria McKinney and more, The Scenes: Anacostia and the Bellweather Unit commit Alder's body to the Mycelium & Raelle and Scylla kiss & Tally stands up to Alder
DJRiter:
In a powerful moment the Bellweather Unit and Anacostia got to share final moments with the dying General Alder before committing her body to the Mycelium. Each member of the unit, despite their differences, got to express their respect and feelings for the General and Anacostia got an emotional final goodbye to the woman who was like a mother to her.
Alejandra:
Raelle and Scylla kiss - most awaited thing of season 2.
Luana:
Tally's rebellion has been coming for a while now but to be able to stand in front of her in that way, was incredible, and it was a special heartwarming moment when her friends came to stand by her.
NINE PERFECT STRANGERS, "Earth Day", August 18, 2021, Actors: Nicole Kidman, Michael Shannon, Bobby Cannavale and more, The Scene: The reveal that Napoleon killed the Goat
Laura:
I'm enjoying Nine Perfect Strangers so far, and it's no surprise, really, that Michael Shannon is one of the biggest standouts. This episode let his character shine when we are led to believe that Tony would have been the one to snag the goat, given how angry Tony has come off and how apparently fractured Napoleon has been exposed to be. It's a shocking reveal, but even Nicole Kidman deserves some kudos here for trying to balance a character that is at first saddened, but then decidedly glad believing the "regimen" is working!
ROSWELL, NEW MEXICO, "Black Hole Sun" & "Bittersweet Symphony", August 9 & 30, 2021, Actors: Michael Vlamis, Tyler Blackburn, Nicholas Ballas, The Scenes: Sanders offers Michael his guidance and advice & Alex and Michael talk at the drive-in
Prpleight:
Sanders helps Michael with a little fatherly guidance and advice. Michael was fairly frustrated throughout much of the episode. Maria is in a coma, which he can do nothing about. He throws his energy into finding Kyle, but hits a roadblock. Alex is of no help. Michael is stuck. and his sense of failure over protecting Kyle and Maria isn't helping him think more clearly. Enter Sanders. Everyone seems to consider Michael's snippiness as 'that's just Michael' and usually responds to him as though he'd made a calm and polite statement. Sanders just snaps back. Watching this scene it occurred to me that they're like a pair of grumpy old men; like family. Knowing Sanders' history and his long held desire to take care of Michael, it just fit. It also made this scene special. Michael's investigation was stalled. Sanders talked him down then provided the different point of view that gave Michael the answers he needed. We're used to seeing Michael push away people who try to help him. It was really nice to see him accept help for a change, even if he was a little crotchety while doing it.
Alison D:
On its own, it was a simple and beautiful moment for viewers - Alex talks Michael down from his spiral with fiery logic and an unmistakable, albeit coded, present tense declaration of love. Simple as the scene was, it was also filled with nuance, callbacks, and progress, delivering something genuinely great for all the Malex fans. And kudos to costume and lighting.
Luana:
Michael was going on about how he's worthless because of his father and Alex reminds him where he stood on him being judged by the actions of his own father and stops him in his tracks. A wonderful moment of perspective and growth for these two.
SUPERGIRL, "Welcome Back, Kara", August 24, 2021, Actors: Melissa Benoist, Chyler Leigh, The Scene: Kara opens up to Alex about her time in the Phantom Zone
DJRiter:
In its first episode back and the first of its final 13 episodes Supergirl returned and leaned heavily on the aspect of the show that made it great to begin with, The Danvers Sisters and their emotional couch scenes. Their final couch scene, where the sisters opened up to one another (like never before showing how both characters have grown) about how Kara being in the Phantom Zone affected each other. It was a beautifully performed scene by stars Chyler Leigh and Melissa Benoist and solidified that the Danvers Sisters are the heart, soul and foundation of the show and should remain the focus of this final season.
SUPERMAN AND LOIS, "The Eradicator", August 10, 2021, Actors: Elizabeth Tulloch, Jordan Elsass, Alex Garfin and more, The Scene: John Henry Irons saves Lois
Justyna:
The season one of "Superman & Lois" has officially concluded so I can honestly say it's my favorite first season of any show in a while. The writing, the characters, the actors, the music, the visuals - all worked beautifully together to make this excellent story work. There are so many great scenes that I could have highlighted from last month, but in the end I decided to go with one of the most tense moments on the show so far. While I wouldn't allow myself to believe our Lois could die just like the other Lois from Irons' universe it didn't make it any easier to watch Leslie Larr targeting her on live TV. The reactions from Jonathan and Jordan alone, as they freeze for a second and realize the danger their mom is in, add to the intensity and importance of the scene. Of course Lois Lane would be there, reporting the news, even though she's putting herself at risk. And there's nothing she could do in the moment to defend herself. Luckily, John Henry Irons uses his hammer to stop Larr from a distance and saves Lois in the process. It would make sense to have Superman come to the rescue, but I loved that it was Steel who got to do that. He couldn't save his wife but at least his presence in this universe made a difference for our Lois. All the difference in the world. Wonderfully done, short but impactful moment. Kudos to cast & crew of the show for all their work on this fantastic series.
TED LASSO, "Rainbow", August 20, 2021, Actors: Brett Goldstein and more, The Scene: Roy leaves the panel and walks into the stadium
Folie-lex:
Roy Kent may be in love with Keeley Jones but Lady Football (as Ted would say in a pinch) is his real soulmate. Therefore it's only appropriate that the ultimate climax of this rom-com homage episode ends with Roy, running back to his love, finding a little bit of himself again in the process. It's (as usual with this show) both beautiful and funny, and I dare anyone to listen to the "He's every-fucking-where" chant without tears in their eyes and a full blown smile in their face.
Alejandra:
Roy walks out of the pundit panel and walks into Richmond stadium.
THE GOOD FIGHT, "And the Violence Spread", August 26, 2021, Actors: Sarah Steele, Mandy Patinkin, The Scene: Wackner's court ends in chaos
Laura:
Marissa and Hal use a table and their bodies to barricade a door in the back room to protect themselves, as the alt right gang descends violently in Wackner's court! I have come a long way this season with a lot of mixed feelings, as the season is almost like a hard reset of the show, given how there was almost no known secondary characters from earlier seasons (or from The Good Wife) making appearances, but instead lots of new characters mostly centered around this Kangaroo Court(s). At times, it felt like a different animal. However, one of the brilliant great pleasures of the season was finally giving Marissa a deeper character arc and Steele's dynamics with Patinkin's new Judge Wackner was one not to be missed. I particularly enjoyed the exchange between them in this episode, while a microcosm of January 6th is happening all around them. For Marissa, whose character first appeared on The Good Wife, Wackner came off as a father figure in a way, as we already know that Eli was a bad father, or at least as this scene further plays off, he was in the emotional sense. But Marissa spouting off Eli's beliefs to Wackner kind of proves that, despite whatever emotional deficiency Eli may have had towards his family, he was not necessarily wrong in understanding the world he lives in and in teaching it to Marissa. And so, it was quite amusing seeing Marissa [once again] spouting the cynical wisdom of Eli and teaching Wackner a lesson in an almost dire situation, despite Marissa encouraging Hal to rule the right way. I don't know if Mandy Patinkin will return, but if not, I can't say that there wasn't perfect closure here with Marissa growing up and seeing the dynamic get role reversed.
Luana:
I loved seeing Mandy Patinkin in this role and I loved how his court was steered to its only possible conclusion, if a bit extreme. It was the perfect way to show the possibilities, and the cherry on top was him putting his apron back on and just picking up the broom.
THE L WORD: GENERATION Q, "Lean on Me", August 15, 2021, Actors: Jennifer Beals, Sepideh Moafi, The Scene: Bette and Gigi have sex (picked by Alejandra)
THE REPUBLIC OF SARAH, "Two Imposters", August 30, 2021, Actors: Stella Baker, Hope Lauren, The Scene: Sarah tells Corinne the truth and realizes everyone heard them
Marko:
After Stella's captivating performance in 1x11, she upped her game and delivered an even more emotional display. The way Stella interpreted Sarah's breakdown as she once again failed to be the perfect leader and friend just teared my heart up.
TITANS, "Hank & Dove", August 12, 2021, Actors: Minka Kelly, Alan Ritchson and more
The Scene: Hank's death
Alejandra:
Hank has never been my favorite character of the show but he really came a long way and I did not expect to feel this emotional over his death, adding to that it was Dawn pulling the trigger.
WHAT IF, "What If... T'Challa Became a Star-Lord?", August 18, 2021, Voiced by: Chadwick Boseman, Josh Brolin and more, The Scene: The introduction of T'Challa's Ravagers family
Justyna:
Easily my favorite of the episodes so far. I realize that there's been a lot of praise for the darker "What if" scenarios presented in the show (which is perfectly fine of course) but personally I loved watching this more hopeful universe (at least till that last scene) and the difference T'Challa made in the world. From the promotional materials shared prior to the series premiere I knew we will be introduced to this Ravager version of T'Challa, but I never imagined just how much of an impact his presence and influence would cause in the galaxy. The revelation that Ravagers have been reformed and are now inspired by Robin Hood stories was a brilliant twist on its own, but Thanos being one of them was something I never expected to see, not even in this "What if" multiverse. This scene in particular, where the ripple effects of Yondu's choice are truly introduced, left me both surprised and really excited for the rest of the story. Considering Thanos' motives back in the "Avengers: Infinity War" I have actually wondered a while ago whether there was anything that could have changed his mind. By his own description his ultimate goal was to save the universe, even despite all the damage and pain he's caused. So if someone found a better way to do that than eliminating half of all life in the universe, would he have listened? Turns out the answer is yes. For better or worse, we find out that in at least one of the universes T'Challa's heroism, intellect and kindness, his influence alone managed to change Mad Titan's mind. He still makes references to his plan throughout the episode, but he left his army behind and chose to do better, even developed a better relationship with his daughter, Nebula. Such an impactful change for the story of MCU overall. The Ravagers family of T'Challa being introduced was a brilliant twist, a funny and exciting moment that immediately captured my attention and made me enjoy this story so much more than I expected. The tragic thing about the episode though, it made me miss T'Challa's character (and his wonderful portrayer) even more. Thank you Chadwick, for everything. And kudos to cast & crew of this great series for all their work.
---
---