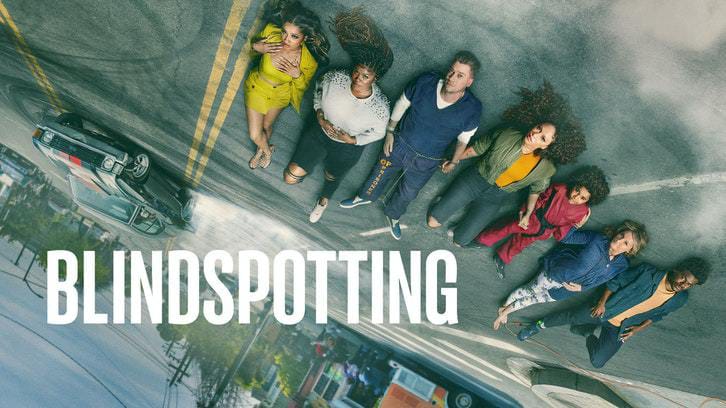 We're back for another week to review Blindspotting! Seannie Darko shows us Sean's first visit to Miles in jail and its horrific consequences which gives us the chance to learn more about Earl as Trish and Jacque move forward in creating their new business and Earl and Janelle get closer. Ready?
Here we go!
Blindspotting
episode begins slowly and calmly with Sean and Ashley visiting Miles, the first time Sean saw his father after learning the truth in the previous episode. The scene is so tender that it brings tears to my eyes. Sean just looks at his father with so much longing and love… and Miles has an equal look on his face. They both wish everything was different.
Soon, everything becomes frantic and the cops treat Miles violently ... in front of Sean. I promise you, if I could walk across the screen, get them away from Miles, and say them some things, I would. How dare they? I understand the situation was getting out of tune quickly but it was clear that Miles had done nothing wrong, nor was he resisting, it was clear that Sean was there and Miles was just trying to reassure him. But those guards didn't care and treated him violently, as if he were trash, in front of his son. I want to scream very loud in frustration, anger and helplessness.
After this, it's normal for that Sean to be in a catatonic state, still in shock. Seeing his father like this, so helpless, so alone, so… powerless is not pleasant for a son, much less witnessing such a violent situation.
Nothing seems to cheer him up, until Earl manages to do so by turning his anger into a game. Because what happens to Sean is that he is angry, enraged, he feels powerless to have seen that his father was treated like that and he cannot do anything to avoid it, to defend him.
Sean needs time to assimilate that this is the life of his father now and, under all that rage and anger, he's afraid. Sometimes, children are more insightful than adults and Sean realized that after Miles was released nothing would be the same, he would change. What he is living in jail will inevitably change him. And he's afraid that that means he no longer behaves like always with him.
Of course, Miles will continue to love Sean no matter what but Sean, being a child who must unjustly mature by leaps and bounds, is terrified that the relationship he has with his father will not be the same.
Ashley is quick to make him see that it will be and she tries to convince herself that everything will be fine. After a few years, Miles will return and they will be able to pick up where they left off, he will be able to rebuild his life and together they will rebuild their family.
But things rarely happen as we plan.
Life afterward is not as simple as Ashley hopes it will be. She sees Earl, she sees him laughing, happy, and she sees how he is rebuilding his life being the same as before but appearances can be deceiving. He's not the same that before ... he doesn't even know who he is, so he survives a day to day made up of little moments.
Although he's still lost. He feels that he cannot be the person he was before. The experiences in jail, having been locked up, fearing for his life ... has inevitably changed him. But who is he now? He tries to figure out the answer as the days go by and recover those parts of him that are fragmented and broken. Stick them back together.
Part of him will never return but little by little, with the support of those around him, with the strength of those who have become his family, every day he feels a little more like himself and a little more like a new Earl. An Earl reborn after his time in jail. An Earl who may be better than he was ... but it won't be easy.
I really like that Earl and Ashley have had this conversation not only because it helps her understand that it is impossible that when Miles goes free, everything will be the same as it was before, but also because it brings the characters closer, shows their friendship and Earl was the right person to talk to Ashley about this. No one would have done it as frankly as he.
Janelle and Earl definitely give me heart attacks. That little dance together has made my heart race to dangerous levels. Even Ashley noticed that sparks flew between them. I find it curious that Earl always approaches Janelle, it is something that he does unconsciously, as if something draws him to her. Can they kiss now? Please and thank you.
For their part, Trish and Jacque come up with the idea for a new business that will allow them to leave the club and be their own bosses… although part of the business is for their old boss…but only a small part thanks to Trish.
It's an unorthodox business but… so what? There is no danger to anyone and it will be a business between adults with the consent of both so…what the hell! Why work for others when you can do it for yourself? Although I do expect some trouble for Trish and Jacque because of this.
Her mother and Ashley were super shocked when Trish told them what she was going to do and surely they will be against it, something normal because they all live together and Sean is in the same house ... but, also, Jacque had to remind several times to Trish that the business belongs to both of them ... will they have problems for this?
Can't wait for
Blindspotting
to give us all the answers next week!
And this is where our
Blindspotting
review ends. We will be back next week with our season finale review. Stay tuned!
Agree? Disagree? Feel free to share with us in the comments below!