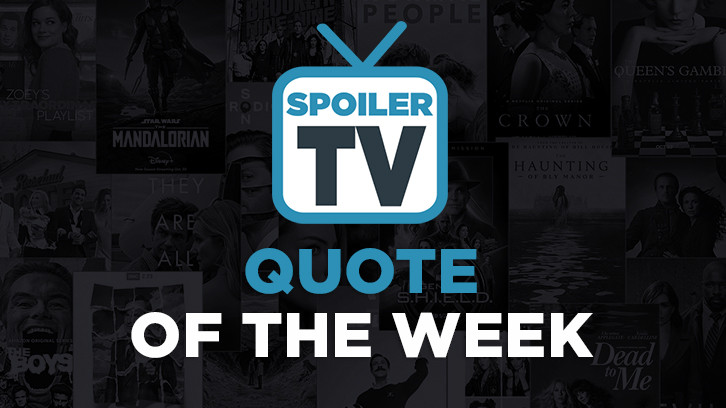 A weekly feature highlighting the best quotes on TV as picked by the SpoilerTV team. We'd love to hear your picks too so please sound off in the comments below.
The Bold Type
- Jamie 1. Jane: "I think I'm just processing, and, I have like infinite emotions. And you know when that happens and you just feel like you have to scream." 2. Jacqueline: "I was trying to replace myself with someone that was, well, someone like me. But someone like me is not the future of Scarlet. You are, Kat, and I'm sorry that it took me so long to see it." 3. Jane: "So this is it." Sutton: "No." Jane: "So much change." Kat: "But it's good change, though. And we are gonna be okay." Sutton: "We're gonna be better than okay." Jane: "'Cause we got each other, forever." Kat: "Oh yeah, until we die."
Kevin Can F**k Himself
- Jessica C. 1. Neil - "And it's got your name on it, so legally, it belongs to you." Patty: "Wow, your grasp of the legal system is so interesting." 2. Allison: "Go on, Patty. Go be one of the boys. I knew it. You hate them as much as I do." Patty: "I don't hate them." Allison: "Yes, you do. I knew it. I knew there was something else going on. I just didn't know it was selling drugs." Patty: "Can you just be cool?" Allison: "I'm right. That's way better." 3. Patty: "We're in that mutually-assured-destruction territory now, yeah?"
Legends of Tomorrow
- Prpleight 1. Astra: "Man of steel, intestines of Play-Doh."
Why Woman Kill
- Elvis 1. Bertram Flicot, to Alma: "We're like Bonnie and Clyde... but with cookies."
Grimm - Prpleight 1. Renard: "You know, my great-great-grandfather on my mother's side was a great believer in rituals and sacrifices. I think that's what got him burned at the stake."

Twin Peaks: The Return - Elvis 1. Bushnell Mullins: "What about the FBI?" Dale Cooper: "I am the FBI." 2. Laura Palmer: "Where are we going?" Dale Cooper: "We're going home."