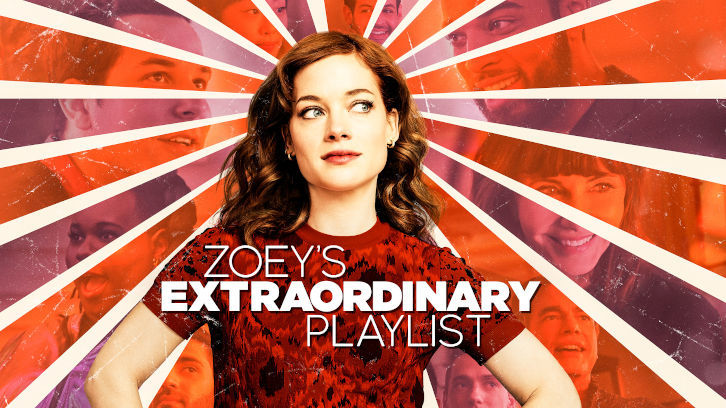 Zoey dabbles in the carefree lifestyle and recreational drug use this week on Zoey's Extraordinary Playlist. Read on for my review of "Zoey's Extraordinary Trip."
When we left off last week, Zoey was enamoured by her hot Australian neighbor, Aiden. She hasn't seen him in quite a while, but quickly learns that he has become the "cut loose," "go with the flow" type of guy as he sings to her "Unwritten" by Natasha Bedingfield ("Drench yourself in words unspoken / Live your life with arms wide open / Today is where your book begins / The rest is still unwritten").
After everything that's been going on in her life, Zoey feels like she needs some of that "let loose" energy. She decides to skip out on work the next day to be "rebellious" with Aiden. However, as she soon finds out, there's a pretty big disparity between the kind of rebellious day Zoey has in mind and the one Aiden does. Zoey is taken aback when Aiden supplies her with an unidentified white pill - "I am also not a drug person per se - or at all."
Danny Michael Davis gets off of his charges on a "technicality" and returns to SPRQ Point, exonerated, and promising to spend more time in the San Francisco office. His first order of business (well, second, after a self-aggrandizing musical entrance) is to ask Simon to hold a press conference to get out in front of a new Chirp issue. Apparently, its facial recognition software recognizes faces of people of color substantially less than white people. Simon immediately recognizes that this issue is likely attributable to there being next to no people of color in high-level positions at SPRQ Point, and wonders what he could say at the press conference to spin that.
Just as Zoey's high starts to kick in, she gets two phone calls - first, from Simon, telling her about the Chirp development, and then getting called in to work by Danny Michael Davis himself. Danny tells her he needs her to work that day and, when she proves hesitant, decides to just track her SPRQ Point phone and meet her where she is.
When Danny shows up at the garage where Zoey and Aiden are tripping out, he quickly recognizes their altered states (honestly, they were not great at hiding it). However, instead of being mad at Zoey, he asks to join in! The three go on a weird, occasionally cringe-inducing trip that culminates in Zoey and the gang singing "Starships" by Nikki Minaj in the middle of the street.
Meanwhile, Max's dad (played by Broadway's Chip Zien) is in town for a conference, and we get our first real taste of the complex relationship Max has with his dad. He wants Max to move back home and join the family dental business, but Max wants to shape his own future, causing tension between the father and son. It certainly doesn't help that Max's future doesn't look particularly promising at the moment: The WIRED article about him was nixed and Max and Mo can't secure any investors.
The only solution Max and Mo can come up with to save "Maximo's" ("It's a combination of both our names") is to ask Max's dad to invest. They propose it to him the next morning, but, as he is with everything Max does, he's mostly critical, and ultimately doesn't seem inclined to invest. It's at this point that Zoey hears Max sing "Numb" by Linkin Park ("I'm becoming this / All I want to do / Is be more like me / And be less like you"), in an A+ performance from Skylar Astin (I'm thinking of making the "Every second I waste is more than I can take" line my ringtone).
After a brief detour for popsicles, Zoey, Danny, and Aiden end up at the Clarke house, where Zoey tells Danny about her dad and how much it hurt to care about him. Danny himself expresses a disinterest in what his life has become, and they both resolve to stop caring so much.
Unfortunately, Danny's interpretation of "caring less" means, specifically, caring less about SPRQ Point. He tells Zoey that morning that he's decided to sell his stake in the company, meaning that everyone could lose their jobs. Realizing that "not caring" is not really the solution to her woes, Zoey convinces Danny that he should care, and he decides not to sell the company after all.
That night, Simon meets up with Tatiana (the writer from WIRED) and Mo to talk about his ethnicity being used as SPRQ Point's "human shield." Tatiana says he should just do what Corporate wants and keep working his way up in the company, while Mo insists he should quit. Still conflicted, Simon tries to prepare for the press conference best he can.
Before he leaves town, Max's dad offers to invest in the restaurant. While Max is initially excited, he is much less so when the elder Richman makes it clear though that he's doing it because Max is his son, not because he believes in him. Tired of hinging his future on someone who doesn't trust him, Max rejects the money.
After Roger starts disparaging Maggie after she rejected his advances, Jenna fills Roger's car with fertilizer in retaliation. Maggie ends her working relationship with Roger, but also fires Jenna for the prank, arguing that she doesn't need Jenna's protection. After this, Jenna decides to leave San Francisco and head "east." When it looks like Maggie and Jenna will part without saying goodbye, Zoey uses her newfound faith in caring to convince her mother and Jenna to reconcile before Jenna leaves.
At the end of the episode, Simon does the SPRQ Point press conference, singing "Don't Let Me Be Misunderstood" by The Animals just before he takes the podium. After a second of hesitation, Simon decides to use the moment to speak out against the racial disparity in the company, and the episode ends on a bit of a cliffhanger as we wonder how SPRQ Point higher-ups will react.
I'm still somewhat undecided on this episode. On the one hand, the drug trip sequence was definitely funny, but it also tilted on the borderline of uncomfortable and arguably too zany for the show's established tone. It also provided a sneaky opportunity for almost nothing of substance to happen in the episode, a rarity for Zoey. The only concrete critique I can put my finger on is that the storyline was saved from complete failure by Jane Levy, once again somehow finding the magic formula of just enough whimsy and quirkiness without becoming abrasive.
The Simon and Max storylines were standouts, genuinely more interesting than the main storyline, with both John Clarence Stewart and Skylar Astin putting in stellar performances. In the first season, I considered Jane Levy as the sole heavy-hitter acting-wise (a thought underlined by her well-earned Golden Globe nomination this morning). However, this season, I'd say Skylar Astin is most certainly meeting that high bar as well, and this episode made a strong case for John Clarence Stewart as a future awards contender on top of that. I'm so glad both of these characters are getting to become developed outside of their relationship with Zoey, and that these two great actors get to show off their range.
What did you think of "Zoey's Extraordinary Trip?" How excited were you this morning for Golden Globe Nominee Jane Levy? Let me know in the comments!
Zoey's Extraordinary Quotes-List:
Zoey: Okay, so you graduated from college, and then you did the whole "backpacking through Thailand" thing.
Aiden: Yep. It was incredible to immerse myself in such an ancient culture.
Zoey: Oh, you mean like visiting the Grand Palace and going to all those Buddhist temples?
Aiden: Oh, I don't know about that, I mostly did shrooms on the beach.
Danny: You have no idea what it was like. In regular prison, you just want to go home. But when your home is a prison, you know, where do you go then?
Simon: The infinity pool.
Max: I'm starting to panic. We've pitched seven different investors already and - what if we go back to the A-gays, I show a little thigh…
Mo: Oh, that ship has sailed honey, but it's so cute that you think you're their type.