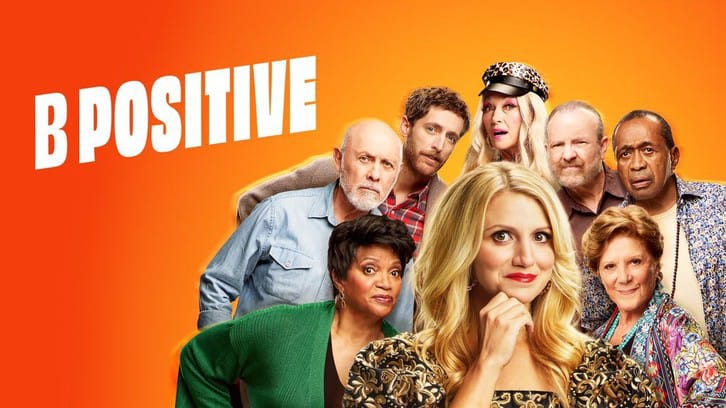 B-Positive is a show created by Marco Pennette who also is a producer alongside Chuck Lorre, and tells the story of Drew (Thomas Middleditch), an awkward therapist that needs a kidney transplant, and Gina (Annaleigh Ashford), Drew's highschool classmate, who's his total opposite, that ends becoming his potential donor. Now let's do a brief recap of the three episodes we've seen so far.
1.01 Pilot
In the first episode, we are thrown into the premise of the story right away, since in the very first scene we have Drew being told by his doctor that he has a renal failure and needs a new kidney. Later, we get to see a bit more about his life, when we meet Julia (Sara Rue), his ex wife and Maddie (Izzy G.), their teenage daughter.

While attending a wedding, he runs into Gina, and after he tells her his situation, she volunteers herself, right out of the blue, to be his kidney donor. He reluctantly accepts since he hasn't anyone else to ask, and later they find out that she's a match, so he seems to have found his kidney. The only thing is that now Gina has to quit her not so healthy life and start taking care of herself.
Dr. Baskin: "Your creatinine level is through the roof." Drew: "And that's not good? Dr. Baskin: Rule of thumb, nothing in your body should ever be through the roof."
Dr. Baskin: "I'm gonna give you the name of an excellent nephrologist." Drew: "Good. Good. Good. Good. Yeah, I don't want a strip mall nephrologist."
1.02 Die Alysis
This episode was slightly better than the pilot, because they introduced new characters, especially Drew's dialysis group, and we could also get more insight on the tone of the show as a comedy with dark humor. In this hour, Gina ended up living at Drew's house (to assure that she's taking care of herself), which I think will help a bit with the development of the story, cause they living together can give space for new situations and storylines.
Eli: "I would take a kidney from Hannibal Lecter if he was offering. You know, assuming it wasn't chewed on." Sam: "Ayatollah Khomeini, hand it over." Jerry: "Mother Teresa, give it." Sam: "How is she a terrible person?" Jerry: "Did not see the pattern."
Gina: "Come on. It would not hurt you to go out and meet people." Drew: "Nah. 'Cause then, for the rest of my life, I'm gonna have to say "hi" to them when I'm going to my car, getting the mail." Gina: "But look on the bright side. You may not live that long."
1.03 Foreign Bodies
Some say that the third time's the charm, and this episode was definitely an improvement from the previous ones, since I think the show and its characters are starting to find their place. I think Gina is the best character so far, and she's showing some development, cause in her first appearances she seemed a bit "over the top" but now she's showing new sides of her personality.
I really enjoyed her scene with Maddie at the end of the episode, it was really sweet since I think they both showed their true personalities: the teen worried about her dad and Gina giving us more insight about why she decided to be Drew's donor.
Gina: "Do you know why your dad is so desperate for a kidney? It's you. He said, "I have to stay alive for my daughter." So that is the reason that he is putting up with me, and trust me, I am a lot to put up with." Maddie: "You don't seem so bad." Gina: "I just stole your lip balm."
Maddie: "Why are you doing this, anyway?" Gina: "Well, why wouldn't I? I've known this guy since high school." Maddie: "Oh, God, I can't even picture him back then." Gina: "He was cool. Okay, that is not true. He used to lecture us about cancer while we were smoking behind the gym. So, who knows, maybe he saved my life, and now it's my turn to save his."
Even when at first I thought the premise of the show a bit forced since it wasn't very understandable why Gina volunteered to be Drew's donor, I've found every episode a bit funnier and better than the previous one, so I'll take that as a good sign of the potential that this show can have. I think it's slowly finding its tone and it's getting better so I'll stay around to see what else we can get.
On a side note, I have to say that at first I found the opening credits a bit creepy. I'm ok with the song but the images' sequence is a bit odd, though I don't know if I'm getting used to it, but for the third episode I didn't find it that bad.
Now it's your time to hit the comments. What do you think about the first 3 episodes? Are you going to keep watching the show?