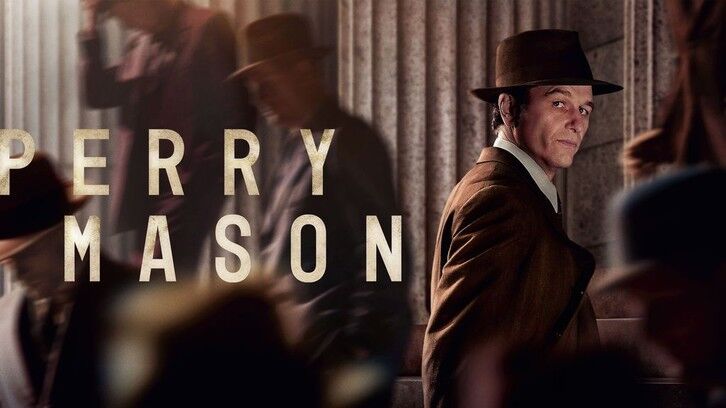 1.08 - "Chapter Eight"
Written by Rolin Jones & Ron Fitzgerald & Kevin J. Hynes
Directed by Tim Van Patten
Reviewed by KathM

And so ends the first chapter of Perry Mason, Attorney at Law.
This episode spends most of its time setting up the various players for their places in the second series, which I am thinking will air next year? No idea. But because I watched (and still watch from time to time) the 60's series, I know how nearly everyone lines up. But before that, we still have the trial to get through. And I mean to get through.
The Underwhelming Trial - Perry puts Emily on the stand because she seems more stable now and might play well to the jury. She is a sympathetic witness, even when D.A. Barnes rips her apart because of her adulterous affair with George Gannon. But that's the point, Perry tells the courtroom: Emily has been proven guilty of adultery and nothing more; Barnes says she's a killer because she's guilty of adultery. Perry then gives a moving closing argument and the whole thing ends in a mistrial. So, yeah. That's it. Perry has ensured this very thing by giving Pete a substantial amount of cash to bribe one of the jurors. Turns out that he should have had more faith in himself: there were two other jurors who voted not-guilty without so much as a free cup of coffee.
Barnes says that the result of this trial won't hinder his run for mayor. Mayor? Oh, Lord.
So Perry and Della join forces, with Della telling Perry that while she's happy to be a secretary now and then she really wants to be a lawyer, and expects him to pay for it. Paul has handed in his badge, and the bribe money, to the police, and joins Perry and Della in their new office as an investigator. He will also be taking on another job, that of Proud Papa. The chemistry between the three of them is really good, and I look forward to seeing how it plays out next season.
Perry also has a new potential rival in former best buddy Pete, who has signed on as lead investigator for newly-appointed D.A. Hamilton Berger. Their first case is investigating the Radiant Assembly of God's ungodly financial situation. Perry is not thrilled by either prospect.
As I sort of predicted, Birdy has taken Emily under her wing and started the "Holy Church of the Reborn Babe". If anyone can think of a worse name, please add it to the comments. Emily knows that the baby from the disaster resurrection isn't her child, but in her heart, she just wants to be a mother. If she and Birdy's little tent revivals are just the beginning, Birdy's been there before and she knows how to make it flourish. This is her show now, no men telling her what to do. She knows just what to do all on her own.

Holcomb sets up Ennis to be drowned in the fountain of the Lucky Lagoon. He's a liability. That's about it.
Perry has some new cases lined up, including a lovely woman who claims she's in trouble. "You've come to the right place," Perry assures her.
And Sister Alice? Despite Tatiana Maslany's amazing performances, I found that she was underused overall. Really, the whole series could have been about her. Now that Perry's had her traced to Carmel, where she's working as a brown-haired waitress in a diner, what will happen? She gives Perry a kiss on the cheek and I wonder.
All in all, I'm giving Perry a B+. It's a pretty solid beginning of what could be a lucrative series for HBO, and I'll be interested to see how things pan out. Honestly, the show could have been called "Della Street", as she pretty much drove the bus through the series. She's pushing Perry forward and making sure E.B. gets through his days and really looks after Emily and beats up Ennis. She's fabulous. Hopefully, Perry has more confidence in the next series, because otherwise, he should just sit up in the front office answering phones. There's also the potential for any number of characters to help him in his endeavors, in addition to Paul and Della. I think that's going to make the next series more unpredictable. Whatever happens, I'll be there.
Note : They never resolved where Charlie Dodson's body was, or where "new Charlie" came from. Any thoughts on whether or not that will ever be resolved?