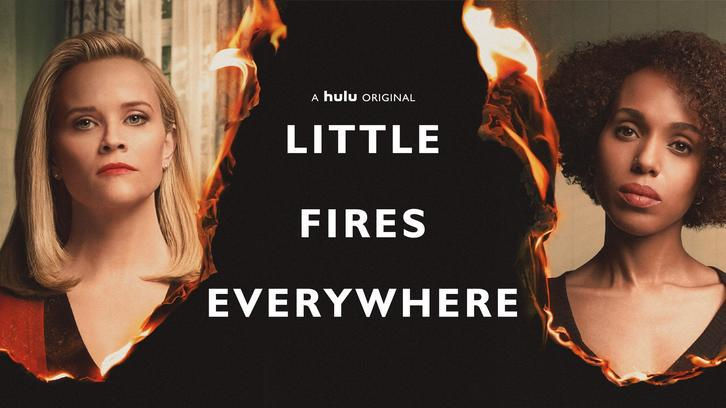 "You wanna create something that will change the world."

This episode was the best one in the show so far, it answered most of our questions and showed us context, so we can understand how both Mia and Elena got to where they are in the present, the crossroads they arrived at and the choices they made. These characters are certainly great, and interesting, but for the life of me I can't figure out yet why Bebe's situation had to be the catalyst here.

I don't say this because what happens is not relevant but I just don't think it was developed properly, at least not on the show (I have no idea if it was better in the book). Maybe I'm alone here, but I don't think they've managed to get me invested in that outcome yet, and I feel it's a pretty key piece in making the show truly work. Otherwise, it would've made more sense to use these characters and setting to explore a different situation.

The insight into Mia's past was great, and honestly, I found myself a little bit more interested in that than in her "mysterious" present. Her conservative parents, her relationship with her brother, Warren, and her art education in New York, even her quite creepy relationship with her mentor. I have to give props to Tiffany Boone (Hunters, The Chi), obviously, she's having a moment for a reason, but the way she got Kerry Washington's mannerisms, her way of speaking, is uncanny. The only issue I had is that I think Boone should've been the one in the photograph Mia sold, after all, that's what she supposedly looked like when she got pregnant.

The Jesse Williams approaches her in a very creepy way, to ask if she'll be their surrogate since she looks like his wife, Maddie (Nicole Beharie - Sleepy Hollow), and they're desperate to have children. At first, she's too creeped out, but when she realizes she has no money to pay for her education because of Raegan's budget cuts and she decides to give the Ryans a chance.

I have to say, it was so nice to see Nicole again, I love her and I miss seeing her on my screen. Speaking of which, it's so weird to see such great actors in barely noticeable roles. Not just Behaire, but also Britt Robertson (For the People, The Secret Circle) as the nanny, Alona Tal (Veronica Mars, SEAL Team) as a young Linda, it just feels odd to me. I also loved Aubrey Joseph (Cloak & Dagger, Runaways) as Warren, even if we only got to see him in a couple of scenes.

But when Mia's brother dies in an accident, she decides to honor his memory by keeping Pearl, since he was the one who told her maybe her art wasn't the only way she could change the world. By the time she had Pearl and tries to get in touch with Pauline, she found out she'd passed away from cancer, and Anita said she'd send her the photograph it was so hard for her to sell. Then we get a montage of her and Pearl traveling the country, a relationship filled with love, if not stability.

AnnaSophia Robb (The Carrie Diaries) as Elena was great, too. And I have to say it was very interesting to watch her deal with trying to balance being the woman her mother and society wanted her to be at that time, and the woman she aspired to be, and the fact that she was talked into having Izzy makes their relationship make so much sense. Unwanted children can feel they're unwanted, even when you do your best not to show it. And Izzy definitely felt it, it seems she'd never stop crying and this didn't help Elena think she'd made the right choice either.

Eventually, she has pretty much a mental breakdown, and this what leads her to run to Jamie, he says it's not too late to choose a different life, but for her, it is, so she convinces herself she made the right choice. After all, there's too much she can't undo by then, so probably gaslighting herself is the best she can do. So she goes back to her life and tries to pretend like nothing happened and tries to burry all those thoughts in the back of her mind.

Motherhood is definitely a complicated subject and I do feel this story tries to explore as many aspects of it as possible. And it's definitely an admirable attempt, but the following episodes will probably either make forgiving some of the sloppiness in storytelling worth it or not. That's a very tall order, but I can't say I'm truly invested in the fate of the characters yet, so I guess we'll see. I wonder how everyone else feels about it.


"You don't have to settle."

What did you think about this episode? I look forward to your comments.