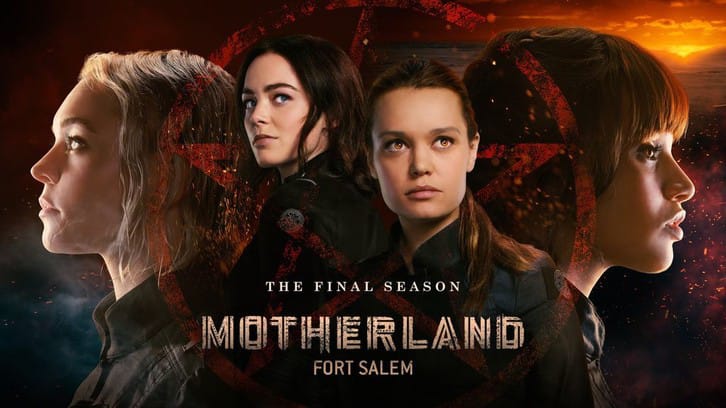 SPOILERS BEYOND THIS POINT. DO NOT CONTINUE READING UNLESS YOU HAVE FINISHED THE FULL EPISODE OR ARE OKAY BEING SPOILED.

We are officially at the halfway point of the final season, with just five episodes remaining. This episode put all the stakes on the line intensely and significantly. All the events that will fuel the series through to the finale were set in motion. Its predecessor was intense and information-dense that covered considerable ground in a short amount of time. This one, while important, made the brilliant choice to focus on just the core groups. We followed Anacostia (Demetria McKinney) on her campaign to save herself and Sterling (Luc Roderique). We witnessed Alder (Lyne Renée) put everything on the line to protect her people. Most importantly, we met the Council of the Great River and saw the birth of a complex union between them and the witches. Focusing on these core storylines, in many ways, moved the story forward even more than the prior episode did.
The only moment outside these storylines occurred during the opening Act where Colonel Jarrett (Aaron Douglas) shut down Mothertongue classes at Fort Salem. The fact that he or any Camarilla thinks they can just snuff out that key part of witch culture is absurd. Their culture is more than just a single class or single language. Their language will survive whatever the Camarilla tries to do. In real-world history, Colonizers of the Americas proved that when they tried to rid the beauty of native cultures from history. Even though they had so much wrongly stolen from them, most native cultures and languages have survived today, making it all the more fitting this show has deep roots in honoring native cultures. The concept of a great culture is so powerful that not even the most powerful army can ever truly destroy every element. Somehow, someway, they always live on to inspire future generations. That is what the Camarilla are up against in this series, and no matter what they do, they will never be able to truly destroy witch culture and heritage. Professor Grafton (Nikolai Witschl) beautifully expressed that in his wonderfully constructed exit line to Jarrett spoken in the beautiful Mothertongue. We also saw that in the young cadet, Lupe (Lina Lecompte), who carried so much pride in her language. She is somewhat reminiscent of a much more naive Tally (Jessica Sutton) from the first season. Whatever Jarrett, Hearst (Bob Frazer), Blanton Silver (Victor Webster), or even Kara Brandt (Emilie Ullerup) throw at witches, they will never ever be able to take that from them.
Anacostia and Sterling's battle for freedom demonstrated the lengths to which witches will go to save their culture and themselves. Yes, they are up against a literal army, as this powerful duo found out at the end of their escape, but witches have far more to lose than the Camarilla. That means they will fight far harder and far longer than the Camarilla will be able to sustain. Against overwhelming odds, Anacostia saved both Sterling and herself. She showed how adaptable witches are using what she had learned from Scylla (Amalia Holm) and deploying Spree tactics in their bid for freedom. Army witches alone could eventually be overpowered, but Army witches, Spree Witches, Cession Witches, and whoever joins the fight united as a single force, well, those are odds favoring the witches that would be worth betting on. With Anacostia and Sterling nearly free and with new intel, they will be a valuable resource once they reunite with Petra (Catherine Lough Haggquist). With any luck, knowing ahead of time the force the Camarilla has amassed will prove instrumental in allowing witches to properly prepare.
Things falling into place just left the rogue Bellweather unit to find a way to reason with the Council. Despite the cards being stacked against them, with the Council pre-judging them, they fought a valiant fight. Perhaps, letting Abigail (Ashley Nicole Williams) lead the charge wasn't the best choice. The Council seemed more inclined to listen to Adil (Tony Giroux) because of his Tarim blood as well as his gift of Cession languages and Scylla because of her connection to the Cession than they were to the high-born Bellweather heir. Those two alone seem to have been what earned the group a Cession banishment versus a one-way death sentence trip to DC. Nicte (Kandyse McClure) did them a favor by exiting the backdoor. Her presence would have most certainly complicated things. In her parting from the group, it was nice to see that at least Scylla, affectionately now known to Nicte as "Baby Spree," and Tally will miss her. She likely won't be gone long, and it will be interesting to see when and with whom she is in the company of when they all reunite.
It is, however, a shame Nicte exited a smidge early because her talents would have certainly come in handy during the confrontation with Hearst and the Camarilla at the Marshal's compound. Council member, Thelma Bearkiller (Olivia Lucas), did them no favors by taking away their witching ability with those suppressing collars, but they held their own against impossible odds. At least Thelma eventually came back and realized there was a problem and intervened. Abigail and Adil, as well as Tally and Scylla, proved ferocious teams. If Hearst hadn't used his newly enhanced voice against them, they would have surely been able to take him down too like they did his minions. Based on how Hearst altered his own body to be more witch-like indicates that the Camarilla's hatred for the witches has strong roots in wanting to be more powerful and to be the dominant force in control, along with a fair bit of bigotry.
Nothing will stand in their way, not even the treaties with the Cession or fellow humans like Edwin Collar (Hrothgar Mathews). Using Edwin as a captured ploy proved that fact. It was a low blow, but it was heartwarming to see how much Scylla was willing to sacrifice, even her own life, to save Edwin. He might not be her father, but she clearly cares about him as though he were. She'd give up as much for him as she would for his daughter. Also, it can't be stated enough just how beautiful it is in the way the show has incorporated Scylla with the group this season. It's deeply regrettable that Taylor Hickson (Raelle) got injured and had to sit out much of this season. Still, the storyline they crafted, allowing her to miss several episodes, has offered some terrific material for her co-stars, especially Holm. In a magnificent season for Holm, she is delivering some of her best work so far with the fantastic storylines they have given her. Bringing Edwin back into the story is a fantastic way to represent Raelle and to give Scylla that much-needed personal connection. Now that we've seen how much fight Edwin has in him, willing to sacrifice his own life to protect Raelle's unit, they need to keep him around so he can help rally the citizens of the Cession to help witches.
Even with Thelma's intervention, Edwin's courage, and the unity of the rogue witches, their salvation from Hearst came via Alder, thanks to the emergency beacon Khalida (Kylee Brown) had left with her brother before parting ways with him. It is admirable how Alder is so protective of the stewards, willing to help the group in Khalida's place to protect the young steward. Speaking of this duo, the moment they had to bond in their Mycelium-created stewards' hideout was much needed. Finally, getting a more detailed history of Alder and Khalida's rises to power after the massacres of their families were enlightening. They have been at odds for so long that it was nice to see them not just bond but form a sisterhood. That bond may prove essential moving forward since Alder left Khalida with the other stewards, Noodin (Sarah Dawn Pledge) and the Basque Shepherd (Tate Chernen), who may need Khalida's leadership until Alder can return.
Impressive duplicative work from Alder saved the witches by destroying Camarilla soldiers. Though, it is a darn shame that she couldn't replicate that work with Hearst, presumably because of the way he altered his body with the witches' vocal cords. It's evident that the Mycelium clearly has fight left in her as well if she can sustain this safe haven and the location where she is keeping Raelle (Taylor Hickson). However, it is undoubtedly limited given how the episode ended with Alder visibly drained and collapsing in front of Tally. None of that bodes well for how Raelle may be doing. Since they are now in alliance with the Council, we can only hope they have discovered a way to help heal Alder just enough to get her back on her feet because they need her in this fight.
All-in-all, this episode ended on a bit of a mixed bag for the characters. The unit now has the support of Thelma and the Council. We know the Camarilla have amassed an immense army, which is bad. We also now have an idea of just how sick the Mycelium is. What is the next move for the heroes of this story? They mentioned going to California, where Tally is from. It'll be interesting to see if Tally can recruit those from the community she grew up in to help. Her attempts to control her vision in this episode were a mixed bag. While Abigail thought that Tally's vision about Raelle was fueled by her missing their sister, there was clearly more to it. Tally learning to control her ability more fully may prove critical and with any luck being home will help aid the stabilization of her visions. They still have to heal Alder, so she can get the rest of the stewards. We also need them to finally get Raelle back. Much has to happen in these last five episodes; if this episode was any indication, they will be emotional and intense. Each episode this season has been progressively more impressive than its top-notch predecessor which should be an indication we're about to be treated to some of the best material this series has ever delivered.
Make sure to not miss the next episode of Motherland: Fort Salem next Tuesday, July 26th at 10/9c on Freeform.
Please use the comments to discuss your favorite parts of this episode.