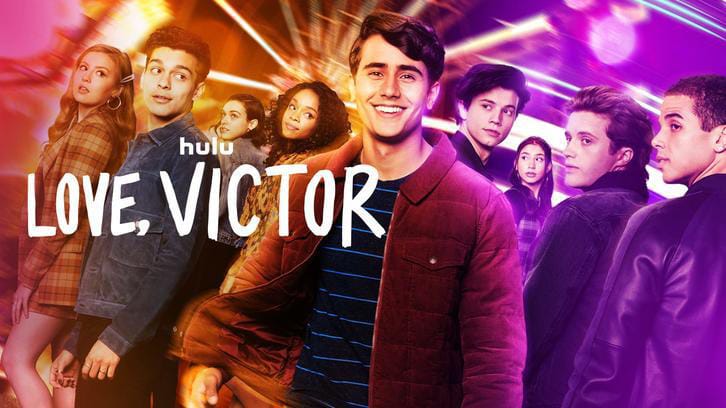 ---
---
---
The popular teen dramedy "Love, Victor" returns with all 10 episodes on Friday, June 11. Season two picks up with a newly out-of-the-closet Victor (Michael Cimino) entering his junior year at Creekwood High. However, being out brings new challenges as Victor faces a family struggling with his revelation, a heartbroken ex-girlfriend in Mia (Rachel Naomi Hilson), and the difficulties of being an openly gay star athlete -- all while navigating the excitement of his new relationship with Benji (George Sear).
The series stars Michael Cimino, Ana Ortiz, James Martinez, Isabella Ferreira, Mateo Fernandez, Rachel Naomi Hilson, Bebe Wood, George Sear, Anthony Turpel and Mason Gooding. The film's original writers Isaac Aptaker and Elizabeth Berger serve as executive producers alongside Brian Tanen, Jason Ensler, Isaac Klausner, Marty Bowen, Adam Fishbach, Wyck Godfrey, Pouya Shahbazian and Adam Londy.
S2 Episode 210 'Close Your Eyes '
At Harold's wedding, Mia makes a bold decision, while Victor and Felix consider their futures.
S2 Episode 209 'Victor's Day Off '
Feeling overwhelmed by his troubles, Victor cuts school with Rahim to let off steam.
S2 Episode 208 'The Morning After '
After a confrontation with Isabel, tensions rise with Benji and Victor. Mia learns troubling news.
S2 Episode 207 'Table for Four '
Victor discovers a surprising secret Benji's been keeping.
S2 Episode 206 'Sincerely, Rahim '
Pilar's new friend Rahim reaches out to Victor for guidance. Victor and Isabel reach a boiling point.
S2 Episode 205 'Gay Gay'
Victor feels unsure of his place at Creekwood after quitting the basketball team.
S2 Episode 204 'The Sex Cabin'
On a weekend getaway, Victor and Benji hope to take their relationship to the next level.
S2 Episode 202 'Day One, Take Two '
Back at school, Victor starts to lose his nerve about telling everyone he and Benji are a couple.
S2 Episode 201 'Perfect Summer Bubble'
As summer break comes to an end, Victor grapples with his family's reaction to his coming out.