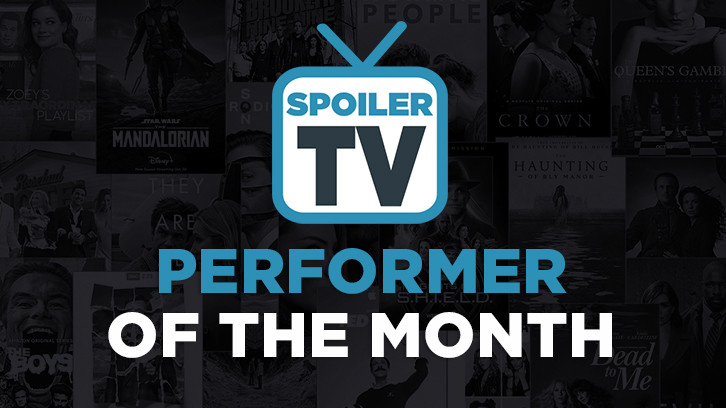 Results:
December tends to be a slower month which usually makes it an easy month to predict who could win. The Staff side played out as expected, with the leader nearly immediately taking the lead and was never dethroned. The Reader side, however, turned out to be far more interesting and surprising. The performer who would ultimately come in as the runner-up was the odds on favorite to win. Then came a single tweet from a fellow nominee acknowledging the poll. At that point, the ultimate winner started a slow march to overtake the leader. The winner would not only overtake the lead but would continue on to secure a strong lead that would earn the win. Make no mistake, just because this winner was an underdog coming in doesn't make this win any less earned or deserved. This win just goes to show that no performer should ever be counted out. The dedication of fans to support a noteworthy performance can be a powerful force to be reckoned with.
Ah Toy from
Warrior
can be described in three words: cunning, focused and caring (though she tries to hide that). Her portrayer, Olivia Cheng, artfully brings each of those qualities to life as she guides Ah Toy through one challenge after another. The second season of the show gave Cheng several strong storylines to portray and she handled each one with an incredible amount of skill and grace.
Man On The Wall
(2x10) was the culmination of a season that was trying yet hopeful for Ah Toy. This episode allowed Cheng to showcase the vulnerability this character was forced into as she dealt with the repercussions of the horrific injuries she sustained in
All Enemies, Foreign And Domestic
(2x8) while protecting her brothel and Nellie (Miranda Raison). Cheng normally carries Ah Toy with a stiff spine and a twinkle in her eyes. She makes sure that the audience can see Ah Toy calculating her next move every moment she is on screen. This is a character that Cheng always has to keep firm control over and be very calculated in her performance. This episode allowed Cheng to get into the core of who Ah Toy is below her fierce exterior. The character is free to show some of her true self with Ah Sahm (Andrew Koji), but it was the introduction of Nellie this season that really allowed Cheng to dive deeper into her vast skill range to show a whole new emotional dynamic for the character. That was on full display in the season finale and it was the showcase performance that Cheng delivered in this episode that earned her the title of SpoilerTV's December Readers' Choice Performer of the Month.
For two seasons now there has been a talented actor behind the mask of The Mandalorian, Pedro Pascal. An actor who through his voice and body language has created an iconic Star Wars character that fans have grown to love and root for, Din Djarin. This stoic single-minded warrior has had one mission for two seasons, protect the young foundling we now know as Grogu, aka baby Yoda and get him back to his people. In the later episodes of Season 2, he demonstrated just how far he would go for his young charge. He leads a rag tag group in search of Moff Gideon who has taken the child for the empire. And in the final episode of Season 2, appropriately entitled The Rescue (2x8), Pascal gives us The Mandalorian at his warrior driven finest, fighting nearly insurmountable odds all for a child that to whom he had become oddly attached. While the action-packed episode, which culminated in on of the most talked-about cameos on television this season, it was not the warrior Mandalorian that touched fans. It was a simple quiet moment at the episode's end that demonstrated everything the character was and allowed Pascal to show the heart behind the warrior. For a Mandalorian, his helmet was who he was, but Pascal shows the man behind the mask when he removes that revered helmet to say good bye to Grogu with tears in his eyes. For this heart-tugging moment and his skill in creating The Mandalorian, Pedro Pascal was selected the SpoilerTV's December Staff Choice Performer of the Month.
Olivia Cheng and Pedro Pascal's winner articles will be out later this month. In the meantime feel free to use the comments section below to talk about these two worthy winners and their amazing fellow nominees.
With the final round of the 2020 POTM complete, it is now time to name the 2020 SpoilerTV Readers' Choice Performer of the Year. The poll will launch
tomorrow, January 8th at 6 pm ET
.
Original Post:
After a wild 12 months of the most unpredictable TV season ever, we have come to the end of another cycle of POTM. This final round of 2020 will determine the final contender for the title of the 2020 Readers' Choice Performer of the Year. The POTY contest will begin on January 8th at 6 pm ET. But before we can get to POTY we need to crown our final 2020 POTM winner. It should be a very interesting battle for who will secure a win this round and be crowned SpoilerTV's December Readers' Choice Performer of the Month.
November 2020 Winners:
Please remember that a performer can only win once in 2020. After that win, they will be ineligible to win again in 2020, but they will secure a spot in our year-end Performer of the Year contest.

Now comes the hard part where you can only vote for 1 performer. The poll will be live until Thursday, January 7th at 6 pm ET. After you vote be sure to make a pitch in the comments section for what the performer you voted for most deserves to win.