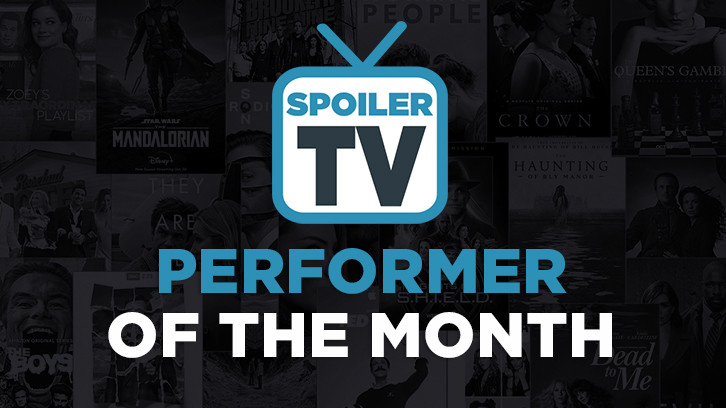 Results:
We had an exceptional turnout for voting this month, largely in part to the immense popularity of
Supernatural
. That fandom came out in droves to support their cast. One of their guys shot out to the lead from the very start and nobody ever again came close to catching him. The top spot on the Staff side changed hands a few times before the winner ultimately inched into the lead and steadily grew her lead to secure the win.
Love, at first sight, comes along rarely, and viewers fell head over heels for Supernatural's Castiel when he made the first of many dramatic entrances, instantly iconic with his signature coat and inquisitive, steely blue eyes. There are characters to die for, and, thanks to impeccable work over the years from Misha Collins, Castiel is one of them. Exuding haughty energy, Collins was immediately believable as a celestial being brimming with power and confidence, in addition to being a lethal force with potential to be friend or foe. Over many seasons, Castiel went through an ongoing transfusion of sorts, as his focus on the grand scheme of the universe shifted to a more personal one. The connective tissue of the show was the bond between Sam (Jared Padalecki) and Dean Winchester (Jensen Ackles), but Castiel was the living embodiment of the supernatural, the representation of everything that lies beyond what can be explained. He represented the seemingly impossible coming to pass, the pure strength of found family, the empowering resilience of love that transcends archaic definitions. For every chapter the writers added for Castiel's development, Collins wrote another over the top of their words with his performance. In his final outing as Castiel, Collins delivered a love letter to everything Castiel represented, everyone Castiel loved, and everyone who loved Castiel. In Despair (15x18), Castiel also got to make an emotional declaration that was in itself a defiance of despair, of cynicism, of endings themselves. All shows must die, but love never does; love transcends. For his performance, our readers voted Misha Collins as SpoilerTV's Readers' Choice November Performer of the Month.
Margaret Thatcher once said that success was "a mixture of having a flair for the thing that you are doing," along with tackling the aforementioned thing with a sense of purpose and hard work. By those metrics, one must declare Gillian Anderson's portrayal of the Iron Lady to be a success. Anderson's Thatcher brings a spirited levity to a somber season of Netflix's lavish, expensive drama. One is never quite sure whether to laugh or cry as the determined, awkward Thatcher bumbles her way from one mortifying royal encounter to the next in this episode. One is, however, unable to look away from Anderson's enthralling performance. Every line delivery, every stride, is a precise exercise, executed flawlessly. Are we watching Anderson as Thatcher as a version of Thatcher that the character wishes herself to be? We can't be sure, but it's thrilling to watch Anderson's commitment to the part. For her work in The Balmoral Test (4x2), the SpoilerTV staff voted Anderson as SpoilerTV's Staff Choice November Performer of the Month.
Misha Collins and Gillian Anderson's winner articles will be out later this month. In the meantime, please feel free to use the comments section to discuss these two amazing winners and their fellow nominees.
Original Post:
We had an extraordinary turnout for the nomination round this month. That turnout yielded us a very strong list of nominees. Will one of the Supernatural guys secure a final win for the series? Will someone else step forward for a surprise win? It should be a very interesting battle for who will secure a win this round and be crowned SpoilerTV's November Readers' Choice Performer of the Month.
Please remember that a performer can only win once in 2020. After that win, they will be ineligible to win again in 2020, but they will secure a spot in our year-end Performer of the Year contest.

Now comes the hard part where you can only vote for 1 performer. The poll will be live until Monday, December 7th at 6 pm ET. After you vote be sure to make a pitch in the comments section for what the performer you voted for most deserves to win.