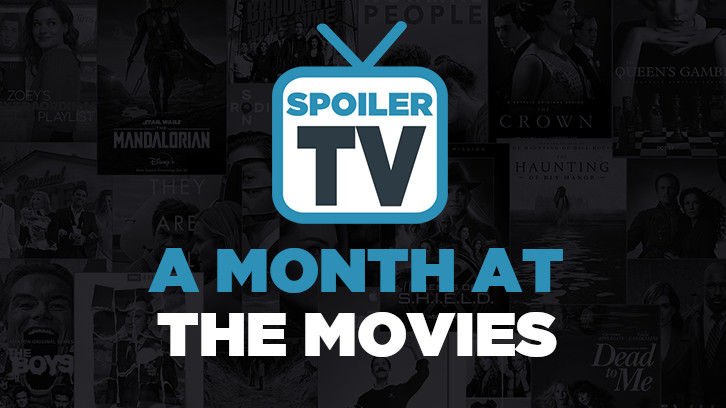 The start of a new month means the return of
A Month at the Movies
, and for those of you reading this feature for the first time, it's a movie review article, where I look back at every film, old and new, that I watched over the past month and offer opinions on them and rate them on a E-A+ scale. Whilst cinemas in the UK began to open at the end of the month all of my viewings here are films watched at home on various streaming platforms such as Disney+, Netflix, Amazon or Mubi, or as a physical release in either a Blu-Ray or DVD format depending on the film. To give you a heads up about what to expect this month, it saw my completion of the core Studio Ghibli films that make up their main filmography for the first time, in addition to long-awaited viewings of films like
Frozen
and classics like
Once Upon A Time in America
, showcasing as always, a strong variety in genre coverage.
Doctor Who: The Movie (1996; Geoffrey Sax)
The bridge between the classic series and the current one, this Americanised reboot of
Doctor Who
falls a bit flat but is mainly watchable thanks to the excellent charismatic performance from Paul McGann, who has since gone on to become a regular for Big Finish Audio Dramas emerging as one of the most underrated Doctors in the show's history. As a made-for-TV pilot there is some creative
Frankenstein
imagery used in the way that the film handles the concept of regeneration using it as a way into a critique on the American healthcare system, and although Eric Roberts' performance as The Master is a ham-fisted disappointment, there are worse American remakes out there (one need only look at the re-imaginings of
The Inbetweeners
and
Life on Mars
). Despite being enjoyable enough to watch it isn't quite recommended for newcomers to the series as there are better entry points elsewhere, but it's a must-see for any fan of the show.
C+
Hamilton (2020; Thomas Kail)
A dream release for Disney+ that showcases the raw power of this musical, bringing it to audiences who would not necessarily have been able to see it live on stage beforehand like myself.
Hamilton
stands out as a spirited crowd-pleaser of a revisionist history piece, aided by an all-star cast with Lin Manuel-Miranda being joined by the likes of Daveed Diggs, Leslie Odom Jr, Renee Elise Goldsberry and Phillipa Soo among others that absolutely deserve all of the acclaim thrust their way over the past 5 years or so. The songs are diverse and catchy throughout, with some stellar musical numbers that aren't likely to leave your head anytime soon. Thomas Kail's direction helps manage to capture the spirit of watching a live play without actually being there in person, and whilst I preferred the more optimistic first half to the tragedy-stricken second,
Hamilton
still earns its status as one of the defining musicals of the 2010s.
A
Frozen (2013; Chris Buck & Jennifer Lee)
A long overdue first watch for me, I somehow managed to miss the hype on
Frozen
back when it first came out. The best part about this film is just how catchy the songs are (the soundtrack is top-tier), and I love how it strays from the typical Disney Princess formula, twisting our expectations that come with it in favour of something of a more creative approach for Walt Disney Studios's storytelling department. Although I'm not a big fan of the animation which hasn't aged spectacularly well, I would have no doubt enjoyed it even more on a bigger screen as I don't think the small TV that I watched my DVD on quite did it justice. Regardless, it's easy to see why
Frozen
is such a crowd-pleaser, winning the hearts and minds of many, connecting with its target audience so well.
B-
The Mercenary (1986; Sergio Corbucci)
Sergio Corbucci can feel rightfully shortchanged compared to the praise that Sergio Leone gets as one of the best western directors ever; he's just as good and
The Mercenary
follows up Corbucci's
Django
and
The Great Silence
in being a richly drawn film with creative set-pieces that no doubt inspired or at the very least had some degree of influence on Sam Peckinpah's
The Wild Bunch
. Ennio Morricone's score is as ever, a masterstroke, and
The Mercenary
is just a great film to watch, maximising the most of its runtime that culminates in a final duel for the ages. It's hard to underlook the importance that Franco Nero and Tony Musante both manage to bring to the table going into this film as they show remarkably good chemistry in the lead roles, carrying even the weakest of scenes and injecting them with pure energy that always keeps this film feeling truly alive.
A
Once Upon A Time in America (1984; Sergio Leone)
I'm running out of superlatives for Ennio Morricone. Sergio Leone would hear Morricone's scores and then direct scenes around them rather than the composer working to the film itself; which is praise enough in its own right and it really makes the set-pieces that Leone constructed here feel all the more memorable because of it (
Deborah's Theme
for example, is one of my favourite single scores in cinematic history). The passion and craftmanship of Leone's hand is really felt in this gangster epic which rivals if not betters
The Godfather
, thanks to commendable performances from the likes of Robert DeNiro and Elizabeth McGovern.
Once Upon A Time in America
is as every bit the powerful achievement that I was led to believe, one that is at once drenched in tragedy and betrayal – split down the middle in two halves with an intermission running through its core. Given how consistent the movie is in terms of its quality it's hard to pick one section over the other as they both stand out remarkably well, to the point where Leone uses every second of the runtime provided in a way where its four-hour length is never really felt in the slightest.
A
The Old Guard (2020; Gina Prince-Bythewood)
Despite being a fan of the comics from Greg Rucka (who is also on scripting duties here), and having enjoyed Prince-Bythewood's TV work in the past for
Cloak and Dagger
, I wasn't a fan of
The Old Guard
, which feels far too generic despite some impressive performances, world-building and action scenes. Charlize Theron and Kiki Layne largely carry a nondescript action thriller that feels like a big budget TV pilot: Think
Near Dark
by way of
Alias
. Whilst I really wanted to like this one, with the creative world building-really shining through, it feels like most of the straight-to-Netflix action films of the last few years. There is, by virtue of design, enough potential here to get me to check out the sequel, if only because I'm interested to see where they take the characters from here.
D
Ponyo (2008; Hayao Miyazaki)
Hayao Miyazaki has never made a bad film. I've been disappointed by some of Studio Ghibli's output, but with Miyazaki in charge, I needn't have worried.
Ponyo
is a fully-realised fantasy escapist fair that is beautifully animated and feels wonderfully engrossing from start to finish. The master filmmaker is once again on another level in this – it's incredibly simplistic in nature and succeeds in capturing audience's imagination. The film itself is one of those rare movies that will appeal to the parents as much as the children, and it's a great comfort watch for a lazy afternoon.
B+
The Cat Returns (2002; Hiroyuki Morita)
A somewhat loose sequel to one of my favourite Studio Ghibli films,
Whisper from the Heart, The Cat Returns
can't capture the same magic with a nondescript fantasy plot that offers little in the way of imagination despite a unique setting and characters. The animation is creative; leading to incredibly well-staged conflict in the final act, and the villains aren't your normal typical fantasy villains, but this never quite clicked the same way most Ghibli films do.
D
The Post (2017; Steven Spielberg)
Sometimes we underestimate Steven Spielberg even if we never underrate him, specially the Spielberg of the past decade or so, taking him for granted if you will. He's always been incredibly good and the 2010s was no less of a step-down for him in terms of movie-making. I mean,
The Adventures of Tintin
and
Bridge of Spies
alone are really impressive films and
The Post
is another excellent addition of workmanlike dependency to that catalogue that showcases his best traits. It's got an all-star ensemble that most films would dream of, uniting two acting powerhouses Tom Hanks and Meryl Streep together to give an inspirational, anti-Trumpian love-letter to journalism and its importance that is exactly what was needed at the time. That said; there were better films from 2017 to draw from in terms of Oscar nominations, but it's easy to see why
The Post
struck a chord with the Academy, and with critics as a whole.
B+
The Truth (2019; Hirokazu Kore-eda)
Not quite as dramatic as
Shoplifters
and feeling more in line with an Olivier Assayas film than anything else; comparable to the likes of
Summer Hours
and
Non-Fiction, The Truth
is a charming film that showcases the talents of Catherine Deneuve and why she's one of the best actors in the game. Wisely stepping back as Deneuve and Juliette Binoche shine in the spotlight, Ethan Hawke wonders in the background aimlessly but never without purpose. The relatively slow film can take its time to get where it's going and as a family-focused drama it may not be a career-best Kore-eda, but it's still a good film that instantly clicked with me and shows that even outside of his element, the director can shine.
B+
The Equalizer 2 (2018; Antoine Fuqua)
A step-down from the previous entry in the franchise that feels more like a traditional action film than the last one, Denzel Washington is the only saving grace in a movie that takes about 40 minutes to truly kick into gear and doesn't escalate the tension until the final act, which is as nondescript and as copy and paste as the genre gets. It's predictable at every turn and although Fuqua isn't a bad director, with good films in the past like
Training Day
and
The Magnificent Seven
remake as well as the first
Equalizer
film for that matter, I wish he hadn't taken the safer route with
The Equalizer 2
that should have been a leaner 90 minutes and in no way needed the full two hours.
D-
Never Rarely Sometimes Always (2020; Eliza Hittman)
2020 may not quite be as a prolific year for cinema as those before it for obvious reasons, but we've still had some excellent films come our way in the last seven months.
Never Rarely Sometimes Always
might be the best new release so far from this year. It's a powerful character-centric story focused on two teenage girls in rural Pennsylvania who embark on a journey across state lines to New York City where the abortion rules are less strict in what makes for a stressful experience, but more importantly, something that's absolutely needed right now. Sidney Flanigan and Talia Ryder putting in completely natural and incredibly subtle performances in the lead roles of this emotionally-charged drama that highlights the difficulties that young women face in getting an abortion in America. The film itself should be essential viewing – it's hard to believe this is Flanigan's first film as she has the power to out-act many seasoned veterans.
A
Something in the Air (2012; Olivier Assayas)
Assayas returns to his semi-autobiographical framework that was used so well in
Cold Water
, some 18 years later. Set in the immediate aftermath of May 1968 and looking at a group of students growing up in the months that follow,
Something in the Air
can feel like a 'greatest hits' of the filmmakers at times but never without purpose, mixing his usual elements of youthful rebellion, cinema and a pitch-perfect needle drop of indie music together to create one of the definitive French coming of age films of the past decade. The film itself may be a slow burn but it never moves without purpose, whilst Eric Gautier's cinematography creates some truly memorable visuals that will stay with you long after the film has finished. My only major gripe about this one is that the focus on Assayas's self-insert protagonist kind of robs the attention that would have been better spent on the more interesting characters elsewhere, as the supporting cast are far more lively than the main lead, even if it's a choice that feels entirely intentional.
A
Togo (2019; Ericson Core)
One of the last few films I watched before cinemas closed was
The Call of the Wild
, and I remember being incredibly disappointed by it. It felt fake and lacked any sense of drama, stakes or scale whatsoever. Thankfully, in no small part due to Max Richter's
On the Nature of Daylight
and the brilliance of Willem Dafoe,
Togo
manages to do what
The Call of the Wild
could not: keep me captivated even while telling a tale as old as time itself. Ericson Core's film takes delight in its runtime and its ability to keep the pace tight is one of the drama's biggest strengths – even if it can't quite escape its sense of familiarity. This is the film that should have been released in cinemas instead, rather than dumped as an afterthought on Disney+.
C+
Howl's Moving Castle (2004; Hayao Miyazaki)
Miyazaki's epic soars for the sky in a way unlike unlike few other films in its genre before it have been able to.
Howl's Moving Castle
rivals the peak of Studio Ghibli in all the best ways and confirms Miyazaki as the master of his craft, delivering a fully realised fantasy world where audiences find themselves completely immersed in the characters and their surroundings. The lavish artwork is detailed from the first frame to the last with impeccable accuracy, and
Howl's Moving Castle
takes pride in sending audiences down a route that isn't always straightforward, constantly changing direction right through to the very end, but never in a way that's unrewarding.
A
My Neighbors the Yamadas (1999; Isao Takahata)
Maybe not necessarily the best Studio Ghibli film but arguably its most underrated,
My Neighbors the Yamadas
feels more like a co-production at first glance due to its unconventional comic strip style, but the more you watch of it the more you realise it's more authentic, more delicately structured and better paced than most animated films that have come out since this film's release, even if it feels mostly like a group of vignettes pulled together to form a cohesive whole, not unlike the structure of
The Simpsons
' iconic
22 Short Films About Springfield
or Robert Altman's
Short Cuts
, but instead of those two examples it keeps the focus tight on one family, which makes the characters feel as real as any other. Whilst the comedy is not quite a crowd-pleaser, it is instead character-focused, playing to the strengths and weakness of the protagonists and it's something that only works in
My Neighbors the Yamadas
' favour. At the end of the day, this film is just a delightful gem – and further proves that Takahata is just as good as Miyazaki – if not in some cases, better.
A
Personal Shopper (2016; Olivier Assayas)
This is my favourite film of the last decade. I was completely in love with it from the first time I saw it and I fell in love with it even more on a third watch earlier this month. It's a powerhouse of a combination – Kristen Stewart shows just how talented she is – if you've just seen her
Twilight
work, you're missing out on witnessing one of America's best working actresses right now.
Personal Shopper
is a further example of her at the top of her game – a brilliant entry to her filmography. It's Assayas at his best, serving as an examination of the process of grief and acceptance and coming to terms with what has been lost in the past, using a ghost story for the modern age as a framework in which to construct the narrative. It is a perfect example of a director and an actor united behind a unanimous vision, with both completely committed in it being told in the best possible way.
A+
Radioactive (2020; Marjane Satrapi)
This feels like a film at odds with itself, its creative direction pushing back against its linear script and unfortunately in this case, it's Jack Thorne's script that wins out, giving the film the all-too predictable biopic structure that has distinctive echoes of the formulaic narrative that is found in films like The Gary Oldman Oscar vehicle
Darkest Hour
. Nothing in
Radioactive
excites or entertains, despite lively direction from Satrapi and a spirited performance by Rosamund Pike. This is a film that does not do Marie Curie justice, and feels wholly forgettable which is a shame as its marketing teased this as a breath of fresh air in the genre, when it is just more of the same.
D
How to Build a Girl (2020; Coky Giedroyc)
Beanie Feldstein is excellent in a leading role, giving an incredibly charismatic performance that shows she can handle the more emotional drama just as well as she can the comedy, but unfortunately
How to Build a Girl
never escapes from the familiar shadows of films like
Almost Famous
and
Sing Street
, which it is instantly reminiscent of, following a young rock critic on a path to stardom with all the typical drama that comes with it. A strong supporting cast and script from writer Caitlin Moran, whose novel the film is adapted from almost salvage this film, but the direction and storyline is just so incredibly uninspired that it quickly falls flat, never quite reaching the crowd-pleasing status that it tries so hard to achieve.
D
Pom Poko (1994; Isao Takahata)
The last non co-produced Studio Ghibli film that I needed to see unfortunately meant my journey through their filmography ended with a whimper rather than a bang, which – all things considered, is rather disappointing.
Pom Poko
is an odd beast of a film, and its influences over Wes Anderson's
Isle of Dogs
are clearly felt meaning that it would make an ideal double bill. It remains an oddity in Studio Ghibli's filmography – especially in Isao Takahata's when you consider how brilliant his work is elsewhere. The ending managed to hit me surprisingly hard on an emotional level and like all of Studio Ghibli's films,
Pom Poko
has plenty in its runtime to like – its strong incorporation of pro-environmentalist themes is highly praise-worthy and its artwork is, as ever, stunning.
C+
Rambo: Last Blood (2019; Adrian Grunberg)
Uninspiring, often necessarily mean and entirely uncomfortable to watch due to its over-reliance on stereotypes,
Rambo: Last Blood
is the weakest film in the franchise by a long shot that just feels completely forgettable. Whilst I was hoping that new life could be found in the franchise
Last Blood
is the film that instead moves two steps back, taking an entirely predictable route that never manages to once excite or entertain even in its bloodbath of a final act. Sylvester Stallone - as evidenced by his performances in the past - is a good actor when he tries, but
Last Blood
feels very much like him on autopilot.
E
The Selfish Giant (2013; Clio Barnard)
Clio Barnard is one of the most promising British directors around right now, with
The Selfish Giant
establishing her as one of the best in her field. It's a bleak movie, set in Northern England in a town left behind by society, blighted by the years of austerity that it never quite fully recovered from under Thatcherism. When its lead protagonist is expelled from school and turns to scrap metal collecting to make money,
The Selfish Giant
takes a different, darker path that lives up to the praise heaped upon it, relishing in its entirely natural dramatisation that avoids the feeling of forced writing, comparable to the likes of Ken Loach in its execution. Conner Chapman and Shaun Thomas both put in completely convincing performances that help make this film work as well as it does, with their chemistry shining through and leading to an unforgettable ending that I won't be able to forget.
A-
It Felt Like Love (2013; Eliza Hittman)
I wanted to watch another film from from Eliza Hittman after being incredibly impressed by
Never Rarely Sometimes Always
and although
It Felt Like Love
isn't quite at that level, it shows signs of what is to come from the director. It's an anti-romantic coming of age movie that dispels the sentimental nostalgia that films centred around first love tend to have, with even the soundtrack choices reminding you of the harsh reality of the film's setting.
It Felt Like Love
calls back to
The Myth of the American Summer
, whilst effectively managing to utilise the likes of Céline Sciamma's
Water Lilies
and Andrea Arnold's
Fish Tank
as important, guiding influences that set the pace for the film's unique tone that allows Hittman to feel like a fresh new voice in cinema. Praise has to be given to lead actress Gina Piersanti in her first major role, as the film relishes in its deconstruction of the genre.
C+
My Favourite First Time Watches in July:
Never Rarely Sometimes Always
,
Once Upon A Time in America
,
The Selfish Giant
&
Something in the Air
What did you watch last month? What are your thoughts on the films that I've reviewed above, and what are your favourite Studio Ghibli films? Let me know in the comments section below.