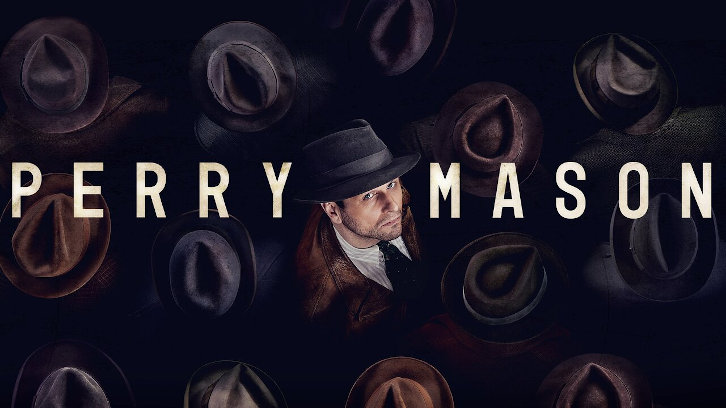 1.01 - "Chapter One"
Written by Rolin Jones & Ron Fitzgerald
Directed by Tim Van Patten
Reviewed by KathM
In TV land nothing makes a producer salivate more than the word "reboot". The idea of taking something familiar and enticing an audience back with the promise of something they may recognize with a tweak or two added in to make it less manipulative. Some of them work, and many of them don't. The newest offering, a "reboot" of Earle Stanley Gardener's fan-favorite Perry Mason, decided not to reboot the novels, the radio show, the movies, or even the popular television show at all, but simply to give various characters some of the same names and drop the Mason name in front of it. I think this does the series a disservice because the cast alone has more than enough names to pull viewers in: Rhys, Maslany, Lithgow, and Taylor (Lili), just to name a few. They haven't all appeared onscreen yet, but the promise of them is what made me want to tune in.
Earle Stanley Gardener, who created Mason, gave the character virtually no backstory at all, which gives the writers a lot of freedom because all they have to do is to remember to throw in a "Della" here or a "Paul" there and make sure to call Matthew Rys (who is built for noir) Perry a lot. Okay, I'm irked; I just don't see the need to call a show Perry Mason when it could be about any other hard-boiled detective running around 1930's Los Angeles with PTSD and making money from film studios to follow actors around, hoping to snap compromising photos of them violating their morals clause. And has at least one sickly-looking cow.
The premise of this series has a '30's theme; baby boy Charlie Dodson has been stolen from his parents in the night, and the outcome, once they pay the ransom, doesn't go the way the Dodsons wanted. Perry is called in to investigate Charlie's kidnapping by Herman Baggerly via Mason's mentor, E.B. Jonathan (played by John Lithgow). Baggerly, who is apparently very wealthy and powerful around Los Angeles, doesn't trust the police and wants to help the parents find justice for their boy. They attend the same church, Radiant Assembly of God, and it's the least he can do for a fellow churchgoer.
Mason visits the Dodson house and talks to Mrs. Dodson, who is currently available for a smoke with the P.I. because Detective Holcomb and his gives-off-a-creepy-vibe partner are grilling her husband hard in the next room. Don't worry, E.B. is there with his client, so there is little likelihood of violence. Emily Dodson thinks that she's being punished by God, although she doesn't tell Perry why. He shares a bit about himself, and we find out that he has an estranged wife and a nine-year-old boy called Teddy who likes fire trucks (Charlie preferred turtles). Mason isn't sure about the father's guilt while Detective Holcomb thinks he looks good for it. Right. I'll just bet he does.
Toward the end of the episode, we find out that Holcomb himself was involved in the kidnapping, and kills the men he hired to kidnap Charlie because they were "made" by a witness. A traffic cop, no less, and one who it seems is not on anyone's payroll. The kidnappers plowed into a truck while they were escaping from the ransom drop-off, did they think nobody would notice? But Perry found the cop and told Holcomb, who then killed the kidnappers. Which is apparently how it works.
There is a whole secondary storyline with Perry and his dealings with the movie studio he was working for but I don't care much about it at all except for the few minutes of amusement it gave me initially. Perry does his job, Perry asks for more money, Perry instead gets virtually no money and gets the crap beaten out of him in various creative ways. Which is I guess how it works for 1930's P.I.'s in Los Angeles. Maybe the owner of the studio, Hammersmith, will become more involved with the story, maybe not. I just couldn't be interested.
As I said before, Matthew Rhys is made for noir. A tip of his hat, the way he drinks his coffee, his banter with associate Pete Strickland. The way he quietly connects with Emily Dodson over their lost children. He completely embodies everything about the character, Rhys knows who Mason is and shows us in every little detail, it's wonderful to watch. The cinematography and costumes are beautiful and only enhance the word Perry Mason now lives in and helps pull you into his world. His chemistry with E.B. is good and Perry has a believable connection with Della. Since Perry's already "seeing" (if you can call it that), so let's hope that he's not one of those men who are intimidated by intelligent, intuitive women and that he and Della remain friends. I can't wait for him to meet Sister Alice, the leader of the Radiant Assembly of God church and played by Tatiana Maslany, to see how they play off of one another.
As I said before, Gardener gave the character of Perry Mason virtually no backstory, so the writers could do whatever they want story-wise. Did it have to be called Perry Mason, as the title infers? No, not really. It's a great story, and I want to see where the investigation into the kidnapping takes our detective. I didn't need the name Perry Mason to tune in, and I think the producers were being lazy to use the name just to get ratings.
This is a good story, regardless of the detective's name
. Hopefully, people will be able to look beyond the incredibly popular television show and see the man Matthew Rhys and the writers have created. Remember what I said? This is not your mother's Perry Mason. In fact, it isn't anyone's Perry Mason. It's a new thing with an old name. Regardless of what they call it, I think this show can stand on its own. Give it a watch and tell me what you think.