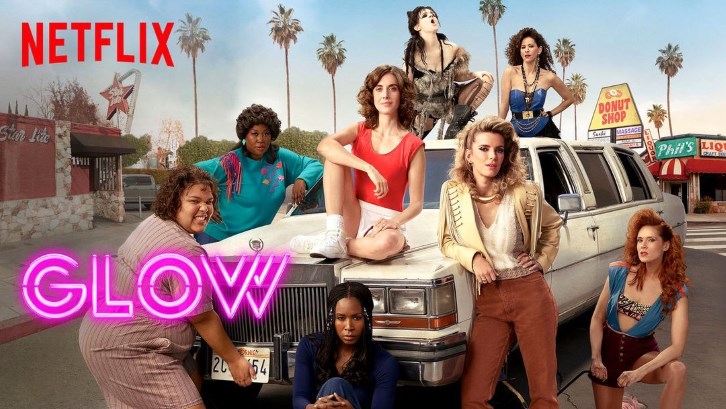 Last year I titled my GLOW review "Becoming A Family" and while the trend of female support and growing together was kept throughout this season, this season succeeded in expanding their character worlds while not trying to force storylines or dip into a sophomore slump. The team behind GLOW constructed a strong season focusing on their strengths from the first season but missing some notes with not focusing enough on the supporting girls which carry a lot of individual potential and strength.

EPIOSDE RANKING:
1."Perverts Are People, Too"
2./3 "Work the Leg" & "Nothing Shattered"
4."Mother of All Matches"
5."Rosalie"
6."Every Potato Has a Receipt"
7."Viking Funeral"
8."The Good Twin"
9."Candy of the Year"
10."Concerned Women of America"

TOP 3 Character Dynamics


3rd Place: Tammie and Debbie
This was certainly a surprising dash of fresh air. Mrs. Welfare and Liberty Belle found familiar souls within each other as both women started to struggle with who they are and their place in the world. Their scene felt natural and gave both characters and the show more depth. Their stories complimented each other very well but sadly for the continuation of their story we have to wait for season 3, cause their interactions was cut short after episode 4. Tamme was completely under my radar in season 1 but she really delivered this season and
2nd Place: Sam and Justine
Marc Maron with his experience carried a lot of substance last season. The twist of the unexpected daughter served his character well and created an interesting dynamic and a lot of laughs. The push and pull between Sam and Justine this season including the interactions with Ruth and Justine`s mother, Rosalie, carried weight and proper progression throughout the season.
1st Place: Debbie & Ruth
Debbie and Ruth are what gives GLOW all its appeal. These two women who find themselves at their darkest hour with barely any light around them continue to impress and their "friendship" is on from the books. In life most likely, you are either a Debbie or a Ruth. Either betrayed someone or got betrayed by someone. And as Ruth did get a little bit less focus during the first couple of hours their two stories perfectly collided mid through the season unwilling to forgive or ask for forgiveness, respectively.
I`m not sure which of their big fights this season was more heartbreaking, the one in episode 5 where Debbie shamed Ruth for running away from getting Sexually harassment or the one in the Hospital, during episode 7 where they unleashed all their pain. The twist with Debbie breaking Ruth`s foot was unexpected but was a great storytelling move. It pushed both characters to their low point and untied their tongues unleashing award-worthy performances by both actresses. Debbie and Ruth are what makes this show thrive and while I love to see their friendship get to rebuild, I think it is time for a peaceful period and let them further interact with other girls.
BEST CHARACTER/MOST IMPRESSIVE PERFORMANCE: Debbie/Betty Gilpin
Thie season has been all about Debbie, her rollercoaster journey and struggles to be a businesswoman, mom and decent human being was all over the place. Was she too harsh at moments? Did I dislike her at moments? Yes and yes, but it all gave an authentic impression of a woman on a crossroad in her life. Debbie had to adapt to so many changes and not being able to communicate that with Ruth, who is her Person, was putting a major dent in her life. It is crushing to see your perfect life is anything but it and that all the plans and visions you had disappeared into thin air. Betty Gilpin was magnificent throughout the season and I was she took over Ruth`s spotlight this season. Hopefully, the people behind the rewards remember this performance in the next 365 days.
POOREST HANDLED CHARACTER/MISSED OPPORTUNITY: Cherry
Cherry!? Why writers why? What did Noelle do to you to scramble her character this way? Was it lack of availability? Generally, she deserved better and that focus on her in episode 3 was just embarrassing, definitely the weakest episode of the season and completely uninspiring. Noelle deserves and can do much better. I hope that a potential season 3 brings the glory her character deserves.
General Thoughts
- Chris Lowell got more screen time which was quite a quality move, his story was good and his backstory brought Marc Evans Jackson to my small screen all great things. Still, it was a more individual story and would`ve been better the screen time went to the girls.
- The lack of Carmen this season is probably the most annoying part of this season. The scenes that she had were okay and entertaining still lacked through character progress. Also, the pinning after Bash just feels too cliche-ish and needy.
- Otherwise, I loved the unity the girls showed during this season. The bonding between the girls and the way they had each others bag (except when they stole that transformation idea) was really admirable and sends a positive message to the woman out there.
- Ruth and her love life turned into surprising entertaining points. Ruth and former Porn camera man Russel had great chemistry while the sudden rise of Ruth and Sam provided a dose of intimacy I didn`t expect. Marc Maron has quite the intimate and strong screen presence, intrigued where the triangle will go in a potential season 3.
- The fights this season were as entertaining as in season 1, maybe even better and funnier. Especially the big wedding fight in the season finale was a perfect way to close the season and made another push for equality as the girls didn`t back down from their male enemies.
- Bash and Debbie trying to sell the show at that event was one of the funnier moments this season as the show tapped into much bigger dramedy waters than last year. The show getting canceled and the girls going to Las Vegas seemed like a refreshing twist. It gave us a little bit of closure, in case the show gets canceled and prospect for a bright new future, if we get a season 3.
- GENERAL SCORE: 85/100
And as a potential third season embarks to Las Vegas, I`m in dire need to hear your thoughts on this season of GLOW? Better than season 1, on par or subpar? Share your thoughts in the comment section below and let's discuss the good and the bad of the season. Till next season. . .