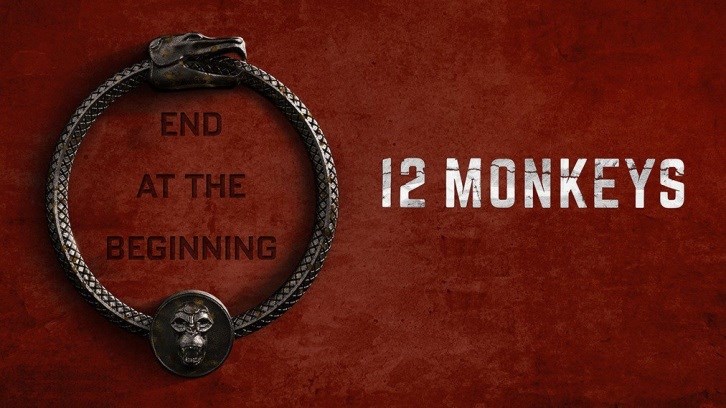 12 Monkeys
returns with its fourth and final season this Friday on Syfy. Three episodes will air on each of the next 3 Fridays and the series will conclude on July 6th with 2. So each week, I'll be trying to tease not just one or two episodes but three! Of the first three episodes, I can tell you that the pace of last season and the stakes are even higher and faster. Look for amazing performances from Aaron Stanford (Cole), Amanda Schull (Cassie), Emily Hampshire (Jennifer), and Barbara Sukowa (Jones). And let's not forget Alisen Down as Olivia – think she was evil before? Prepare yourself to see old friends and to lose a few friends…
"The End" was written by Sean Tretta and directed by David Grossman. The season begins where it ended – with a serpent and a demon. We're in Medieval times with witches and warlocks. Look for another
Game of Thrones
alumni!
Cassie and Cole have different ideas on what to do next. One character seems to be essentially back from the dead. The team comes under attack and is vastly outnumbered. There seems to be a new villain in town. Deacon brings the hammer down. The team executes a desperate plan, and they don't all get out alive. Look for Cassie to seem a lot more like Season one Cassie – except for one badass fight scene! The team ends up in a surprisingly appropriate place.
Meanwhile, Jennifer is in 2018 – Prague, Czech Republic. Jennifer has a new look – sort of… Look for a brilliant scene in which Jennifer's reality isn't quite… real. Jennifer steals something.
Cole and Hannah are surprised.
Dialogue teasers:
The secret of the universe is chock full of nuts.
Stick to the science, man.
Olivia's got herself a Deathstar.
We've seen your coming for a long time.
Where is the weapon?!
It's the key to everything.
Timber!
The future will find us. It always does.
Maybe now has to be enough.
"Ouroboros" was written and directed by showrunner Terry Matalas. This episode goes back to the beginning. Are you sensing a theme here? You wouldn't be wrong! Jones, Cole, and Cassie run into some old friends. Great performance from Aaron Stanford. Another
Game of Thrones
alumni shows up in 2018 to investigate the theft (yes, this time it is Conleth Hill – but with hair!). Jones has an epiphany. Some really, really cool time loops – seriously, they gave me goosebumps! Jones gets a pep talk from an unexpected source. Jones has a crazy plan. Jennifer forgets something. A line we've heard before is now full of new meaning. Jennifer and Jones both rely on faith.
And more dialogue teasers!
You had one job!
The greatest danger there is ourselves.
Just remember. You are a real bitch.
We need to get to her earlier.
What kind of mad?
A circle. A loop? Is just a second chance.
She's totally sauced.
We keep trying to do the right thing the wrong way.
That was awkward.
When the future is uncertain, the past never mattered more.
This has always only been about revenge.
What we need is an outbreak.
1 for 7 billion.
American Gods
and
Star Trek: Discovery
. As the title might make you suspect, the episode begins with some great music – from the 70s. This episode showcases Olivia. Julian Richings joins the cast. Olivia looks for options. We see Olivia in very surprising circumstances. Cassie has a plan that doesn't go quite as planned. More awesome timeloops! The mask is modified for a new purpose. Cole receives a puzzle from an unlikely source. Olivia appoints a new commander for her army.
And the final set of dialogue teasers!
The only benefit of the past is that we can learn from it.
Certainty is the faith of cowards.
Do you doubt the witness?
It is my gift. It is my curse.
Titan has a purpose.
For your sake, you should really stop playing with guns.
You don't have to be anything you don't want to be.
Your fortune is remarkable.
One last thing. Get him a cheeseburger.
Everything I am is wasted on them.
There is nothing more powerful than fate.
A lots gonna happen. It has to for me to get here.
The fourth season if off to a great start. I can't wait to see what comes next! Don't miss a minute of the action, beginning at
8/7c on June 15 you can see all three of these episodes back-to-back-to-back on Syfy!