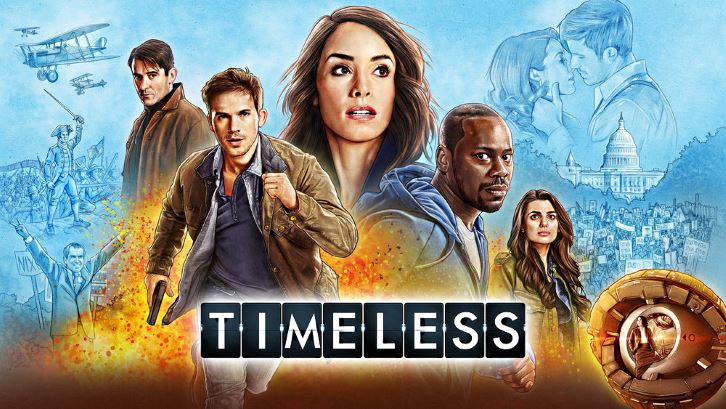 Timeless
"The Salem Witch Hunt" was written by Kent Rotherham and was directed by Guy Ferland. We don't get a lot of history in this episode, and the team seems to be a lot less concerned about changing history now. It is fun to see what does change… though that is how Lucy (Abigail Spencer) lost her sister in the first place. I really enjoyed the new dynamic of Garcia (Goran Visnjic) coming on the mission, but it's also clear that he needs to learn to be more of a team player.
I know people will be worried about Wyatt (Matt Lanter), but it's clear that Jessica (Tonya Glanz) is not likely to stick around. She is definitely not happy to see him when he shows up at her work, and it's important to remember that we tend to remember the dead through rose-colored glasses. Wyatt left her at the side of the road because they were having a fight when she was murdered. Clearly, their marriage was not great then, so why should it be now? I wasn't really surprised when she served him with divorce papers.
Wyatt's commitment to the mission is actually underscored by his bringing Jessica to the bunker. Denise (Sakina Jaffrey) is really not happy and I loved her exasperated, "You've gotta be kidding me." Most interesting, of course, is that when Lucy tells the others that Jessica is alive, Rufus (Malcolm Barrett) is the only other one to realize that she was dead. I'm not 100% sold on how they handle changes to the timeline, but I'm still willing to mostly overlook it. It's also a really fun moment when Jessica totally fangirls Connor (Paterson Joseph).
Things are not going well for Carol (Susanna Thompson) at all. We see Keynes (Michael Rady) on an exercise bike, watching tv and trying to catch up with history. They seem to have made themselves very comfortable in Carol's house. Keynes complains about the exercise, and Carol tries to tell him that doctors see exercise as beneficial and it's helping his recovery, but Emma's (Annie Wersching) response is immediate: "consider it gone." She is clearly undermining Carol at every turn.
Keynes tells Carol that something has to be done about Lucy. She's a bad seed! Carol is rightly shocked and reminds him that she's his great granddaughter. But Emma has poisoned him against Lucy. Keynes tells Carol – his granddaughter – that she has to "earn her stripes" and take care of the Lucy problem. He clearly means for her to kill her!
Jiya (Claudia Doumit) tries to tell Rufus about her visions. I loved his response: "I see dead people" – quoting the Sixth Sense because he thinks that she's joking. She tells him that he's going to be going to colonial times and that he's going to do something bad. Rufus comes up for a bunch of excuses for what she might have seen. The main mission involves jumping to the Salem Witch Trials on September 22, 1692. The mothership has already jumped. I loved the look Jiya shoots Rufus as she confirms – colonial times!
Lucy gets Wyatt on the phone and Spencer is great in this scene as she selflessly steps aside for Jessica. She tells Wyatt that she understands – Jessica is his wife after all and he loves her – loved her before he met Lucy. She tells him that she's thrilled for him, and then lies about there being a mission.
The team discovers that Rittenhouse took the mothership to San Diego in 1980 for an hour while they were in 1941 in Hollywood. They determine that they did it to prevent Wyatt from going on their missions as he's their soldier – and that's when Garcia jumps in. Lucy speaks for it, and points out that Garcia is a time travelling killer and they share the same enemy. She also points out that in 1692, they will need someone who will have more "access" than a black man or a woman. Denise agrees reluctantly but firmly puts Lucy in charge.
I loved that they had very different ideas about how to proceed once they got to Salem. Garcia was all set for an elaborate disguise, complete with fake names! Naturally, Rufus wouldn't let Garcia bring a gun – fearing he'd shoot him in the back! And I loved Garcia's petulant – "like that's the only way I could kill you!" And this leads to Garcia spending a lot of his time frantically trying to find a weapon – Puritans!
The group meets Abiah Franklin (Sofia Vassilieva) – who is Benjamin Franklin's mother. If you know anything about Benjamin Franklin and were paying attention, you will have recognized that he clearly got some of his famous sayings from his mother, including "Beer is proof that God wants us to be happy" and "If we don't hang together, we will all hang separately!" Lucy panics when Abiah is unexpectedly accused of being a witch – if she dies, Benjamin Franklin won't be born!
Rufus freaks out when he sees the man that Jiya described to him from her vision – Judge Sewell (Todd Weeks). Garcia is sure that he is too feeble to be the sleeper agent, but goes an interrogates him anyway. It's clear that he isn't the sleeper, but Garcia has frightened him, and alerted him to Rufus too.
Garcia notices a change in Lucy and remarks that Rittenhouse must have toughened her up. Rufus also remarks on the change in Lucy. Rufus is also struggling with one of Kripke's favorite themes: fate versus free will. Can they change the course of events? When Rufus returns, he tells Jiya he doesn't want to know about her visions any more – he's not sure if knowing about it caused it to happen. We also don't know if it even unfolded the way Jiya saw. It is definitely a headache inducing problem!
Carol turns up and accuses Lucy of being a witch. Lucy ends up in the cell with the other women sentenced to die. I did like the spotlight they shine on the fate of women. If you were thought different, you were frightening and therefore must be a witch. While in the cell, Abiah comforts Lucy, but Lucy tells them all, that she's proud to be in their company because they've refused to being something they are not and that's brave.
Carol comes to Lucy in the jail. Lucy is more concerned about Abiah – and the possible erasing of Benjamin Franklin than she is for herself! Carol tells her that the entire mission is for Carol to fix the Lucy problem. She asks Lucy to come back with her, and she'll convince Keynes to give her another chance. Not surprisingly, Lucy refuses. Carol still gives her a tiny dagger – we can assume to escape.
Garcia finally manages to get a gun, and before Lucy – or anyone can be hanged, he disperses everyone with Rufus' help. Lucy tells Abiah to take the women and go to Boston. Garcia remarks that she's making a pretty big change to history in saving all those women. This is the new Lucy though – she can't just sit back and watch people die.
Back at the bunker, they are waiting for the lifeboat to arrive back. I loved this scene and thought it hilarious. Jessica thinks that they are all nuts, and they all know that she's going to be freaked out by the lifeboat's appearance – and not to disappoint, she drops her glass as it makes re-entry! There is a super-awkward homecoming as Lucy sees Jessica and Wyatt sees Garcia.
The team learns about the changes they made to history. The Salem Witch Trials are now the Salem Revolt – which doesn't really make sense as the September 22 trials were the last, not the only trials. The term "witch hunt" isn't a thing either – again, the witch trials went on for several years…
Carol does not get a very nice homecoming at all. Emma has firmly established herself in Carol's absence. Keynes is bemused by his 3 minute fast food drive thru. He's also clearly not a fan of central heating. It's a nice parallel that Carol returns from a patriarchal society only to be stuck in the middle of one in 2018. Keynes is disappointed in her, but then tells her that it's not her fault – she's only a mother. Emma, however, has stepped up and is more than willing to do what needs to be done – ie kill Lucy!
The final scene is Wyatt telling Jessica about her own death. I thought this was one of the best performances that we've seen from Lanter. Jessica doesn't want to believe it – but she's seen the time machine for herself. Wyatt tells her that he's been on a mission to get her back for the last six years, so the guy that she knows as Wyatt is literally not him. He begs her for a second chance – but gets no answer. It's pretty important to remember that their marriage wasn't good six years ago, and Jessica is also not the same person either.
I liked the re-introduction of the fate versus free will debate. I'm not super worried about Jessica being a permanent barrier to Lyatt either. I do wonder if we are also going to see Carol defect from Rittenhouse. What did you think of the episode? Let me know your thoughts in the comments below!