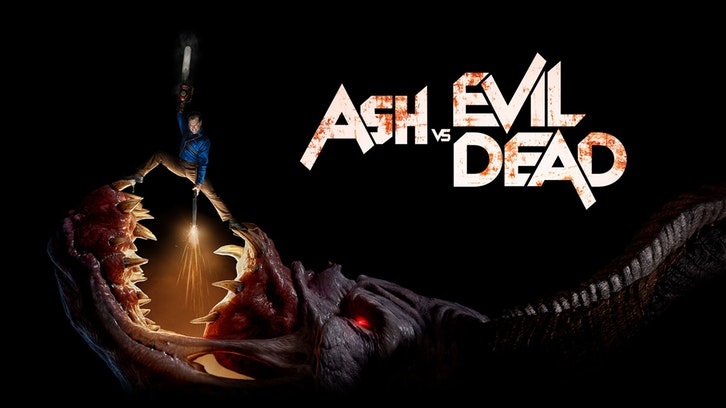 Brandy's time with Ash has been a real rollercoaster for her. She's joined the team and proved that by coming up with a plan. It's not as bad as one of Ash's plans but ….is it a
good
plan? Ash thinks so. I kind of think so too.
Ruby's plan is to have Demon Ash wreak havoc at the high school dance. According to her plan Brandy will witness this "evidence" that Ash is actually a demon then kill the real Ash unaware that there is a demon version of Ash.
Pablo doesn't have a plan. He's in a panic. Okay maybe 'warn Ash that Kelly's dead' does count as a plan.
Ruby forces her "son" to cut off his hand so he can wear a mundane chain saw. I couldn't help but wonder…why generate the really cool bone chainsaw in the first place.
I wanted to see Demon Ash actually using the one he was born with! (I keep wanting to call him Ashy Slashy because he's the actual embodiment of that nickname, but I don't want to get confusing.)
Pablo found out about Kelly a lot quicker than I expected. I'm actually glad they decided not to hold out on that.
I dreaded the idea of the story moving to a point where the odds were stacked too highly against Ash. Let's face it, he is usually out matched intellectually, and to have him completely unaware that Kelly is an imposter wouldn't be any fun and this show is all about fun for me.
The dance turned out to be as bloody and traumatic as one would expect from this show, but, thanks to Pablo, the community also learned that Demon Ash was responsible for the murders and that Ms Prevett is indeed a demon.
"Ms Prevett" confesses to Brandy that Ash was sort of right about her. She tells Brandy that Ash is a demon. On cue Demon Ash starts killing teenagers in front of her then slips out as the real Ash shows up. Ruby urges Brandy to kill her demon father before he kills anymore innocent children.
When Brandy hesitated, Ruby stabbed herself with the real Ash's chainsaw. That drove Brandy over the threshold. She had the Kandarian Dagger to Ash's throat, but the idea of becoming a chip off her father's block stopped her. She dropped the Kandarian Dagger and stepped away.
The revelation that Ash was right all along led to Brandy finally, definitively choosing her father's side. She jumped in front of him when Ruby threw the Kandarian Dagger at Ash's heart.
Ash can only hold the daughter he's barely known for only a few weeks, as she dies.
As the episode ends, we see Brandy wake to find herself in another dimension. I'm guessing the same one that Kelly is in. This left me convinced that Brandy and Kelly will be back in the land of the living by the end of the season. This makes me happy and darned curious.
Another really fun episode. I loved watching Bruce Campbell play demon Ash. I tend to underestimate Campbell's abilities and I shouldn't. He was able to take two over the top version of Ash and give them enough distinction that I always knew which Ash I was watching. And Dana DeLorenzo's British accent was a pleasant surprise.
What did you guys think of the episode?