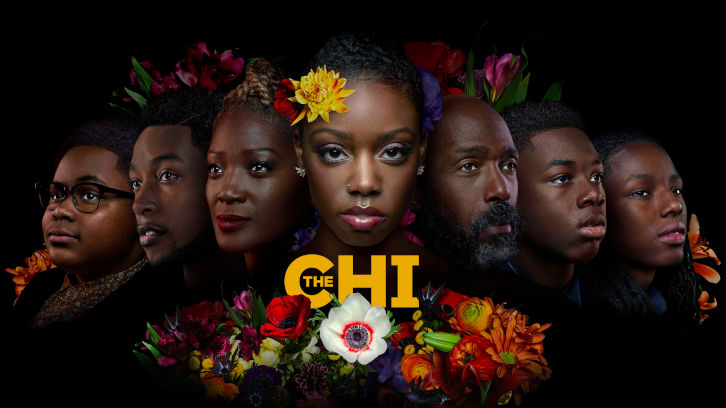 Episode aired on SHOWTIME Sunday, February 12
In my review of last week's episode the "Quaking Grass" I had ended with what I hoped to see moving forward with this show. I don't want to say I was disappointed but, it seems like none of the things I would like to have seen will happen. The truth is Lena Waithe promised to give us the Chicago that people don't get to see on TV and not the caricatured "crime" filled Southside. The writing would be grounded to the true life of all these beautiful people. Sunday's episode reminded me of that; it was great to snap back from my comfort level of just thinking about the "awful" things and how I needed to have them resolved. "Today Was a Good Day" was a fun episode but also profound. We got a street party, I mean this doesn't happen much on TV anymore, but it was real and organic and satisfying to watch. We saw all the characters come together and try to enjoy themselves despite what was hanging in the air for some of them.
Brandon and his cousin Hannibal spent most of the day together hanging out and just talking. His cousin showed him his real cool tool shed, where he grew weed and convinced Brandon to enjoy some to help him relax. This interaction was quite entertaining to watch specifically Brandon's hallucination, what didn't change was his yearning for Jerrika. They still hadn't spoken since she kicked him out and his cousin was not going to let him wallow. I think all the random killings of black men has me on edge so when I saw a cop try to stop Hannibal as he left his driveway I was angry. He is not a novice but halleluiah it was a black cop is what I said when the police approached the car. He finagled his way out of that situation, but it still left me upset, since this is not about me but the show let's move on.
Hannibal is a good cousin and a great friend. He manages to slowly help Brandon throughout the day find the courage to tell him that he knew who killed Coogie. It was heartbreaking to watch this, but I was glad that Brandon was able to finally open up albeit the weed played a prominent role in him letting lose; either way, he shared his heartache with someone. In my first review of the show, I mentioned that Sarah, Brandon's restaurant manager liked him and from the exchange with his cousin we will be seeing her around soon shaking things up. Jerrika seems to have moved on already since she brought a date to the street party, which was very hurtful to Brandon. I had called this break up as well from the first episode so will see if they will come back from this going forward. At the street party, Brandon approached Ronnie and fort he first time Ronnie explained why he did what he did to Coogie. Brandon was not having any of, but it looks like for now they will let it go.
I sense that Emmett is about to get himself in some real trouble even though it was just cigarettes that he was ferrying for Amir, trying to get into the shoe hustle business with him is not going to end well. I am happy though that he is trying his best to ensure that his child is taken care of, again Lena and her team's brilliant writing in showing that it's not all about deadbeat black dads. The storyline involving Jakes brother is not sitting well with me, I don't know if it's because of how he treats Jake, or I just don't like him, but I was hoping they would move away from it. I hated how he came to cause trouble at the street party with unnecessary drama. DQ was able to handle him, but this means now they are in a fight even though DQ had "retired" from the street business. DQ has gone around town and gathered his cronies' so it's not going to be business as usual anymore for all the street crews.
One of the strangest things that happened in this episode was Maisha stealing Kevin's bicycle. I didn't understand if she has a baby or if she was referring to her sibling when Kevin went to get his bike. He decided to leave it for her after she said she was only borrowing it to get groceries. I don't know if Kevin got hustled out of his bike, by a very manipulative little girl or her story was real, but we will see in the next episodes. I do hope she's not the mother of the baby because that, in my opinion, will be ridiculous lazy writing. That type of story has been told on TV many times but it's not the story of all black teenagers so, there is no need for it.
It was a solid episode; I loved the street party and just people coming together and having a good time with good food, drinks, and music. I hope that we will see more of the investigations into Jason's death as well as Coogies. It seems like Ronnie will fold and tell detective Cruz about what happened based on their meeting, or it will be a matter of time before everything catches up with him. I also need the DQ and Tracy relationship to be explored further since they hinted when they interacted and from Ronnie's reaction that they might have known each other.
10/10
Don't forget to watch The Chi on SHOWTIME Sunday, at 10 PM ET/PT.