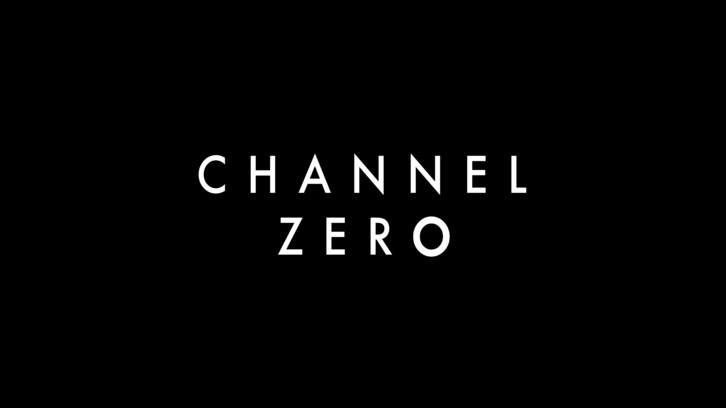 Season 3, episode 2 was written by Harley Petyon, Mallory Westfall and Angel Varak-Iglar and directed by Arkasha Stevenson. Starring Brandon Scott as Luke and Holland Roden as Zoe.
Episode 2 opens with a Peach's Meats commercial, circa 1950.
A lovely, sweet-smiling woman dishes out assorted meats; explaining the food chain to her children. But, it's the way that she just plops the meat on the plate and the sound it makes that is unsettling.
She is dressed all in red. Her southern drawl, stepford wife demeanor; nonchalantly explaining to Timmy how they are the top of the food chain, is a tad off-putting. Yet, eerily charming.
Next, we see a dapper, well-suited man descend the staircase with a little, red-hooded person. They walk off into the park, for a leisurely stroll?
Alice is frantic to find Zoe and flashes back to one year prior. She and Zoe are being terrorized by a huge millipede that they call father time and find their mother on her bed, talking to herself with her back to them.
Though, the truly evil and I believe real villain in this story, Dave the student loan collections officer, calls and brings her back to reality. And Alice tells Louise that they had to send her mother away and she's "gone" now.
Louise decides that it is time to start helping Alice. They retrace Alice's steps from the previous night; ending up at the park playground, the site of the former Peach estate.
Louise explains that in 1952, workers from the plant went to the Peach home and everyone was gone. Something disturbing was found in the basement and the workers burned the house to the ground.
There were many rumors, since the 1930's, of occult practices taking place there. And, after Joseph Peach's twin, teenaged daughters were murdered, people just started to....disappear.
Alice, thinking she sees Izzy, runs off, but comes upon a staircase. The well-suited man and the little person are ascending the staircase and Alice is overcome by noise and visions and passes out.
Joseph Peach is there when she comes to and asks her if she believes in a Higher Power, God. Rutger Hauer is mesmerizing. I so want him to not be a bad guy, but it's not looking good.
She tells him that she does, but doesn't go to church. He seems to approve and tells Alice that Zoe will be alright; not to worry about her and then he's just...gone.
Alice and Louise call the cops who proceed to make fun of the them. Their tone does not go unnoticed by Louise. One of the officers, Luke, has a tiff with her about his father, the Sheriff.
He tells Louise that he's glad journalism is dead. She warns him of his father. Does she know something from her journalistic days?
Upon returning to Louise's house, they find Zoe there. She is not herself; completely subdued and claims that she is cured. She is dressed in red and seems completely blissful; telling Alice not to worry.
We see Izzy lying on a floor that is painted with an eight pointed star and surrounded by candles. She appears to be asleep and is being gently covered in a white paste by the skinless man who resembles a side of meat.
Then we come upon Diane with her scissors, innocently cutting a doll's hair in a garbage pile. Ominous thunder sounds; as when a staircase appears.
The tall, suited middle-aged man appears, chases then tasers her and the once apathetic cops finally do something. With the background of the graffiti art of the boogeyman or the 'butcher'; the cops arrest him.
He says his name is Peach and menacingly laughs; calling Luke a mouse. This guy is the definition of creepy; impeccably dressed, another wolf in sheep's clothing, perhaps? But not charming and well-mannered like the elder Peach.
Luke puts him in a cell with a man named Jeff. After here, it goes strictly 'Silence of the Lambs.' When we see the jailed men next, Peach is devouring a still living Jeff; while laying next to him on the floor, naked. Poor Jeff.
Luke's dad, the Sheriff, tells him to go home and take some time off; to think about himself for a change. But, completely unnerved, Luke follows the cop car transporting the cannibal.
He is shocked when the cops simply drop off this murderer at the park and drive away. He follows the man into the park and watches him ascend the staircase with Joseph Peach.
Back to Zoe. She explains to Alice how she was 'cured.' In a beautiful, sunlit field of yellow and green with a brilliant blue sky, there was a sound of thousands of flies buzzing.
The sound told her that
"he could fix me."
And it felt like something was 'extracted' from her brain. Now, Alice wants to leave town, but it's too late. Zoe wants to stay.
Zoe desperately wants to take care of Alice, for a change. But she has been told that a side effect of the 'treatment' will change her. Alice tries to convince Zoe that schizophrenia is not curable, but to no avail.
While resting, Zoe is overcome with a hunger like she has never felt before. She has a vision of eating Louise's hairless cat, alive. That is some side effect.
With Zoe 'resting', Alice and Louise find that someone has left a very formal invitation on the doorstep.
"Join us for dinner and spirits,
tonight at midnight at the playground in the park"
Alice and Louise accept and find a beautifully lit table covered with a luscious, meat buffet. Yum! People are seated around the formal table and when the women sit down, the park suddenly becomes the inside of a large house.

And, an uninvited, but welcomed Louise recognizes their dinner mates, immediately.
Joseph Peach welcomes them:
"come, we're waiting for you. sit down, welcome, make yourself at home. i hope you're not vegan! call me Peachy."
And, the Peaches looking as perfectly as they must have in 1952 are: Robert, the oldest son also known as our jail cannibal, his wife, Edie, the 'sweet' mom from the commercial, Aldous, the 'bachelor' brother, Grandma Ruth, and Evelina, wife of 'Peachy.'
Peachy declares that they have gathered to celebrate togetherness. He speaks fondly and eloquently of his twin daughters who went for a walk one day to feed the swans and never returned.
The little, red-hooded man speaks so poetically of them:
"our sisters, who are not gone, but changed into a different energy, they
dance with the fireflies."
The brothers chime in that it was the vermin of Butcher's Block who murdered their sisters and that they were punished:
"too bad they
tasted like shit!"

Alice is adamant to know what happened to Zoe and Joseph Peach shows her, in a mind trick. Paralyzed, with no pain, he opens her skull, blood and tears dripping down her face. He finds her deepest trauma.
It is the flashback Alice has been returning to, little by little, of her mother. In it, her mother runs at and repeatedly stabs Zoe in the stomach. How did she survive an attack like that?
Peach 'finds' what he calls father time or the beast in Alice's brain:
"when Mr. schizophrenia wakes up, he will eat you alive."
He invites Alice to come upstairs with the family and bring her sister because they remind him of his daughters.
Louise and Alice awaken in the park, the next morning, alone. The buffet of food is covered in flies, maggots and blood. It is quite sickening.
And on one of the platters is the yellow finger nailed hand of Izzy's mom, prominently displayed. What IS in all of that meat?
Random thoughts:
Is that 'boogeyman' or 'butcher' in the graffiti art really Joseph Peach gone mad, after his daughter's murders? Is he responsible for all of the disappearances? And, who are the little, red-hooded people?
Another superbly horrifying episode! Would love to know what you thought of Father Time.