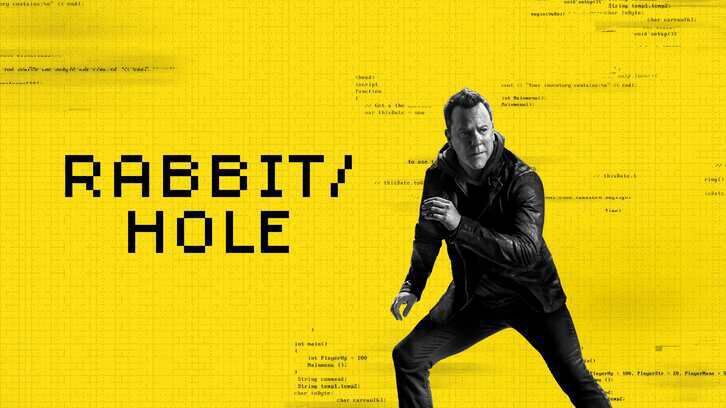 It's worth remembering John Weir's desperate admittance to the priest, in the pilot's opening, about how he "literally can't tell the difference between what's real and what's not" – particularly at the end of an hour designed entirely around the idea of blurring the lines between reality and fiction.
That it does so to viewers as much as it does to characters is perhaps to its discredit; at least, the regularity with which both are deceived is beginning to become frustrating. But let's start with what works: the infiltration of Gao's auction, during which Hailey passes herself off as Agent Madi and Ben passes himself off as Crowley. Hiding the ruse from Hailey is effective in keeping it from us, and while the conversation is bizarre – all while Charles Dance flows in and out of a
text-to-speech
American accent – it at least makes for a fascinating next step in the story once Crowley discovers his rival is very much alive.
The entire sequence at Gao's penthouse showcases "Rabbit Hole", and to a large extent any type of espionage thriller, at its best. As with the play on Homm in the pilot, there's an energy and a rush to seeing characters execute a plan to set someone up, and it being elaborate in nature doesn't work against it. If you're willing to suspend your disbelief on the Roadrunner-like speed with which Hailey learns how to lie effectively – her flustered state at telling John a simple lie compared to her confident façade as Agent Madi a few hours later provides quite the whiplash – then the plan to probe Gao for information is great.
But the theme of lying continues throughout "The Person in Your Ear". Chief among the hidden truths is that John's team didn't actually die in the explosion, a particular shock to Hailey and, presumably, to the beginning of the episode, during which John's painful memories of all the bad events of the pilot haunt him as he searches for a power switch. It's one thing to position your main character as someone who doubts reality; quite another to consistently pitch it to your viewers as their default position.
All sorts of questions arise from this revelation, not the least of which revolve around Kyle. It's shown that Xander did not take a willing route off the Arda balcony, but that Kyle, posing as a delivery man, pushed the temporary CEO to his doom at the request of Crowley. It would seem as though Kyle is his right-hand man – so he'll perhaps be concerned at Kyle being attacked at conspiracy theorist Hayden's public protest – which makes it ever-more curious that he was an intern at John's company. Did John know? If not, then Ben's fear of Crowley knowing about him may be realised sooner than he thinks.
We do also learn – or, at least, we think we learn – that Hailey isn't involved in the Crowley conspiracy. Her attempted kidnapping was by the hired goons of Craig Payne, the corrupt boss of a real estate development company from whom Hailey stole cryptocurrency, which is now worth $28 million. It explains, too, what she was checking on the phone in the previous hour. From this, we are perhaps to assume her involvement in this entire thing is coincidental, that she isn't connected to the wider story. But why was she set up with John on a dating app? Who planted a camera in her hotel room to spy on their hook-up? There's more to this story.
Elsewhere in things that are real versus not: Edward Homm. Both his marriage and his perception of neighbour "topknot Kevin" are a lie, as his supposedly grieving wife instead seems perfectly happy without her claimed-dead husband by sleeping with Kevin. It shatters and yet transfixes Homm, who should've heeded Ben's words about being better off dead. Still, of all the twists and revelations, this is the most predictable and telegraphed – to the point that the comedic suspense is the aim.
The one thing that remains real is Agent Madi and her investigation, which, via an anonymous tip from John, leads her to Gao. But that's after her breaking-and-entering expedition to Kyle's hideout, inside of which she finds a website printing entitled "Butchering Your First Animal". He's certainly more than the intern, and while both the timeline and the texts and calls he's receiving would suggest he isn't Crowley himself, John's words come back into focus.
At the end of another entertaining – yet still frustrating – hour, who knows what's real and what isn't?