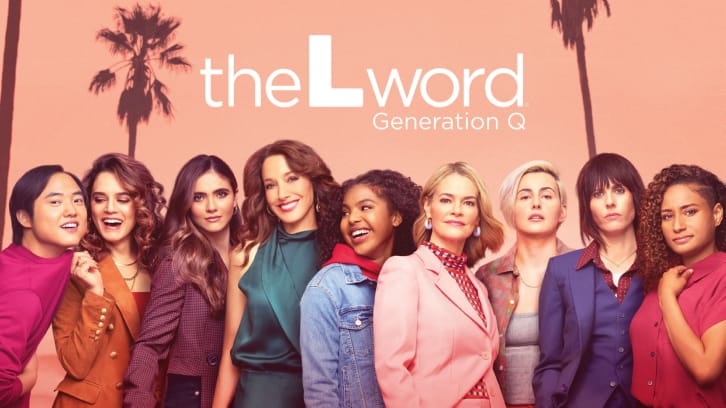 We are entering the last two episodes of the season folks. Let´s get into it. Carrie (Rosie O'donnell) is alive and well, after last week´s cliffhanger that´s where we start. Finlety (Jacqueline Toboni) is in full caretaker mode (obnoxiously so) after Carrie survived a scary heart attack. Which i understand, Carrie´s basically a mother figure to her and after meeting her mom last week, I get it. The mommy issue spart I mean. Angie (Jordan Hull) has fallen into depression after the whole dating her professor thing bombed. She's been living in her bed coping, and is right there still when her Moms show up for her scheduled public reading (yes, it's a reading of her work from the class taught by THAT teacher.) She was very much not planning on attending but in an attempt to keep Bette (Jennifer Beals) and Tina /aurel Holloman) in the dark on her sex life, she reluctantly agrees to go and drags her roommate/confidante into the forced attendance. That is all I´m going to mention about that whole situation because I really hate the whole thing, so moving on. Alice /Leisha Hailey) is obsessed with her kitten and I can relate because I also have done that in the past. But then Twitter pops up with an alert that Alice is trending, and it's not a great look. Remember the movie theater scene a few episodes back? Yeahhhhhh, those videos made it to the internet with the hashtag #AliceSoEntitled. Whoops. Cancel culture wants to do what it does and goes for Alice's throat. I think her Main Character energy is hilarious but the mob hive-mind mentality behind cancel culture loves to attack and tear down and pretend that everyone else in the world is absolutely perfect.
Misty (Heidi Sulzman) and Carrie hadn't had sex yet, prior to the heart attack and now a goal of Carrie's physical healing is to make it into bed together (when they're emotionally ready, of course.) Spoiler alert: they do by the end of the episode and we really adore this butch/butch couple representation. This couple is fine overall but then I get whiplash when I see Dani (Arienne Mandi) and Dre (carmen lobue) making out and It gets worse when Dre slips out an I Love You, they try to backtrack but we all knowwhat this means. Anyway, what´s about it on that scene, we are back to Alice´s social media issue. Sophie (Rosanny Zayas) and Dani, think she needs to play the game nicer (more tamed woman? yeah.) Lame. More of that later thought. Angie goes through with her reading, which took a lot of courage in front of her creative writing instructor a.k.a. the douchebag who slept with his freshman student. Bella (Sari Arambulo), Angie's roommate, sits with Bette, Tina and Shane (Katherine Moennig), who shows up late. Wait a minute, Shane recognizes that douchebag professor is Angie's ex boyfriend. And then it all clicks and the Mama lions are pissed, as they should be. Angie's bff roomie, Bella agrees with the Mom's and Aunt Shane that the professor was predatory and Angie was taken advantage of, from that perspective. Thinking she's fully grown at 18 and everyone is underestimating her, Angie storms off pissed telling everyone to leave her alone. Someone knock some sense into this girl asap. Hyped for filming the show finale episode, Alice is disheartened to learn that her main guest has pulled out after Alice had refused to tuck her tail between her legs like a shamed dog. And now, she's over it. Alice doesn't want to film. Sophie doesn't want to cancel the episode and decides she's going to make it work and make it happen without Alice.
Did I even mention that we see Tess (Jamie Clayton) at the start of the episode in a post hookup sitation? Can not believe I blocked it, that´s how bad the treatment of couples is on this show, Shess really had me giggling when they first started out,now I know that this is only going to end up badly, and has already done that for Tess since she´s back to drinking. Shane's been thinking and trying to find herself again and has a great idea, what if the second bar they intended to open (at Tess' assistance — ahem, bullying) wasn't a bar? What if it was a salon? I love this Shane, who's wanting to return to her passion and have something for herself. Mean Tess shits on the idea. Shane has finally had enough of the abuse and ends it with Tess, she can't do this anymore. Isn´t Shane the one paying for the whole thing? So she should be the one to decide what the place ends up being, right? I´m confused.
To top off Alice's bad day, she loses her kitten. Alice, wearing Gucci, roams the streets with a chicken sandwich on a fishing pole trying to lure her kitten home. Because she's Alice, that's why. The kitten, per every Hollywood storyline ever, was stuck high up in a tree. Alice is eager for the hand-off from the firefighters who have so graciously come to the rescue. And guess who is there to hate on Alice? Her ex Tasha (Rose Rollins). There has to be more to this than just a silly cameo. The next episode should be very interesting! I´m very excited about this and I barely remember anything about their relationship in general from the original, but there was more chemistry in the discussion they were having then all of the pairings right now, Tibette excluded of course, which leads us to Bette proposing to Tina over burgers and fries. The magic in the mundane really shines here and I love it. I'm happy to see these two reconcile fully and prove that sometimes, if we really work for it, love prevails.
We are finally on the last episode of this season my friends, what a mess of a plot. The L Word: Generation Q season 3 finale opens at Bette and Tina's wedding. Alice was in charge of the cake and the booze. She got the cake but forgot to arrange for the alcohol. I adore Alice I really do, I don´t say it enough. That forces Shane to call Tess to bring copious amounts of alcohol from Dana's to the venue fast. Shane and Tess have not spoken so it's extremely awkward for Tess to show up and stock the bar. But awkward seems to be a theme at this wedding. That forces Shane (Kate Moennig) to call Tess (Jamie Clayton) to bring copious amounts of alcohol from Dana's to the venue fast. Shane and Tess have not spoken so it's extremely awkward for Tess to show up and stock the bar. But awkward seems to be a theme at this wedding. Roxy (Paula Andrea Placido) has molly she shares with Dani, even though Dani insists it won't have any effect on her. It doesn't take long before it's heavily affecting her. How are we here again, why is there another love interest already set up for Daniela right now? I´m still mourning Gini. I´m upset.
Sophie's primary goal at the wedding is to find someone to hook up with, although she wants to clear the air with Alice too. They haven't spoken since the season finale of Alice's show. Sophie gets more than the hook up she planned for when she meets Pippa Pascal (Vanessa Williams) and the two instantly spark. This could end up being a real thing and not just a wedding fling. I was going to let it go, but why is Pippa at this wedding? As far as I know her and Bette are not really friends, they just hooked up which makes it even worse in my opinion, but anyway, not sure why I´m expecting The L Word to make sense.
While the last minute wedding preparation drama is going on, Bette and Tina stress as they get dressed. Tina complains about being extremely hot and sweaty all of a sudden and she's desperate to cool off. Bette suggests they try hanging out in the walk-in cooler in the kitchen to see if that helps. But the handle breaks on the inside, trapping them. When Shane and Alice finally come looking for them, the outside handle breaks too. Angie brings Hendrix (Simon Longnight) to the wedding, but Bette and Tina don't want him there and neither do I. Hendrix thinks the wedding is a great time to tell Angie he's moving to New York to focus on his book, to which she tells him to leave.
Why are we investing any time on this storyline when we could have Angie and the roommate be a thing instead? Alice calls 911 to get the door open, but the fire department is busy and can't send someone for several hours. Bette insists Alice call Tasha to get them out. Reluctantly Alice does, and Tasha and her crew come to the rescue. When I tell you I´m giggling at Tasha´s beautiful face, please bring her back full time if they are lucky enough to get this show renewed. At this point I´m praying for it´s downfall but I also just want to see more Rose Rollins on my screen. Bette and Tina are grateful and tell Tasha to stay for the wedding if she'd like to. Tasha and Alice bicker, but also have a meaningful moment where Tasha tells Alice she felt like Alice was still in love with Dana when they were together. At that moment Angie pulls Alice away because the wedding is starting. Able to talk later, Alice tells Tasha losing Dana almost killed her and she focused on her career after that so she wouldn't have to really deal with her loss. They dance and the vibe between them is very much still there. I can feel it you guys. Also, I just want Alice to find everything she wants. We´ll see.
Tess returns high and drunk and makes a scene. She also falls into the wedding cake. Afterward she leaves with the man she met earlier. Then, at the end of the night, Finley gets a call indicating Tess has been in some kind of accident. Bette and Tina try to regroup with Alice and Shane. The four of them have a nice moment reminiscing about some of the crises they have been through together in the past. Despite the smashed cake the wedding goes on. Bette and Tina share vows they've written. Alice, who became a wedding officiant online, pronounces them married for life. After some dancing and celebrating, Bette and Tina quietly slip away; a nice send off for the original L Word power couple. Dani and Roxy kiss, and Roxy lets Dani know that she bought a condo in LA and is serious about being with her. But Dre shows up to the wedding as Dani and Roxy are kissing, so Dani is going to have to make a choice. I knew it, I knew they were going to use one of the worse tropes and one of the ones I hate the most, which is love triangles. I´m so over the treatment of Dani´s character. In non-wedding drama, Micah (Leo Sheng) and Maribel (Jillian Mercado) reach a tipping point that ends up tearing them apart. They have the donor sperm and are ready to make a baby when Micah gets cold feet. He wants to have a serious and open discussion with Maribel about the risks of pregnancy and how pregnancy would be impacted by her disability. She is furious at him, but he is concerned about her health and the impact of a pregnancy. They have a big fight about it and Maribel smashes the container of donor sperm, telling Micah they aren't ready for a baby. Micah packs a bag and leaves, phoning Max and asking if they can talk.
The L Word: Generation Q season 3 was supposed to be about finding true love, whether it was with another person or self-love. If the series comes back for another season (as yet unconfirmed) it will be interesting to see what develops for both the new characters and OG characters as they continue to redefine what love, commitment, marriage and family look like in modern society. I just wish the people behind the scenes would care about this characters and stories as much as we do.
Comment below:
What did you guys think of this season?
Do you think Tasha and Alice could be the next endgame?
Will the love triangle between Dani, Dre & Roxy be a main thing for next season?
Do you think the show will get renewed?