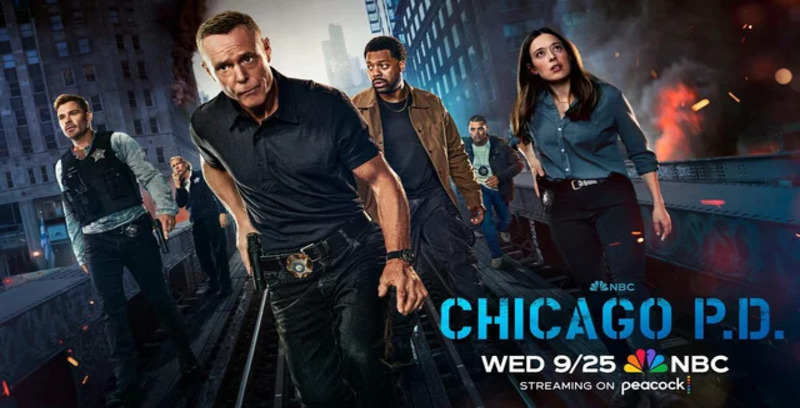 Chicago PD's "I Can Let You Go" is an episode of television that might leave you feeling…well, not right. Though I do need to give credit where it's due because it was a damn good episode from a case perspective, even if it did give some of us the heebie-jeebies while watching. That aside, Hailey Upton is still going through hell in this hour with an opening scene that felt like a dagger to the heart. It twisted good and deep into the Upstead feels, and oh man, did it hurt.
All Hailey wants is her husband. To hear his voice and have him home with her, for things to be normal again, but things are so far from being normal and they won't be for a while, if ever. Jay is gone, and now, so is Hailey's hyper-fixation that is Sean O'Neal. Except, Sean isn't really gone. Not yet. Not entirely. He survived being shot in the head and is locked up in prison but is desperate to reach Hailey because he has become fixated on her as much as she with him. He is obsessed with her, somehow keeping a tight hold on her that she can't seem to shake. He is manipulative and creepy, knows just where to poke at her until he gets the reaction he's hoping for, and it makes him the perfect villain.
Sean takes advantage of Hailey's good heart and pulls her into a case of a missing young woman, and she tumbles her way through it, determined to find her. It seems simple enough, but it is never that easy as we have so often learned in this fictional universe. Every choice, every step, every little thing causes a ripple effect that only seems to lead to more hurt, more unease, more questions. And by the time this case is wrapped up, it doesn't really feel like it's wrapped up at all. The missing woman's father is shady to say the least and might be involved, and there is something Voight says about keeping an eye on him that makes me wonder if this might not be the last we'll see of him this season. Cases and criminals on this show have a tendency of popping up again later to cause more chaos.
It must be said though, when it comes to bad guys, Jefferson White makes one hell of a villain in his portrayal of Sean O'Neal. His and Tracy Spiridakos' abilities as actors and their onscreen chemistry in this battle of good versus evil has been magnificent to watch episode after episode, and I'm almost bummed this might be the last we see of White on PD.
Almost
. Because even though the delivery has been so good, the emotions have been too much, and now it's finally over. That is, until the next horrible thing comes along to wreak havoc on Hailey's heart, and ours in the process.
Which brings me to the elephant in the room for this episode that is Jay Halstead. He's been gone since episode three and his absence has been felt every episode that has followed. I'm still bitter about the way he left, still confused as to how him leaving his wife was the only plausible option in the eyes of the writers. It just doesn't make sense and at this point it probably never will, but I just can't let it go because the Jay Halstead we've seen this season isn't the same Jay Halstead we've fallen in love with over the last decade leading up to it.
And then they decide to add insult to injury. Jay is still MIA, still not communicating with his wife, and Hailey finds out that he has extended the length of his assignment from someone who isn't her husband. It's like a harsh slap in the face all over again. It's gutting, feels defeating, and it seems like an unnecessary form of cruelty to the fans who adore these characters and have rooted for them, both as individuals and as a couple, for so long.


The only thing left now is more questions than what we started with. What comes next? How will Hailey heal from the emotional distress she's had to go through? Will she heal at all? And with the suggestive title of this episode and all that the hour has entailed, who is Hailey really letting go of? Sean? Jay? Both of them?
Is there some sort of bigger plan in motion that viewers haven't been made privy to yet? How will the writers redeem themselves from the heartache they've caused? Can they even redeem themselves at all?
We're a little more than halfway through the season now, but there is still plenty of time for some of these questions to be answered. For me and the Hailey fans that are still watching, I hope they're answered soon.
Chicago PD airs on Wednesdays on NBC. New episodes return February 15th.