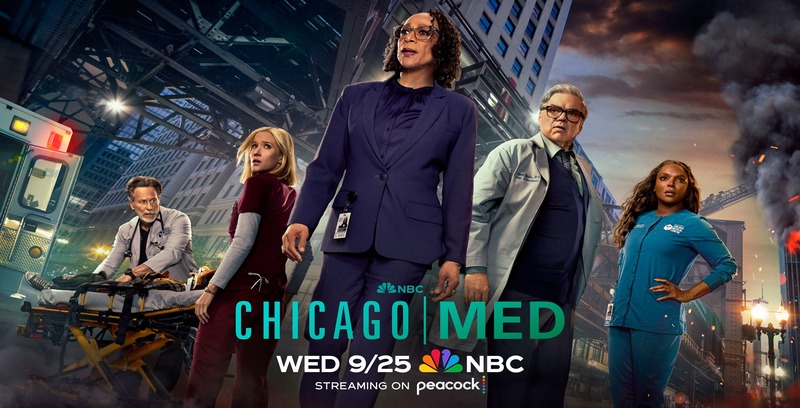 This episode allowed Chi-hards to start to get a better glimpse of possibly what leadership at Gaffney may look like under Jack Dayton, and also allow us to get a glimpse into some new characters and their back story, intertwined with the excitement and complex cases we are accustomed to in true exciting Dick Wolf Style.

Dr. Hudgins, Dr. Charles, Dr. Cuevas and the Kittle's


Mrs. Martha Kittle is brought in by ambulance following a fall in her kitchen. Her grandson Alexander is with her and Dr. Cuevas meets him and begins to try to explain to him what is happening when suddenly he become violent and tries to stop them from treating her, because he is afraid that they are hurting her. His grandmother is able to get him to calm down, and Dr. Cuevas tells Dr. Charles that Alexander appears to be on the autism spectrum.
After he is calm, Dr. Charles and Dr. Cuevas go back in to speak to Martha and Dr. Cuevas takes Alexander to get a snack. Dr. Hudgins tells Martha that she has a broken hip and she tells them she has Stage 4 Lymphoma that has spread to her bones, but she has not told Alexander. She tells them that she cannot have surgery because she has no one that can help her with Alexander. Despite Dr. Charles' best effort and brainstorming, it was heartbreaking to see that this woman had no options to provide care to her grandson.
Dr. Cuevas and Dr. Charles go in to speak to Alexander to try to determine what happened, and when Dr. Charles suggests that maybe he took what he thought was candy out of his grandmother's purse, he tells them that he does not have anything unless his Grandma says he can have it. Dr. Charles goes in to speak to Martha, and she tells him that she gave Alexander some of her pills in his soda because she did not know what else to do. She says she has tried him in Group Homes and every time it was a disaster, and that she loves him more than anyone and is concerned if she cannot be there for him, that he will have no one. It was such a heartbreaking scene to see that this grandmother felt she had no other options than to euthanize her grandson, and it is such a statement to what family caregiver often go through.
Daniel has dinner with Lillianna and he apologizes for being glum as he had a hard day, but she says he helps people with their problems all day and it is only normal that occasionally one of the problems follows him home. She starts to clean up and begins to sing softly as Daniel listens. This was such a lovely scene, as Daniel gives so much of himself to his patients, and it is wonderful to see someone understand how taxing that could be for him and provide him with some support for a change.
Dr. Marcel, Dr. Dupre and Roy
Dr. Dupre overhears and says she would like to use the OR 2.0 imaging to help him do the surgery for Roy. Dr. Marcel is not convinced that it is safe. They go into the suite and start to test various options and theories of how to approach, and Dr. Dupre sets up the hologram so that Dr. Marcel can test some of the different options. As they go along, Dr. Dupre works to show Dr. Marcel all of the options and how she can assist with programming to make the OR 2.0 assist and not hinder the surgery.
Dr. Halstead, Jack Dayton and Sophia Eastman
Sophia is a swimmer and attends a boarding school in the city. She was brought into the ED because she and her swim team were practicing in the pool and she passed out and was unconscious. She was pulled from the pool and eventually came too. Sophia says that she may have felt something in her chest. She asks if there is any chance she might get to meet Jack Dayton, as she is a budding developer and really admires him.
Sophia does not want to get the surgery and decides to file for emancipation, and Dr. Halstead goes in to speak to Sophia and Cindy. Cindy says they are looking into precautionary measures that do not involve surgery but Dr. Halstead says if she does not get the surgery, she may die. True to his style of advocating for what he feels is the best treatment at any cost, Dr. Halstead seeks out Jack Dayton and asks him to speak to Sophia for a few minutes, but Dayton says that he has to leave for a meeting. Will reacts in a way we have become accustomed to (albeit we have not seen it in a while) and asks Jack why he bought a hospital and hoped it was because he cared about the patients but it appears they were just another toy for him to play with.
Dr. Archer, Dr. Lieu, Dr. Asher and the Thompsons
Brandon wakes up and is able to be extubated and he immediately asks about his wife Tiffany. He asks if she was brought there and says she is pregnant and was in labour. They tell him that no one else was found at the scene with him. Brandon shows Dr. Lieu a picture and he asks Dr. Archer to go as he has experience in Search and Rescue and he says he is her best chance because he can bring the hospital to her and is able to provide support to the local team that as they may not have the resources needed to properly complete the medical search. Dr. Archer sends Dr. Asher with him since Tiffany is in labour.
Tiffany is reunited with Brandon at the hospital and Maggie and Sharon reflect outside the room about people finding their way back to each other. We can only hope this is forshadowing for Maggie and Ben, and a possible reconciliation in the coming weeks.
What did you think of this episode of Chicago Med? Share your thoughts in the comments below.