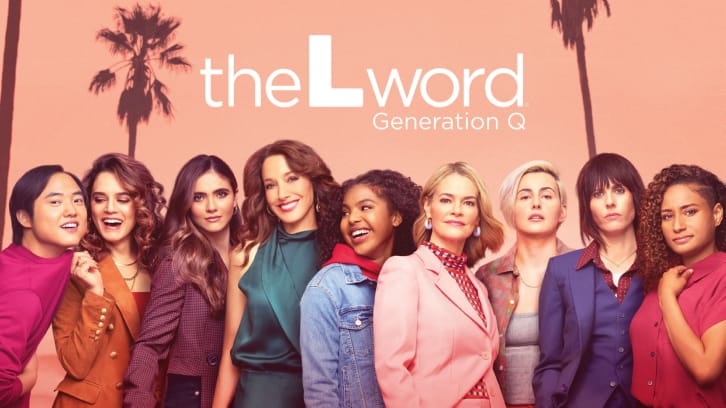 And we keep going through this train wreck folks. Episode 2 of season 3 titled "Los Angeles Traffic" whatever that means, well I guess it sort of makes sense until the very end of it. I know that my review of episode 1 was not very positive overall but you have to understand that I care about some of this characters very much and you would think that because they have been around for so long the writing would be a bit more consistent. That being said, we as a queer community have the right to also be messy and have a show like this that gets worse every time (I think). We open right where we left off last week: Bette (Jennifer Beals) and Tina (Laurel Holloman) playing tonsil hockey in the living room, their innocent brokenhearted daughter Angie (Jordan Hull) walking in upon them, looking for solace regarding her split with Jordi and finding instead that her Moms are looking for solace in each other's mouths.
They try to explain what´s going on to Angie but they don´t even know that so they do their very best and just end up having sex, again for the first time in, I don´t know how long. Bette and Tina are more concerned with their own drama, as always. Bette says that they can talk to her tomorrow night at Marcus's gallery opening, and Tina wants to know what exactly they're going to tell their teenage daughter about what she just saw. We find ourselves back with the couple formerly thought of as emotionally mature having another relatively emotionally immature fight. Gigi (Sepideh Moafi) did in fact talk to Nat, but Nat wants to get to know Dani (Arienne Mandi) a bit before she lets the two of them move in together. This makes perfect sense to me! I wouldn't want my (admittedly nonexistent) children to be living with someone I've never even met. What I don´t get is why Dani has the attitude she has with Gigi, just straight up giving her a hard time about it and not seeing things from her perspective. I don´t know exactly what´s going on behind the scenes or what the intention behind this direction for Gini is coming from, I mean, the creators have to know that the fans adore them together and that they could be the shows big couple now that we know what we know about Jennifer Beals leaving the show. Hey I get this is a drama, but sometimes ridiculous writing is just that.
On the other side of town, Shane (Kate Moenning) is waking up as Tess (Jamie Clayton) kisses her stomach. It may appear that Tess wants to have sex, but actually she just wants to know whether Shane has decided that they can get that second bar yet. They own the only lesbian bar in town, so why not make it two! After all, the reason that they're the only lesbian bar in all of Los Angeles is surely a sign that there's a hole in the market, and not that THE MARKET DOES NOT EXIST. Shane says that she needs time, and tries to pivot into sex, but Tess gets a phone call from her real estate agent that she absolutely must take. I can already see where this is going and how it will end, not well. It feels like The L Word enjoys to build these couples who have great chemistry, are actually good together, and then destroys them for no reason. We travel to see more of the relationship no one asked for, Finley (Jacqueline Toboni) and Sophie (Rosanny Zayas), they are going to host a game night. It won't all be fun though, because as Finley goes to invite Micah (Leo Sheng), Sophie shouts that it should be just the two of them. Why? "Maribel (Jillian Mercado) hates you," Sophie announces with the confidence of someone who does not care about her girlfriend's feelings or her sister's.
Finley walks away to process, and Maribel pokes her head in the door. She heard everything, and she's NOT attending game night. Sophie begs, and she finally relents. Alice (Leisha Hailey) and Shane are midday drinking at Shess's first child, aka Dana's. Apparently Bette and Tina had texted them asking if they could all get together, but they weren't using the group chat and they were being suspicious about the reasoning for the meetup, so Alice is ready for the goss. Bette and Tina walk into the bar holding hands and it's all very adorable. Alice and Shane are delighted that their moms are back together, and they all sit down to talk about it. Shane, as the only one who cares about Angie in this group, wants to know if they've told their daughter. Alice thinks Angie will be happy, because it's every child of divorce's dream— or at least her own— to have their parents get back together. Alice also shares that she is bringing a Marvel/DC actress to the gallery opening on a date, and then name drops Jojo Siwa before leaving to answer the phone. Nobody else at the table knows who that is, and the trio make fun of Alice for being in her own little world. This is the friendship I love to see! It feels so real and it's what makes The L Word a great show to begin with.
Night has fallen, and it's time for Pictionary Game Night! Micah and Maribel have rather adorable banter about who's going to be better at Pictionary, and I think the couple has worked out their baby vs. marriage debacle from the episode prior. We find out that's completely untrue, though, because Finley bursts into the room and immediately sticks her foot in her mouth. She's so excited to congratulate the happy couple on getting ready to have a baby! She can't wait to see a combination of their genes, oh wait, they will have to choose whose genes to use, how unfortunate! What's even more unfortunate is that Maribel didn't want Sophie to share the baby news with Finley, and Micah hasn't even said yes about having a baby yet. The night is already off to a terrible start, and I cannot stop cringing whenever Finley speaks. In preparation for the gallery opening, Dani and Bette go over the last minute details. Just like Dani ran the MS Fundraiser, she's also running the gallery opening. Her events business is becoming super successful, so much so that she got a Vogue exclusive set up for Bette. It's a great opportunity for both of them, and Bette agrees to do the interview. The amount of events this show does to keep most characters together in the same space is insane.
Dani wants to ask about Gigi. She needs advice on the Nat/parenting situation, and Bette reminds her that Gigi is not in fact prioritizing Nat, she's prioritizing her family. She asks if Dani is ready to be a parent, and we can see Dani's gears turning as she considers what all of that means. Dani´s a smart girl, couldn´t she have guessed it? At Marcus's gallery opening, Angie is talking to Marcus's family. Bette comes up to ask if she can talk to her later, and Angie says yes, before telling Kayla (Brook' Lynn Sanders) all about the debacle of the night before. Kayla is the supportive friend that we all need after a breakup and she encourages Angie to live her best life. Elsewhere at the opening, Alice and her date, Asia (Jules Willcox), are hanging out. The woman is constantly talking about herself and her fame before inviting Alice to an invite-only rec league later. I just want Alice to be happy, she wants to find someone who wants the same things she does, why is that so complicated in the L World? Anyway, Alice scampers over to ask Shane her opinion. Shane sees all of the red flags that Alice is trying to ignore, but the two get distracted by the way Shane is looking at the waitress bringing them apps. Alice knows that Shane has the "itch" where she needs to "wiggle" out of a relationship, and Shane vehemently denies it. The woman has been getting texts from Ivy/Kehlani all night and ignoring them! That is not the behavior of a woman with an itch! This is what i´m talking about, even the show is self aware about what they have been doing with Shane all these years but they will continue with that route because character development is non existent on this show.
Listen, I´ll take any wins when it comes to The L Word, at least Micah and Maribel are able to talk through their issues and are willing to work on them together. It's time for Bette's speech, in which she calls out institutional racism, family, and how she doesn't want to wait for love. Shane's phone buzzes with a text that's presumably also from Ivy, and Dani checks her phone to see if Gigi has replied. She hasn't. Alice and Asia continue chatting, but it goes awry when Asia brings up her lifestyle group that she needs Alice to join. This pyramid scheme is clearly NXIVM, and Alice downs the rest of her drink nervously as any self-respecting micro celebrity would. Back in reunion bliss, Tina shares that she's extremely proud of Bette and she plans on sharing that a lot more often. Bette takes this as an opportunity to ask Tina to stay in LA with her. Tina is not happy with this! It's the exact same reason that they broke up the second time (or maybe the third?); Bette only values her own career and not Tina's. And this is how I found out Jennifer Beals is leaving the show, I´m hurt. Anyway, at the end of the episode in the making no sense fashion The L Word loves, there is a car crash in which Gigi is in because she was texting with Dani about coming to the event. I just got a headache. That´s it for the episode folks, What did you think? How will this car accident break Gini up? see you next week I guess.