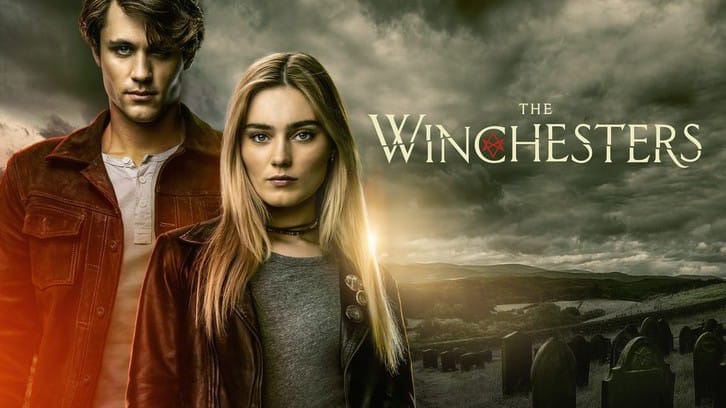 *Writer's Note: Big apology for the delay in Reviews. Life got the best of me. Gonna try and put out Reviews weekly from now on.*
Looking at how easily the CW used to put out spin-offs, it is quite a surprise that The Winchesters is the first entry in the Supernatural history to make it on air. CW doing The Winchesters in the middle of the Nextstar takeover was a risky move but did it pay off? Is The Winchesters worthy of throwing away all the history established in Supernatural? Let's dig into the first 4 episodes of the show's freshman run to see if it is worthy of the mothership.
Pilot
Pilot's by nature are a clunky, messy business. Not only do they have to sell the story and characters in 40ty minutes, but more importantly they also have to sell chemistry. In translation that gives you an episode with a lot of unnecessary dialogue and out-of-context scenes to add substance to the characters. And while overly enjoyable, The Winchesters Pilot struggles throughout the hour. In an attempt to sell as many cutesy scenes between John and Mary, the show has issues finding a specific tone and switches roughly between comedic and dramatic moments. Also, we are majorly overflown with character baggage, yes it gives dimension to the characters, but it disrupted the flow of the story and felt unnecessary at times. Especially, I felt like the flashbacks to John's army time were random and as earlier said disrupted the flow of the episode.
Nevertheless, I enjoyed this episode. Meg Donnelly and Drake Roger felt like good choices for their respective roles and their interaction throughout the hour made the episode memorable. The two actors had big shoes to fill in and as said the script definitely didn't make the challenge any easier. As a fan of Meg's previous work, I was happy she got another series regular role. Giving life to Mary was particularly a difficult choir, as the performances of the previous iterations, Samantha Smith and Amy Gumenick were quite strong. Yet, Meg rose to the occasion and delivered. She gave Mary layers, strength, vulnerability, and more than anything the twinkle in Mary's eyes that made her the badass we have met in Supernatural. Roger on the other hand brought the right amount of fearlessness but more importantly the benevolent spirit we've met in Supernatural's young John Winchester. Matt Cohen was just a bundle of energy while portraying John in the flashback episodes of Supernatural. Drake did his homework and brought that love for life and determination to the screen in just the right way. Should've John freaked out more after everything he found out in the first 10 minutes of the episode. Most definitely.
Carlos, Latika, and Ada were all interesting characters and their first impressions made me longing for more of them. Especially, Jojo Fleites' Carlos was a breath of fresh air. His energy was disruptive at moments but also fun and unexpected compared to the gloomy and dark world of the mothership.
I was surprised by the quality of the production, to be honest. The Monsters, the locations, and the effects all looked really good. Especially the graveyard and tomb scenes worked well and were visually pleasing. The mystery established in this episode was good enough, the writers made a smart choice in using Mary's and John's fathers to build up a mystery and establish an emotional connection to the story. Also the Akrida sound dangerous enough to make this season interesting.
Teach Your Children Well
Episode two of this season was definitely an improvement over the premiere. It felt better paced and executed, the story breathed and the character moments felt more natural.
Mary's pushy and know-it-all nature was definitely
bugging me. She was frustrated and the writers wanted
us to know it. The pursuit of Samuel was one dead end after the other and after John said they had been searching for a couple of weeks now, her actions were more understandable. Unknowingly we skipped a couple of weeks as it seems and missed a lot of interaction and progress. Writing-wise it didn't feel like a smart choice, this was supposed to be the story of how Mary and John met and developed their epic romance. So jumping away from that in their second episode didn't bond well. Still, I did enjoy what we got from Mary and John this week. Their buddy-buddy/mentor-trainee interactions worked well and John was able to take the edge off Mary. She kept carrying the weight of the world on her shoulders and did it the only way she knew, by pushing everyone else around. Like father, like daughter. Much to Carlos' dismay. Mary seeing the error of her ways should've hit harder though. The moment felt underwhelming. Mary was too calm at that moment and was overall overshadowed by Carlos' reaction to her apology.
Talking about Carlos, he is such a scene-stealer. Unapologetic, the star of his own show, Carlos got the power. Jojo Fleites is bringing it all, the variety of moods and emotions we experience with Carlos weekly is just a blast. His one-liners feel spontaneous and natural, balancing out the episodes well.
Ada is so far probably the most intriguing part of this show. Demetria McKinney balances the two sides of Ada very well and the doze of Ada we get per episode so far is balanced very well and expands the mystery and the lore of the show properly.
The episode itself was big on John. The episode explored John's motivations and expectations. As any twenty-something-year-old John is searching for purpose. What is he good at? Is it hunting or should he just be an "ordinary" mechanic? Or more importantly, is his father and his father's legacy worth throwing everything away? Drake Roger and Bjanca Kalich did nail it in this episode. While I found their interaction in the premiere a bit forced, this time around it was good. It was honest, powerful, and filled with love. When Pilots have shot often the direction of characters and stories is unknown so when interactions happen they feel clunky, episode two is a testimony to it. It was obvious that Bjanca and Drake took a deeper look at the characters and worked with more information while shooting this episode so their "emotional" moments worked way better.
You're Lost Little Girl
The Winchesters is getting progressively better and as of episode 3, it feels like the show found its footing and delivered with proper storytelling.
Pushy Mary was still in the house but this time, she pushed in the right direction. Being a hunter is a losing game and Mary was tired of losing. So when it came down to rescuing her adorable little neighbors Mary did what she does best, she let loose and went to kill Bori Baba as fast as she could. Meg's Mary is a badass in her own right and this episode gave a good insight into Mary's mind and heart. The writers put a lot of weight on Mary's childhood and how she never had a choice in her life, she was born a hunter and meant to die as one. Having wishes and desires on her own is something she never thought she was allowed to have. So the struggle to let go of her Hunter life felt real and Meg's performance made it palpable.
This episode probably included my favorite bit of Mary-John interaction, so far. John is obviously smitten by her and she is an integral part of his new journey. She inspires him, she gives him purpose. He is probably way more dependent on her than he should be but seeing his desperation as he faced losing her gave me shivers. Drake nailed that radio scene, quite surprised by how well it worked this early on in the show, to be honest. We also met John's ex, Betty, this week. Now a cop and dangerously invested in John. And we all know how most women end up in the world of Supernatural.
And while we've met John's ex, we also might have met Mary's future or pit stop boyfriend, Kyle. The meet-cute worked well and Kyle seemed like a good match with Mary, more importantly, a non-supernatural connection for her, something like the 1970s John Winchester from Supernatural was. Intrigued to see where the writers intend to go with this story. Major shot out to Avangeline Friedlander and Trayce Malachi for being great guest stars, always love creepy badass kid actors. Carrie finishing that doll and squashing Bori Baba's head were definitely highlights of the episode.
Exploring Ada and Carlos was an interesting move by the writers and it majorly paid off. Ada had more spunk and edge than anticipated. Also, she silenced Carlos for a hot minute, that proves how wicked she went in this episode. The cunning ways of Ada felt so natural to her and may become very dangerous for our gang going forward. Having that much power is always scary in a supernatural show.
But the best and biggest surprise of this week's episode was the appearance of Bridget Reagan as Rockin' Roxy. The latest live-action Poison Ivy is an acting force and a badass in her own right, I am all here to see what she brings to show.
Masters Of War
I don't know what deal Roger Drake made when he signed his deal, but a CW male lead keeping his shirt on for 3 whole episodes is pure luxury. Episode 4 did much more than undress John Winchester so let's dive into the war-driven madness.
I quite appreciate the writers' efforts to expand the Supernatural-lore, introducing mythological creatures outside the widely popular "western" world. It gives the show bit of freshness and makes the procedural aspect of the show more tolerable. Nato looking for soldiers to fight the Akrida was a nice twist on the story and created an interesting conflict for the episode.
Besides deciding to expand the lore, the writers also decided to trigger our leads in the worst way possible this week. Facing emotions we bury deep inside us is good writing material and during this episode, we saw two different sides of emotional damage, through grief and the trauma related to it.
Episode after episode, Drake wins me over more. His performance is stellar and each week he gives more layers to John and makes the character more relatable and loveable. The trauma that followed John and Carlos from the years in service, was just buried underneath their skin waiting to surface. Trauma triggers are a weird thing, they are subtle, unnoticeable to outsiders and most importantly spin your head in ways that you didn't even know were possible. John's reaction to all the triggers felt honest and added layers to his personality but also showed a side of him no one wanted to see. And Carlos seeing it will have consequences further down the line.
I know we are early into the show but we definitely need more Carlos-centric episodes. Just seeing Jojo Fleites's emotional work in this episode makes me long for more. Carlos is so out there but also so complex underneath it all. The array of emotions he goes through daily is just captivating and I wanna see the source of it all.
Mary and Lata facing their grief and trauma was a good balance to John's reaction in this episode. The guilt of letting go and moving on after the death of a close person can birth a lot of guilt and pain. Mostly it happens unconsciously and when we realize how far we advanced in our lives without that person we cling to the only thing we have left. In this case, it was Maggie's preserved room. Changing that room and letting someone into that room would mean Maggie is really gone and the two ladies weren't ready for that before this episode. Recognizing their love and memories won't fade if they let go of the room was a big step in their grieving process.
What are your thoughts on the 4 episodes so far? Does the concept work for you or are they messing too much around with your favorite supernatural franchise? Don't forget to tune in to an all-new episode of The Winchesters tonight on the CW or stream the show on the CW App tomorrow. Till we meet again, Waywards . . .