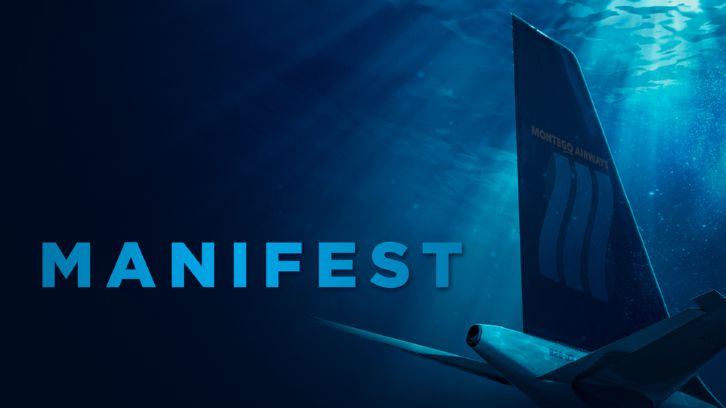 After a turbulent season opener, 4x02 continues with a suprising character return, a satisfying pay-off to one of the season 3 cliffhangers, and a few new developments in the mystery of Flight 828. Let's dive in!

Wooden (life)boat
The episode starts with a painful reminder that we've lost Grace. And more so, we're reminded of the distance between Cal and the rest of his family, as he's forced to stand seperately from them in order to hide his true identity. It's a heartbreaking sight. Thankfully, in the present, Zeke and Michaela are doing their best to make him feel loved. In Ben's absence, they've taken over as parental figures for Cal, and you can tell how needed it is for him. Especially when he feels like his own father doesn't care about what he has to say to him.

Ben, on the other hand, is purposely isolating himself from his family in his search for Eden. Even Saanvi's new discovery can't entice him to truly show interest in the Callings and the quest to save the Lifeboat. Ben and Cal later argue over this, and it's during this argument that Ben accidentally breaks a wooden boat called Eden that he keeps on his nightstand. It's beautifully yet painfully symbolic for the way in which he keeps hurting his family by lashing out and staying isolated from them. Especially Cal.
Zeke, ever the empath, is strongly aware of how hurt Cal feels by Ben, and he takes it upon himself to have a talk with Ben. As much as Ben doesn't wanna hear it, this was a necessary conversation for him and Zeke to have. But Ben isn't ready to hear the truth just yet and instead changes the subject to his coming interview with Aaron Glover (remember him from 1x10?). He asks for Zeke's help in trying to find a trace of Eden, and Zeke obliges, though it's a long shot.
The interview doesn't quite turn out as Ben had hoped. Aaron confronts him with his lack of care for Cal. Of course, Aaron doesn't know that Cal isn't actually missing, but it does hit a sore spot for both Ben and Cal, who's listening along with Mick and Saanvi. Side note: I really liked the detail of Aaron mentioning the whispers of Cal being the Holy Grail in the eyes of the government. He was one of the first people in S1 to bring up that term, so it was a nice throwback. After the interview, Zeke asks Ben to make room for the rest of his family in his heart. Ben, again, doesn't want to hear it, but you can tell Zeke's words still land with him. But a new lead on Eden distracts him and takes the two of them to Anna's house, where Ben learns that Eden is, in fact, still alive. This breathes life back into Ben. When Anna takes them down to the room in which Angelina and Eden were staying, Josh Dallas gives yet another incredible and heartbreaking performance as Ben cradles a piece of clothing of Eden's.
After this discovery, Ben's heart finally opens up to his family. In a beautiful Stone family scene, he's talking to Steve about Eden's drawings and hugs Michaela when she and Zeke return home. However, his relationship with Cal is still fractured, and he's the one left out of the embraces in this scene, ending it on a heartbreaking note. Still, Cal doesn't give up. He mends Ben's wooden boat, in the hopes that he can mend his relationship with his dad too.

Zeke and Michaela have their talk
Jared and Michaela meet up at "their spot", which is the bench in the park in which Jared proposed to her. He asked her to meet him here for some important intel, but the show also uses this as an opportunity to make them reminisce on their relationship a little. As always, you can tell they think back fondly to those good times. But ultimately, we're shown through a flashback that Michaela has no intention of going back to that relationship. Jared crossed a line when he told her Zeke was supposed to die, and as a result of that, she can no longer allow Jared to be in her life.
But with the world's growing animosity towards the passengers, Michaela can no longer afford to keep Jared out of her life. She needs alies. And while she may no longer want to be with him, she does care for him deeply and still has love for him, so it's understandable that a part of her also wants him back in her life. Especially now that he's no longer trying to get back together with her. However, she also wants to make sure Zeke is okay with that, because at the end of the day, he's her priority. When Zeke calls her, the subject of Jared's help inevitably comes up, and they're both unsure of how to feel about him coming back into their lives. Zeke says they should talk later. This brings us to another talk, the one we were promised in 3x13. This has quickly turned into one of my favourite scenes of the show, not in the least because of how stellar Matt Long and Melissa Roxburgh's performances were. At the reception after Grace's funeral, Michaela tells Zeke that while she does still have feelings for Jared, she chose Zeke, and that she will continue to choose him regardless of how many days he has left. As a viewer, it was evident that she would always chose Zeke over Jared, but it was wonderful to hear her say it, and very necessary for Zeke to hear. As someone who struggles with low self-esteem, he needed that reassurance from her.

Back in the present, it's clear both Zeke and Michaela are thinking about that first talk. But while Zeke remembers it fondly, Michaela is more unsure. After all, Zeke is the one who is giving them another chance, and now she may have messed it up for the both of them. But by helping Ben, Zeke is able to fully realise that it's possible to love more than one person at the same time, and that this doesn't lessen the love you have for those people. He tells Michaela as such when he sees her, in a scene that still has me swooning even after several rewatches. He tells her that he chooses her too, under the stars where it all began for hem all the way back in 1x13.
I may not have been a fan of the Zeke-Michaela-Jared triangle and how the show has handled it over the years, but I really love how they allowed Zeke and Michaela to give Mick's love for Jared a place in their lives in a way that didn't break their own bond. It's a testament to how beautifully Zeke and Michaela's relationship has been written and a real show of healthy communication between a married couple.

On Jared's end, he told Michaela in the flashback that he doesn't regret what he said to her. But in the present, he seems much lighter and less hung up on her. One thing that may have strongly contributed that is that he's now hooking up with Drea, Mick's former partner and best friend. From what I've seen, this was a surprising or even shocking and unwelcome twist for many viewers. But as someone who has seen the potential in a relationship between these two since she got him a drink at Zeke and Michaela's wedding in 2x12, I was elated to see the show finally explore a romantic connection between Jared and Drea (or Jaea, as the fandom has lovingly called them since season 2). Drea reminds Jared that there are no strings attached between them, but I wouldn't be surprised if, by the end of the show, she changes her tune on that. Especially considering how happy they seem to be together, even just in this one scene.

Dragons and the black box
Henry Kim opens up to Saanvi and Vance and tells them about his scar in the form of a dragon, as well as his traumatic past two years. He was able to connect with the black box through meditation, and that's how he discovered the voices recorded on there that aren't discernable by non-passengers. Henry's Calling sets two people on new paths: Cal and Saanvi.

After sneaking into the Registry, Cal finally gets the opportunity to talk to Henry. Henry tells him that the Callings have been telling him to find Cal for two years, and that he's a dragon, just like Henry. This display of faith in Cal's abilities, both from Henry and the Callings, is exactly what Cal needed to hear. He's been so wrecked with guilt over what happened to his mom that he had lost faith in himself. But while Henry told Cal that he has a dragon inside of him, the Callings take this one step further and give him the same dragon scar as Henry. It's now a permanent reminder of Cal's purpose in their grand plan.
When one of Saanvi's earthquake instruments goes off during one of her experiments, Saanvi immediately stops what she's doing, in fear of causing real world damage. It shows how much she has grown since last season and how much she has taken those lessons to heart. While Saanvi will always be a scientist at heart, she no longer puts science above all else. After bringing in Dr. Cooper, a former Eureka colleague, she learns that there were no earthquakes. Instead, the instrument picked up the ultra low frequency sound waves that the black box is emitting. At the end of the episode, Saanvi listens to the black box once more. She finally manages to tune into the black box like Henry did. And that's when she makes a huge discovery: all of the Callings have been recorded on the black box! Before we can even begin to grasp what this could mean, the episode cuts to black. You gotta love it when Manifest leaves you on yet another big twist in its mythology!
Additional notes:
- "I was holding in a sneeze" is quite possibly the funniest cover-up for having a Calling I've ever heard.
- I really like how the show explores various ways in which the world shows their distrust towards the passengers. Obviously, as a viewer, you don't want Angelina to succeed in hiding with Eden. But you can't help but feel sorry for her when she's trapped by a woman in what should've been a safehouse for her. The way this woman deliberately set up a trap for any 828er who's still on the run was chilling, and a stark reminder of how unsafe the world is for them.

- Adrian rightfully called out Angelina, but it's hard for him to stick to any kind of moral compass. Unlike Anna, he knows what she's done, but he gives her shelter anyways. Of course, this also means giving Eden a warm place to rest, which makes his actions a bit more forgiveable. Still, even though Adrian seems to be doing good by helping his fellow 828ers, it's clear he still isn't fully on the right path. He may be an agent of the apocalypse after all.

What did you think of 'All-Call'? Let us know in the comments!