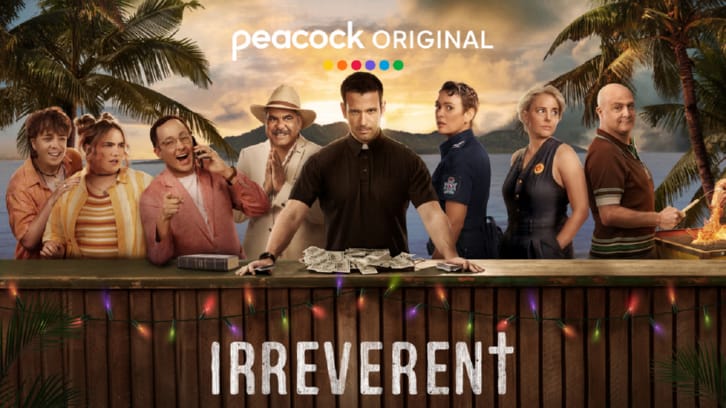 Irreverent premieres on November 30th on Peacock, and I'm here with your spoiler-free review. One thing that I can say for sure is that this is one show you don't want to miss. With outstanding performances by Colin Donnell, PJ Byrne, Kylie Bracknell, and Tegan Stimson, the show is for sure not to disappoint. If you're looking for a show to binge this weekend, Irreverent should be on the top of your list.

I don't want to spoil anything too much, but the show starts with Paulo (Colin Donnell), a criminal mediator, who has to leave Chicago immediately. Heading to Australia seems like a good option - until he has no other choice than to act as Reverend Mackenzie Boyd in the small Australian reef community of Clump. How does he end up in this situation? The real Mackenzie Boyd (PJ Byrne) ends up taking all of Paulo's money and fleeing after they meet on the flight over. Left with virtually nothing but Mackenzie's clothes and identity, Paulo, who now starts going by Mack, makes his way to Clump to become the Reverend. Meanwhile, he is still doing everything in his power to locate Mackenzie. Small spoiler alert - the real Mackenzie is having the time of his life.

One of the aspects that really struck me about this show was the sense of community that is seen. Although there of course is some disruption with the addition of "Reverend Mackenzie" or "Mack" as he is often called, he ends up being exactly what Clump needed. The relationships that he builds with the citizens of the town become something that the show centers on. One of my personal favorites is the one that "Mack" builds with Daisy. It really symbolizes the importance of human connection and being able to have someone who you can always depend on.
Irreverent
also does a great job when it comes to evoking emotions from the viewer. There were so many times where I was laughing and then seconds later tearing up. I felt as if I really knew these characters as if their stories were my own. It's interesting because the characters in the show are all so unique and have their own quirks, but I found myself being able to relate to just about every single one. Even though it is telling the story of a remote community out in Australia, I was able to see myself in each character - even if it was just a little bit. I was able to understand the motives of each character and why they were doing exactly what they were doing.
One of the highlights of the show for me was the friendship/annoyance that was between Paulo and the real Reverend Mackenzie. While Paulo was in Clump doing Mackenzie's job - trying to keep the community together and help keep the church afloat, Mackenzie was out living a lavish life. With all of the money he stole from Paulo, he was buying new cars, spending his days in Zumba classes, and staying at a resort. They communicated through phone calls - which wasn't exactly easy for Paulo. With barely any cell service, Paulo had to get creative when it came to calling Mackenzie. Not only was Paulo doing a job he wasn't qualified for, but he also had to worry about the safety of both himself and Mackenzie. After all, he's still on the run from a crime mediation gone wrong.
If you're looking for a show that tugs at your heartstrings, but also keeps you on the edge of your seat,
Irreverent
should make it to the top of your list. It's a show that will leave you feeling like you're a part of the Clump community and that you come to know each and every one of these unique characters personally. It is also filled with comedic aspects that help keep the show light-hearted, even when it's intense.
If you can't wait until tomorrow, you're in luck! I had the opportunity to talk with PJ Byrne about

Irreverent

and his character Mackenzie. You can check the interview out right here!




Are you planning on watching Irreverent? Let me know in the comments!