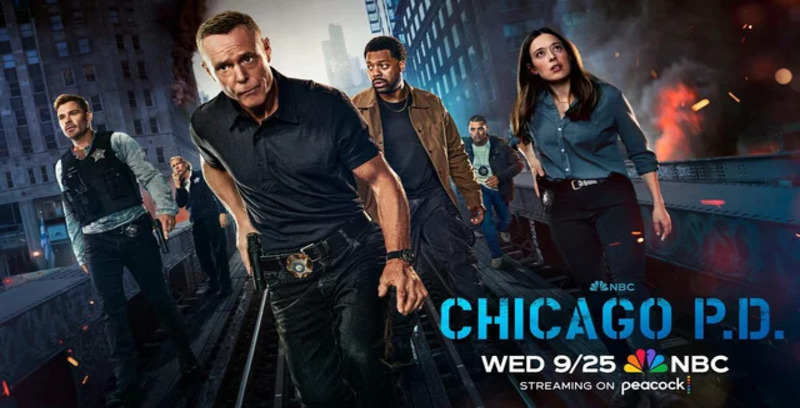 The newest episode of Chicago PD is kinda painful with a whole lot of ick and Hailey Upton is at the center of it all this week.
And Hailey is…going through it. She's still reeling with the loss of Jay and she's doing her best to mask her grief and hold it all in, but it's obvious she is not doing well. With her husband being gone, with the case she has thrown herself into, with any of it, but bottling up her emotions and not showing her vulnerable side is what Hailey does. Maybe she does it a little too well, but we see those walls crumble the tiniest bit when she confides in Kim, (FINALLY — another real moment between those two) and later we get another between her and Adam. While it's not much of the team camaraderie we are sorely missing, (and desperately need) it's something at least.
This storyline we've fallen into with Hailey is nothing new for PD, but it's one that is still too real and much too painful, and the way she tackles it is nothing new at all. She loves her job, and she cares greatly about people, but these kinds of cases where kids are involved is something that is especially horrific, and she makes it her one and only priority to figure it all out.
She has buried herself deep in this one, foregoing sleep and taking care of herself the way she should because she's trying so hard to link the chief's son to a sex trafficking ring. She's obsessing over the loss of Abby, the case, and Sean. She knows he is involved and she's doing everything she can to make things right. She needs to make things right.
In the midst of all of that, she's still missing her husband and can't get a hold of him, and that to me at first seemed like a case of lazy writing syndrome. Because any Upstead fan, (myself included) will tell you that in no universe would Jay Halstead not find a way to communicate with his wife. Especially after what they've been through, how they've been written from day one, and knowing they're the loves of each other's lives.
But then the logical part of me tries to look at it from a different perspective because I'm still trying, (struggling) to make sense of the way Jay was written off. And what I've come up with is that as painful as it is that there is no communication happening between Hailey and Jay right now, we have to remember his leaving is a direct result of all of this. He's not there to be that anchor for her, that voice of reason she sometimes needs to hear that will pull her back when she gets too close to the edge. His absence and how she's still learning to navigate that loss has become the catalyst in her obsession to bring down Sean, and that is the point. The only one that makes sense to me. She's on her own now, and she has to figure out how to be that anchor for herself.
And maybe it's what she needs right now too, even if she is going about it all wrong. A distraction from dealing with the things she can't quite get a grip on, some semblance of control when everything else in her life has gone to hell. My one hope in all of this is that the end will justify the means once this arc comes to an end. That maybe some of the out-of-character nonsense that has been thrown at us might just be worth it somehow.
As the hour unfolds and the case goes sideways, Hailey finds herself even closer to it…a little too close. She needs to get an angle on Sean, so she goes to see him on her own to get it, opens up to him in a way she knows he'll respond. She shows him that vulnerable side she likes to hide away and talks about the pain she feels from missing her husband, and he falls into it. Their conversation progresses and Hailey pushes until he finally gives her what she needs, but all it does is bring her and the team to another dead end.
They're left at an impasse, the chief finds out his son is being investigated, but Hailey doesn't let it go. She can't. And when the episode comes to an end, we're left with a stare-down between Hailey and Sean, a bone-chilling understanding between the two. He's being watched and she wants him to know it. He knows that she knows just what he's doing and how he's involved, and the look of realization that flashes in his eyes as he stares at her staring at him is one that sends a shiver over you.
This storyline is dark and dangerous, and now the stakes are higher because Sean knows he's got heat and the team is involved, and now the chief is too, and Chicago PD's track record tells me the ultimate end is not gonna be a pretty one by any means. It's gonna be messy and there will probably be more pain because there always is. The hurt is far from over with this one.
Chicago PD airs on Wednesdays on NBC.